CX5-100 common rail injector test bench
Item No.: 040
With more than 1500 kinds of calibration data stored in the computer (all data can be edited and new data can be added in to computer).
INQUIRY
Description Specification Languages Accessories
Instruction

The CX5-100 common rail injector test bench is designed to test BOSCH DENSO DELPH SIEMENS solenoid and piezo electric CR Injectors. Based on Windows operation software,it can be operated by user easily and conveniently.With more than 1500 kinds of calibration data stored in the computer (all data can be edited and new data can be added in to computer).

Installed with high accuracy Weight sensor,the fuel injection volume can be displayed on the computer screen and the software can judge the problem of the injectors automaticly. All the Testing Process automatically.



Specification
Main Motor Power: 4kw (15KW 18.5KW Optional)
Voltage: 3-Phase 380v /50hz (220v customized)
Motor Rotate Speed: 0-4000RPM(DTC )
Rail Pressure Testing Range: 0-1800bar(0-180Mpa)
Test oil Tank Capicity: 45L
Common Rail Press control accuracy: ±4Mpa
Oil Heater: 2kw
Temperature Range of Testing Oil: 0-100℃
Fliter Accuracy: <4μ
Injector control voltage: 12v 80v 150v
Fuel Injector Hold Time Control: 0-65535us
Certification: CE/ISO9001
Testing oil Type: DIN/ISO 4113
Small volumetric cylinder: 45ml
G.W: 550kg
G. Size: 1.3*0.85*1.61m

Function

1. Application for DENSO , BOSCH , DELPHI SIEMENS, Common Rail Injectors
2. Support Piezoelectric Injector
3. Clean the injector before testing.
4. Clean the ZME separately.
5. Pump test: measure feeding and return volume,pump chamber pressure,feeding pre
ssure,check sealing performance, and functions of ZME valve.
6. Injector test: measure the injected fuel quantity & return volume under full-loaded,
idling, pre-injection and Emission status.
7. Check the sealing performance of the injector.
8. user can add and edit the data by themselves.
9. Save and print the testing results & customer information.
10. Support software upgrading.
11. Default Support Testing 1 injector ( optional Max support test 6 injector at one time)


Characteristics
1.Based on the industrial xp computer system , All testing procedure are in Full-automatic operation.which save the time to set up the data.
2.Common rail tube equip the DRV valve to keep pressure stable ,which can control pressure wave within±2MPA
3. Computer embedded super data capacity with more than 1600kinds of bosch, denso, Siemens,Delphi standard data.
4. Self-protection under following status:overheat, oil-mist, overpressure, low oil leve.
5. Remote control is convenient for software upgrading and after-sale service.
6. we use e LG/LS,DELTA,TECO famous brand Frequency inverter to control motor speed non-polar.
7. Support 8 kinds of Multi-language ( English Spanish , Russian, Portuguese etc .)
8. Speed and Pressure can display on the computer screen in real time
9. Pulse and Frequency of injector can set
10. Injection time of injector can set
11. All injector drive channels have circuit protection functions.
Standard Configuration
| | |
| --- | --- |
| Testing Iterm | Testing Result |
| Weight Sensor | √ |
| Fan cooling | √ |
| Piezoelectric Funtion | √ |
| One injector testing at one time | √ |
| Printer | √ |
| Support 1 injector at one time | √ |
| DRV | √ |
| Flow sensor | customized |
| Forced cooling (air condition) | customized |
Suitable Range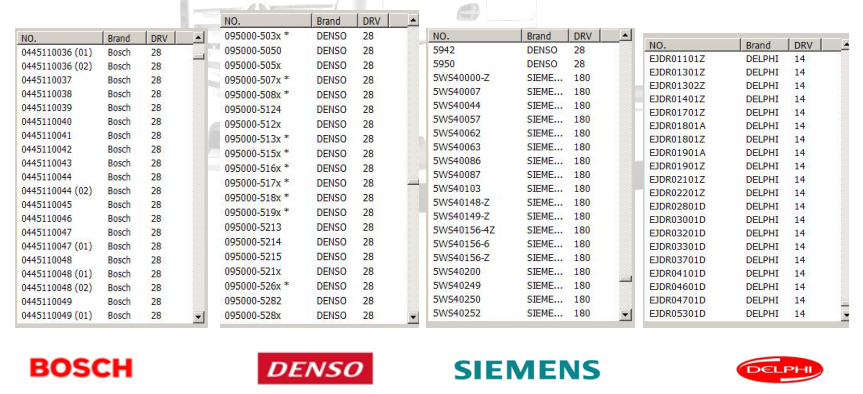 Piezo injector+ Soleniod injector TESTING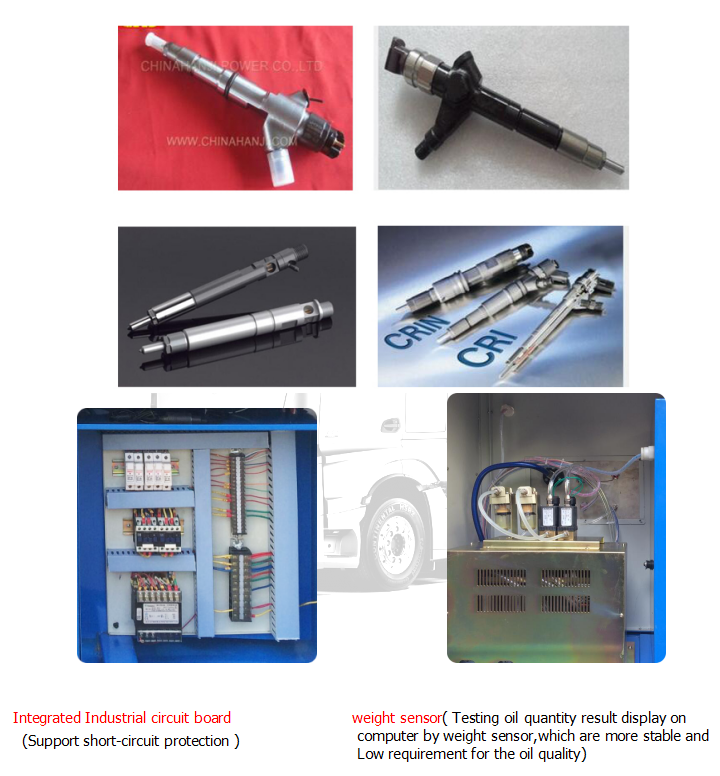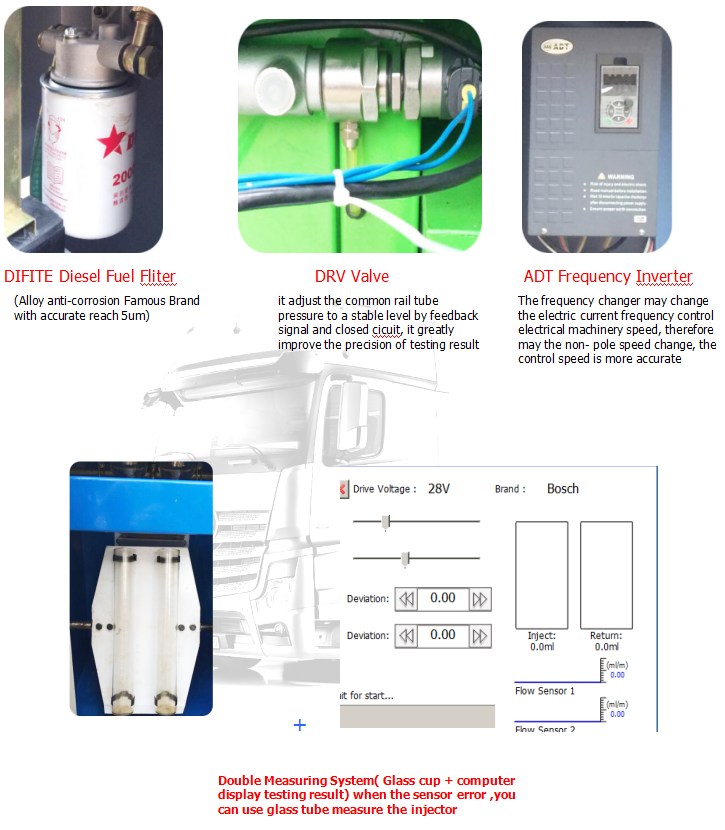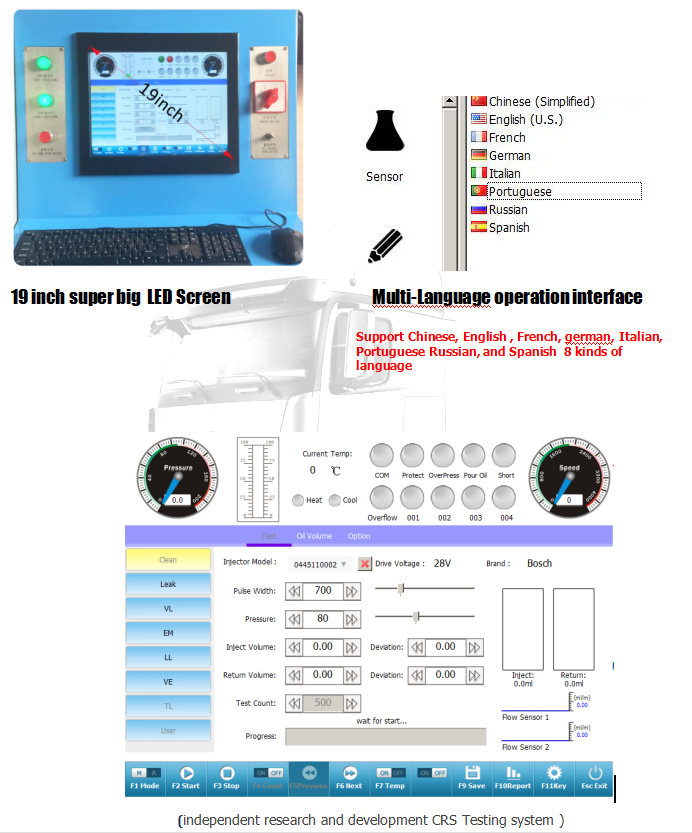 (Bosch Siemens Delphi Denso more than 1500 kinds of standard data in computer)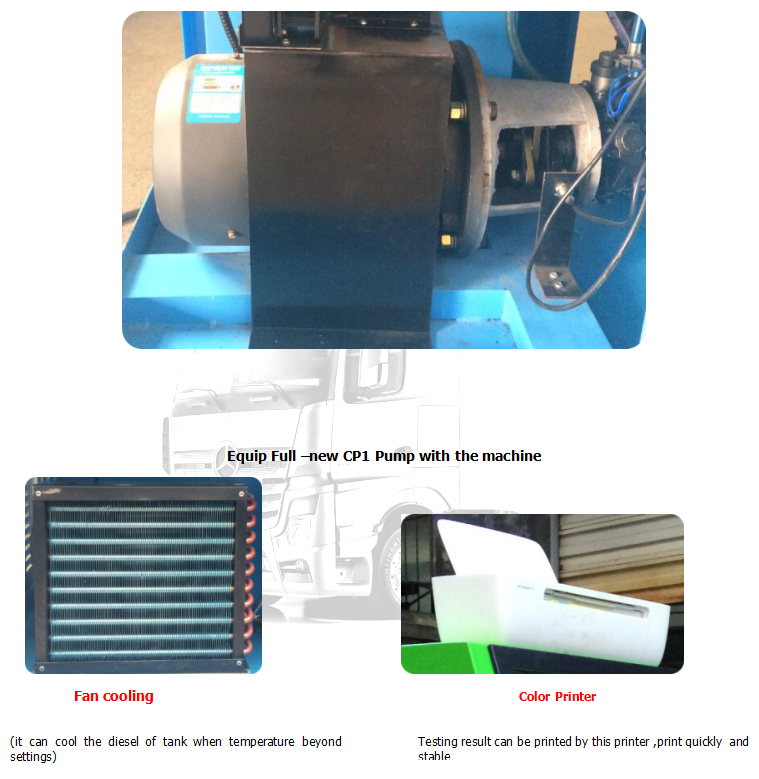 Details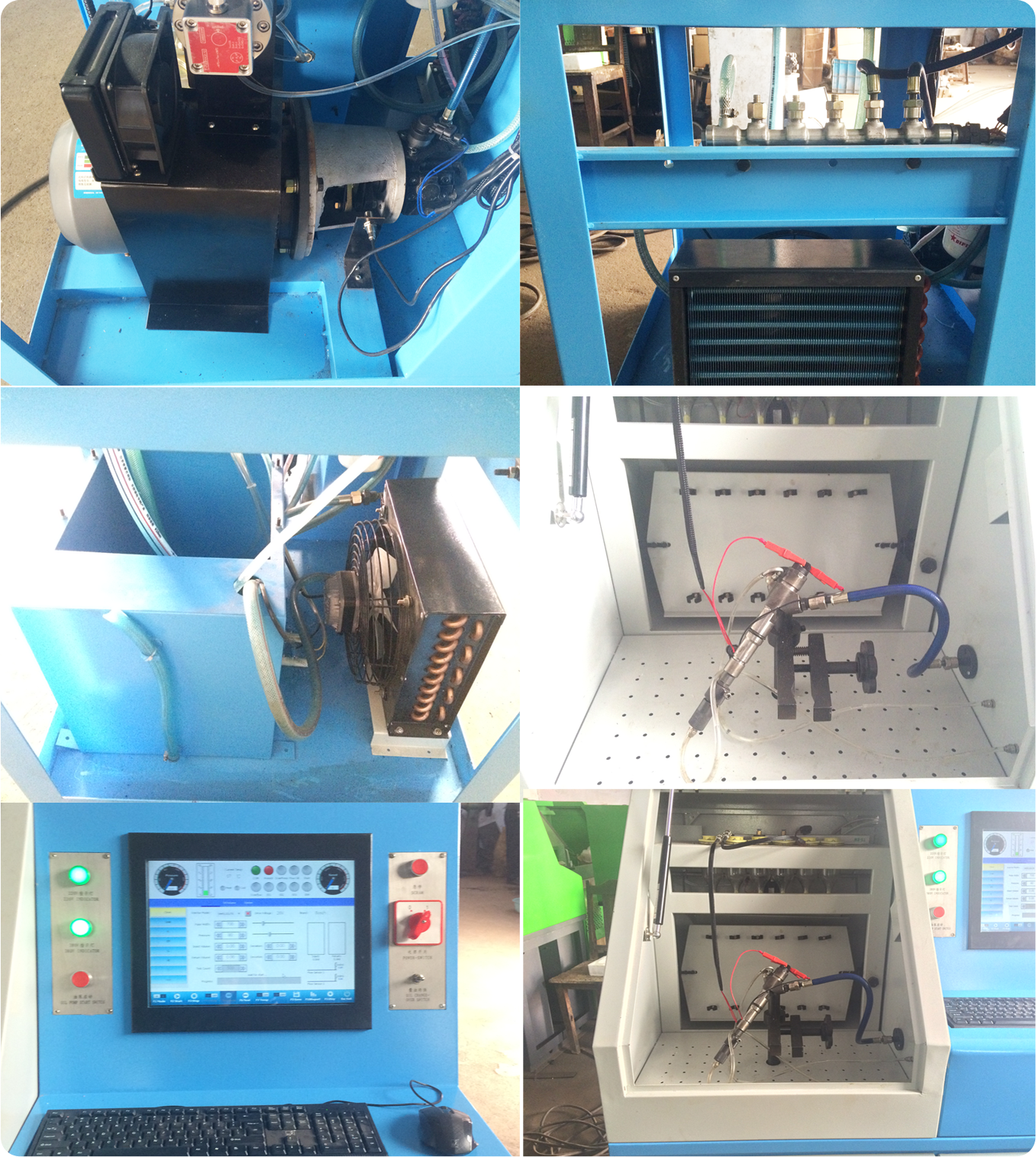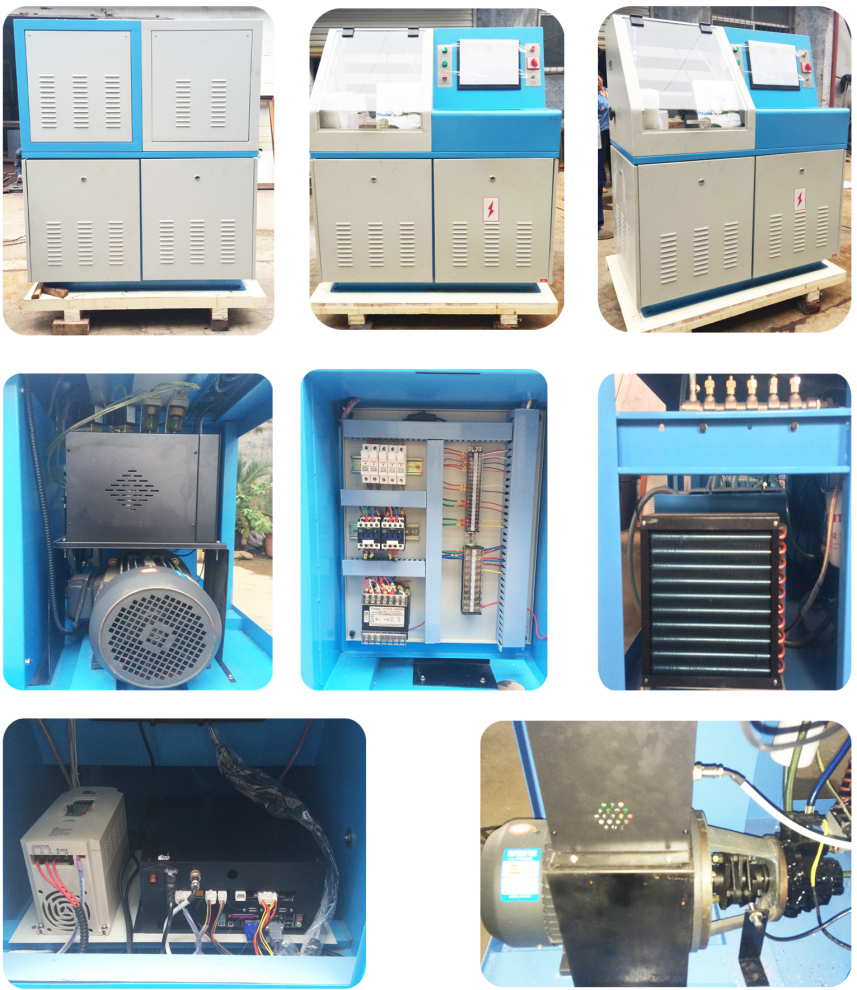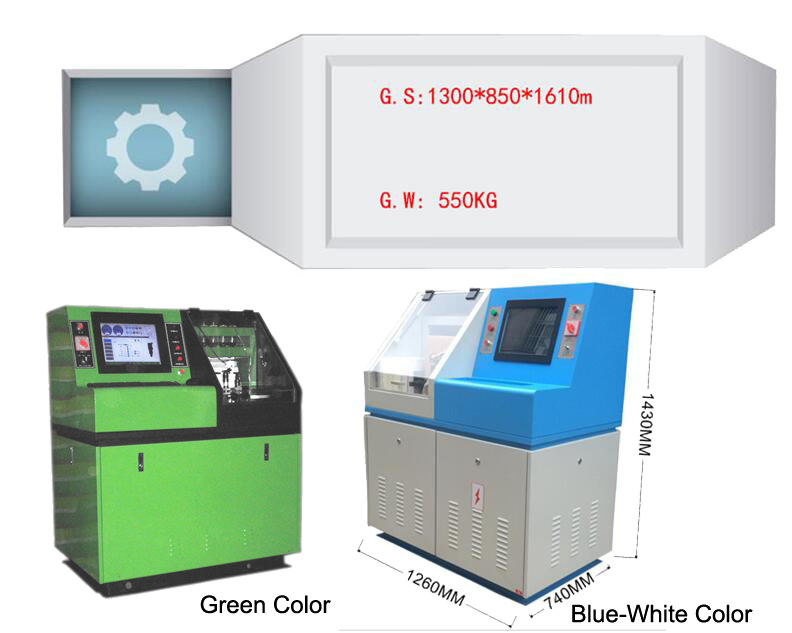 Package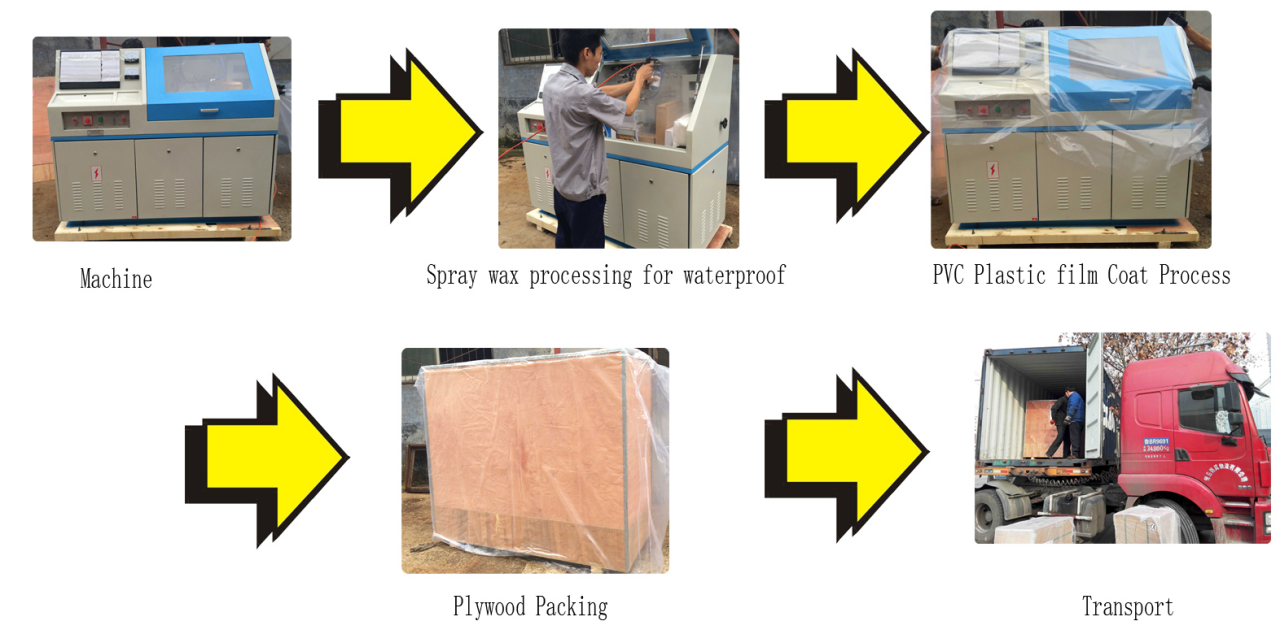 Accessories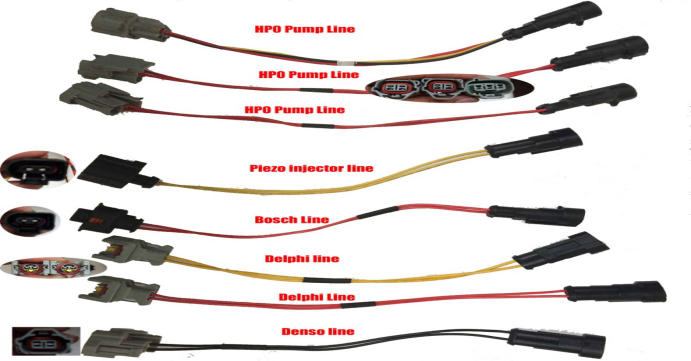 Warranty: 12 months

Lead time: One week


Main Motor Power: 4kw (15KW 18.5KW Optional)
Voltage: 3-Phase 380v /50hz (220v customized)
Motor Rotate Speed: 0-4000RPM(DTC )
Rail Pressure Testing Range: 0-1800bar(0-180Mpa)
Test oil Tank Capicity: 45L
Common Rail Press control accuracy: ±4Mpa
Oil Heater: 2kw
Temperature Range of Testing Oil: 0-100℃
Fliter Accuracy: <4μ
Injector control voltage: 12v 80v 150v
Fuel Injector Hold Time Control: 0-65535us
Certification: CE/ISO9001
Testing oil Type: DIN/ISO 4113
Small volumetric cylinder: 45ml
G.W: 550kg
G. Size: 1.3*0.85*1.61m