CX5-600 have a good performance to test CR injector and pump ,( bosch,denso.Siemens,delphi.)
Item No.: 042
CX5-600 have a good performance to test CR injector and pump ,( bosch,denso.Siemens,delphi.) (EUI/EUP (UIS&UPS) For CAT PUMP(according to your need to add)
INQUIRY
Description Specification Languages Accessories
Instruction
CX5-600 have a good performance to test CR injector and pump ,( bosch,denso.Siemens,delphi.) (EUI/EUP (UIS&UPS) For CAT PUMP(according to your need to add)
The function of the tester for CR high pressure pumps is to provide the desired signal to drive the solenoid in the pump being tested. CX5-600 common rail Tester can used for testing following pumps: BOSCH CP1,CP2,CP3,DELPHI, SIEMENS, DENSO HP2 AND HP3.HP0. It has the functions to test the Electromagnetic injectors and piezoelectric injector.
Specification
Main Motor Power: 11kw (15KW 18.5KW Optional)
Voltage: 3-Phase 380v /220V 50hz
Motor Rotate Speed: 0-4000RPM(DTC )
Rail Pressure Testing Range: 0-1800bar(0-180Mpa)
Test oil Tank Capacity: 45L
Feeding Pump: Power 0.75kw. 6.5L/MIN
Oil Heater: 2kw
Temperature Range of Testing Oil: 0-100℃
Certification: CE/ISO9001
Testing oil Type: DIN/ISO 4113
Flywheel inertia(kg*m): 0.8-0.95
Small volumetric cylinder: 45ml
Filter oil precision: 4.5-5.5u
Center height: 125ml
G.W: 613kg
G. Size: 1.8*0.85*1.59m
Function
1. Application for DENSO , BOSCH , DELPHI SIEMENS, Common Rail Pump and Injectors
2. Support Piezoelectric Injector
3. Clean the injector and pump before testing.
4. Clean the ZME separately.
5. Pump test: measure feeding and return volume,pump chamber pressure,feeding pressure,check sealing performance, and functions of ZME valve.
6. Injector test: measure the injected fuel quantity & return volume under full-loaded,
idling, pre-injection and Emission status.
7. Check the sealing performance of the injector.
8. user can add and edit the data by themselves.
9. Save and print the testing results & customer information.
10. Support software upgrading.
11. Default Support Testing 1 injector ( optional Max support test 6 injector at one time)
Standard Configuration
| | |
| --- | --- |
| Testing Iterm | Testing Result |
| Weight Sensor | √ |
| Fan cooling | √ |
| Piezoelectric Funtion | √ |
| One injector testing at one time | √ |
| Printer | √ |
| Support 1 injector at one time | √ |
| DRV | √ |
| Flow sensor | customized |
| Forced cooling (air condition) | customized |
Suitable Range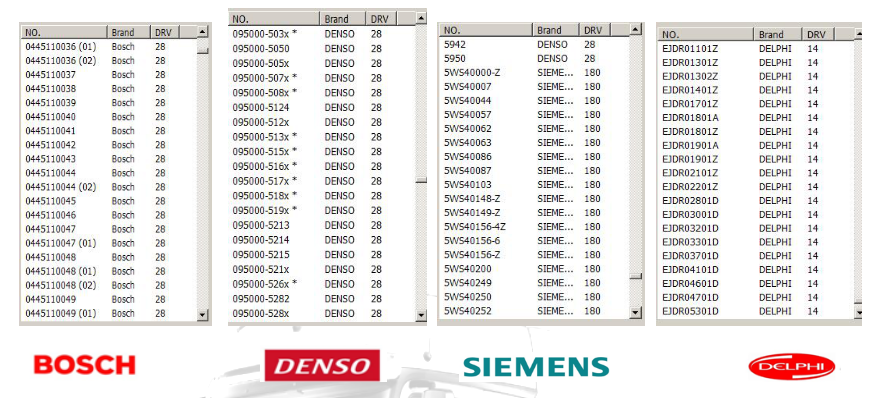 Piezo injector+ Soleniod injector TESTING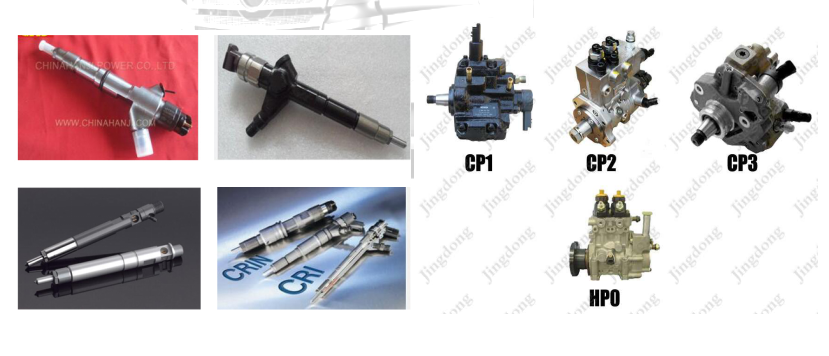 Characteristics
1. Full-automatic operation procedure, save the time to set up the data.
2.Weight flow sensor
3. Bosch common rail system (external connection DRV to Bosch rail with DRV) is
used.
4.Rail pressure is controlled accurately by DRV and ZME valve.
5. Original Bosch CP1 common rail pump is equipped.
6. Industrial computer with XP windows system.
7 Rich database:1500 types of data.
8. Self-protection under following status:overheat, oil-mist, over pressure, low oil leave
9. Remote control is convenient for software upgrading and after-sale service.
10. Frequency converter is used to change the rotation speed.
12.Support Multi-language( English Spanish , Russian, Portuguese.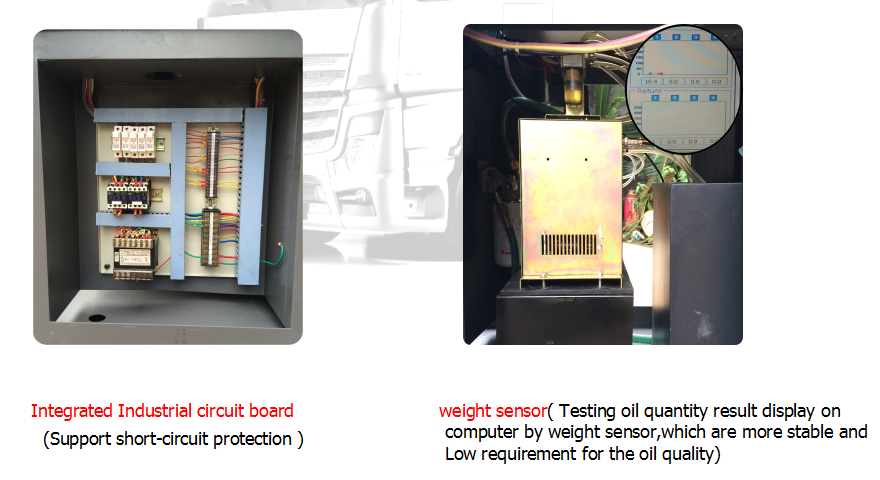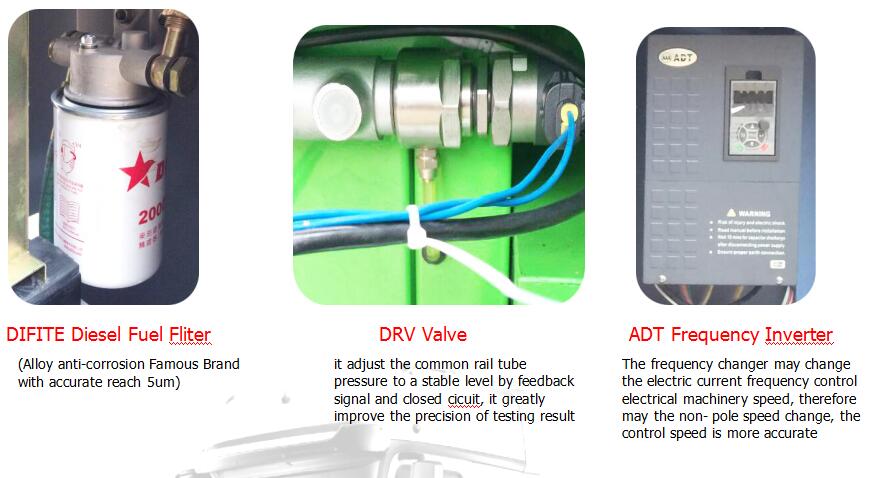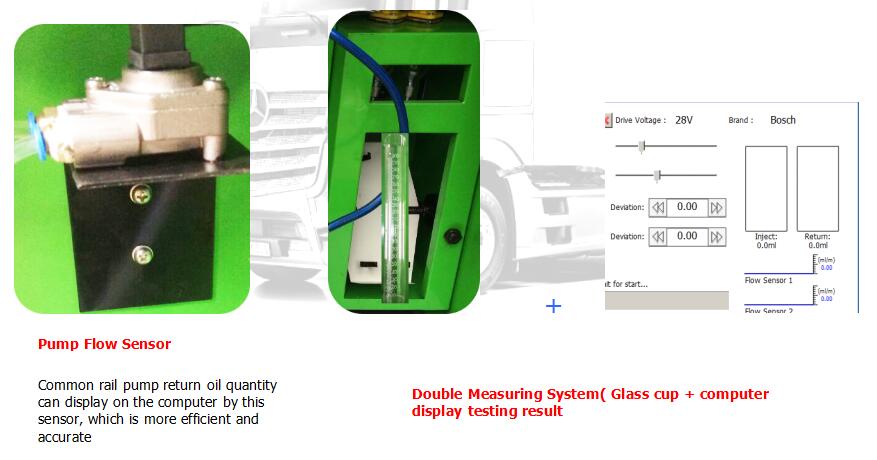 Operate interface Support Chinese/English/Russian/French/Spanish/Portuguese language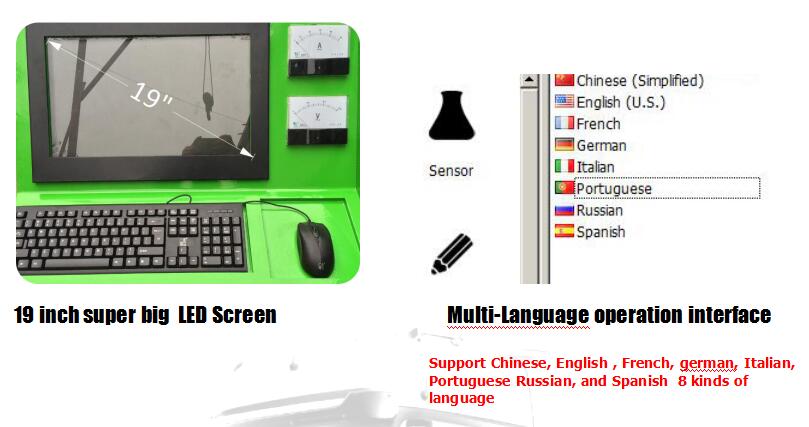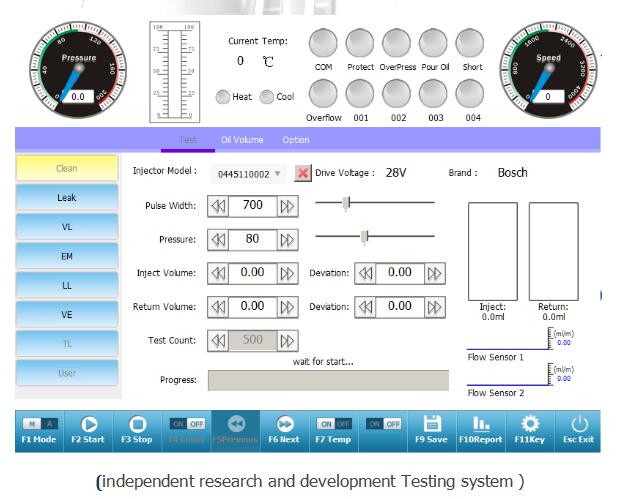 Bosch Siemens Delphi Denso more than 1500 kinds of standard data in computer.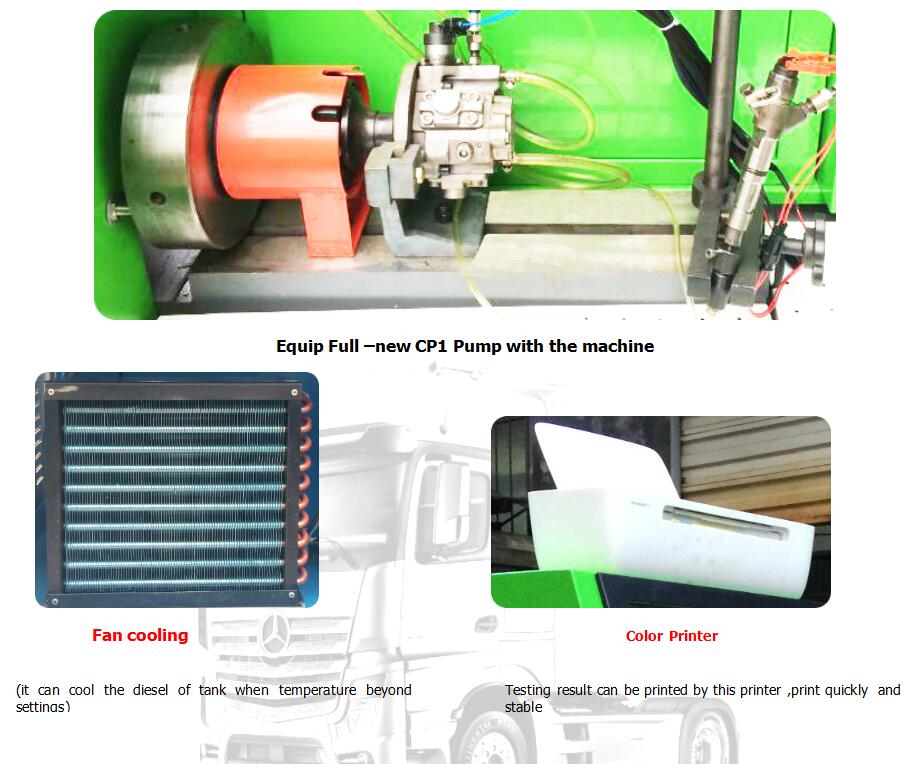 Detail pictures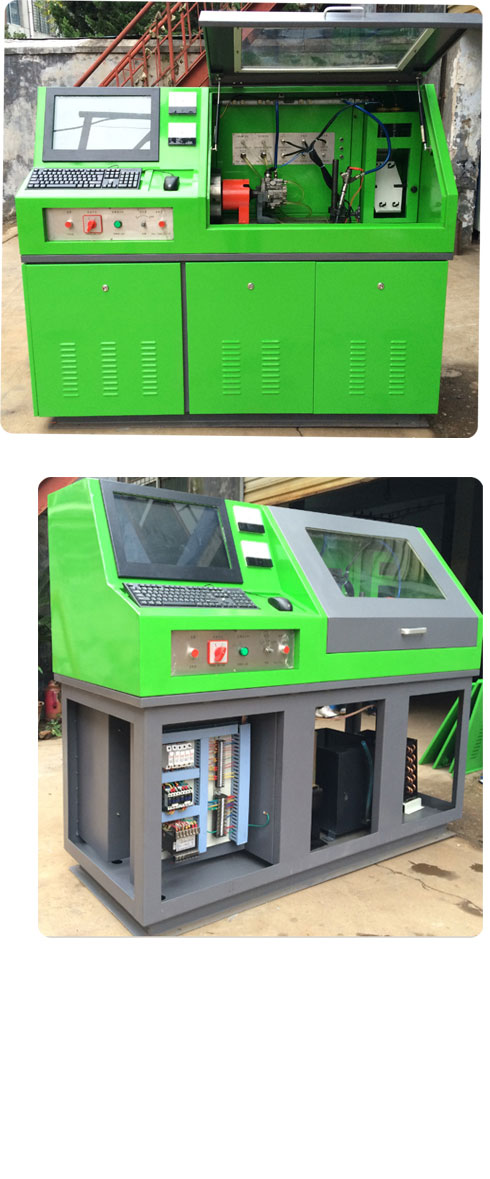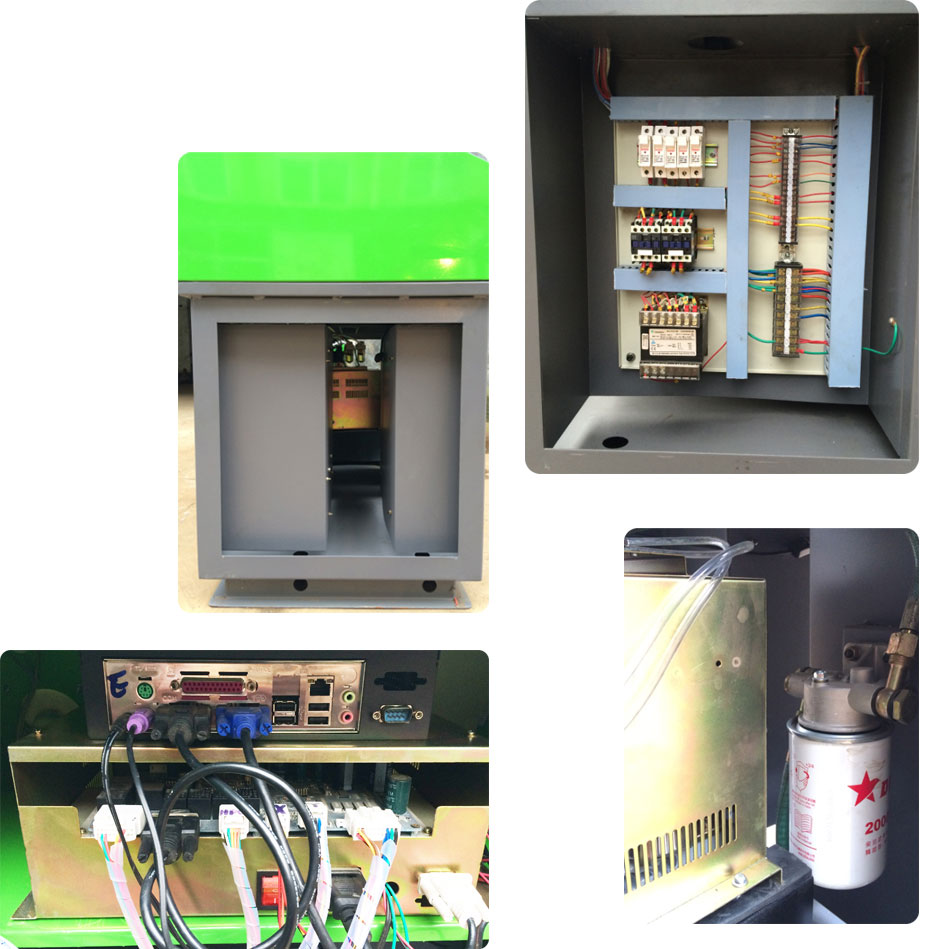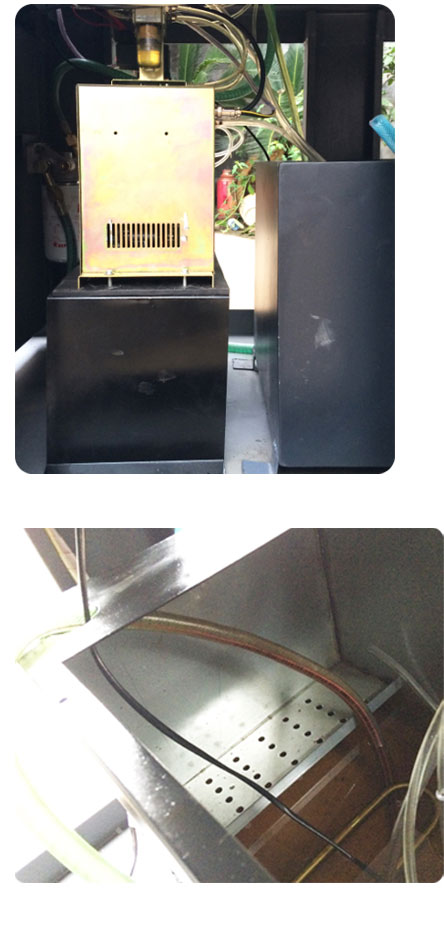 Package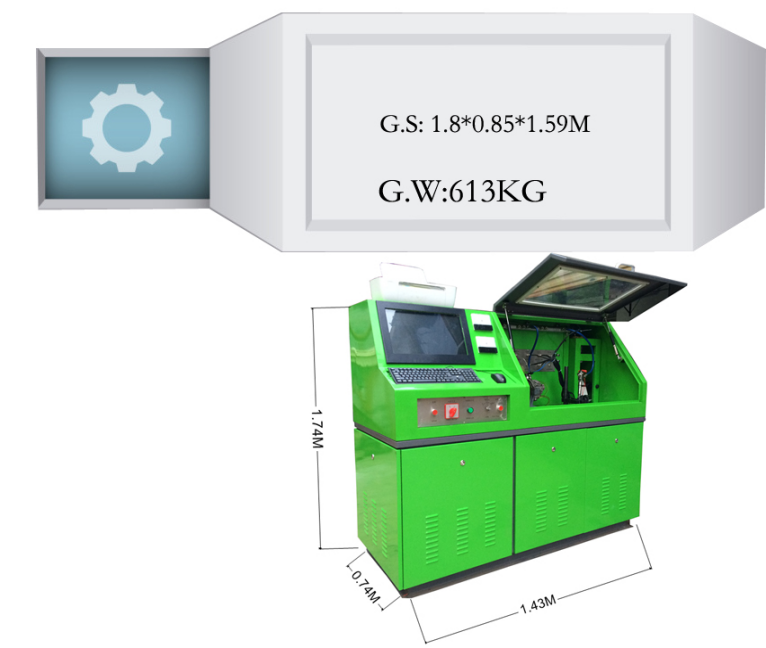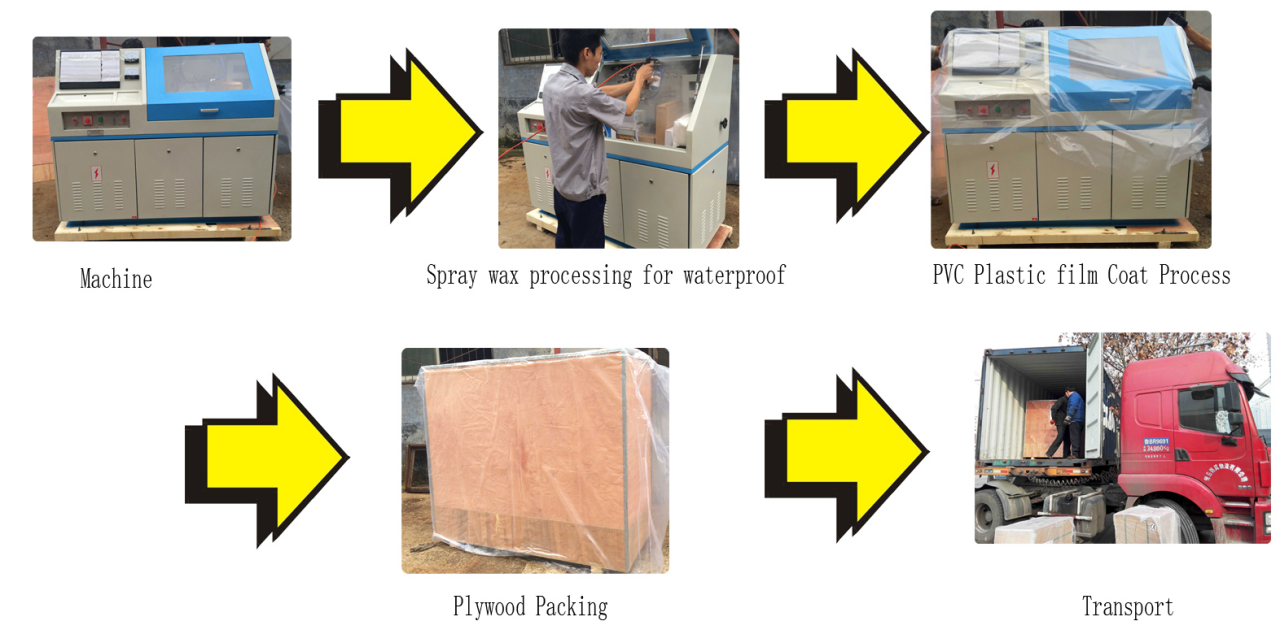 Accessories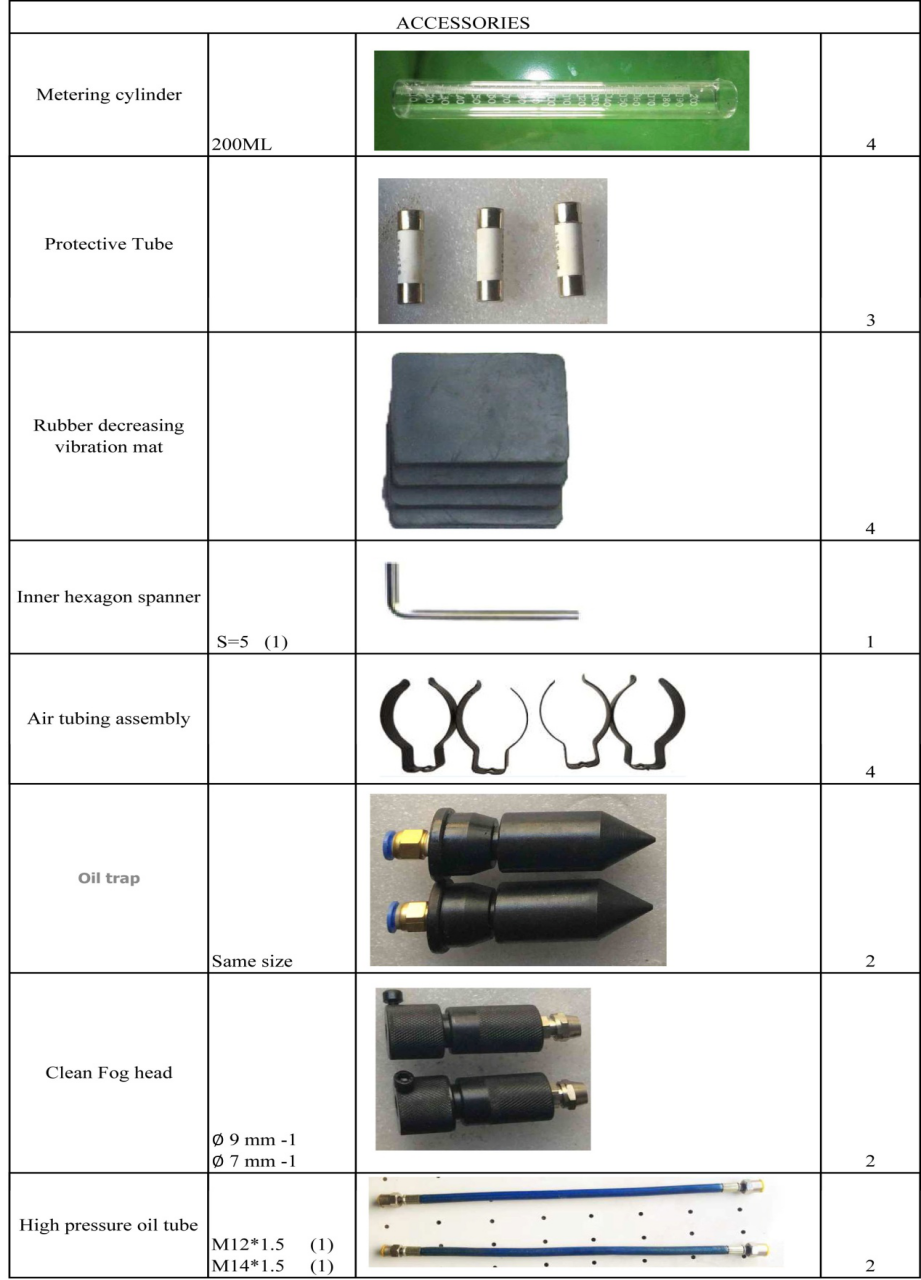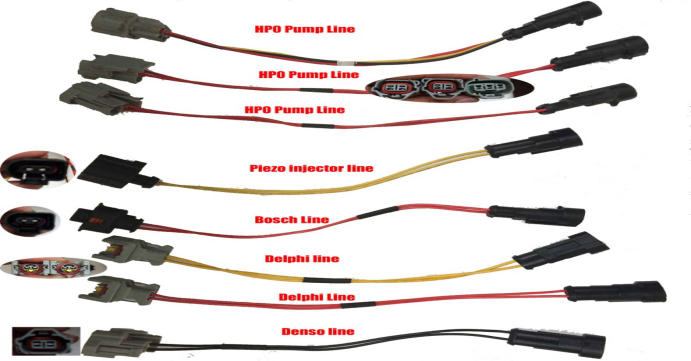 Warranty: 12 months

Lead time: One week


Main Motor Power: 11kw (15KW 18.5KW Optional)
Voltage: 3-Phase 380v /220V 50hz
Motor Rotate Speed: 0-4000RPM(DTC )
Rail Pressure Testing Range: 0-1800bar(0-180Mpa)
Test oil Tank Capacity: 45L
Feeding Pump: Power 0.75kw. 6.5L/MIN
Oil Heater: 2kw
Temperature Range of Testing Oil: 0-100℃
Certification: CE/ISO9001
Testing oil Type: DIN/ISO 4113
Flywheel inertia(kg*m): 0.8-0.95
Small volumetric cylinder: 45ml
Filter oil precision: 4.5-5.5u
Center height: 125ml
G.W: 613kg
G. Size: 1.8*0.85*1.59m