LAUNCH CNC603C multi-language Fuel Injector testing cleaning machine
Item No.: 185
CNC-603C is an advanced electromechanical product, which can clean and test injectors by simulating engine working conditions. It can also perform cleaning on the injectors and fuel supply system on vehicle.
INQUIRY
Description
CNC-603 is an advanced electromechanical product that combines ultrasonic cleaning technology with microprocessor hydraulic control cleaning detection technology. It can clean and inspect the fuel injectors of the car and also clean the fuel injectors and the fuel supply system.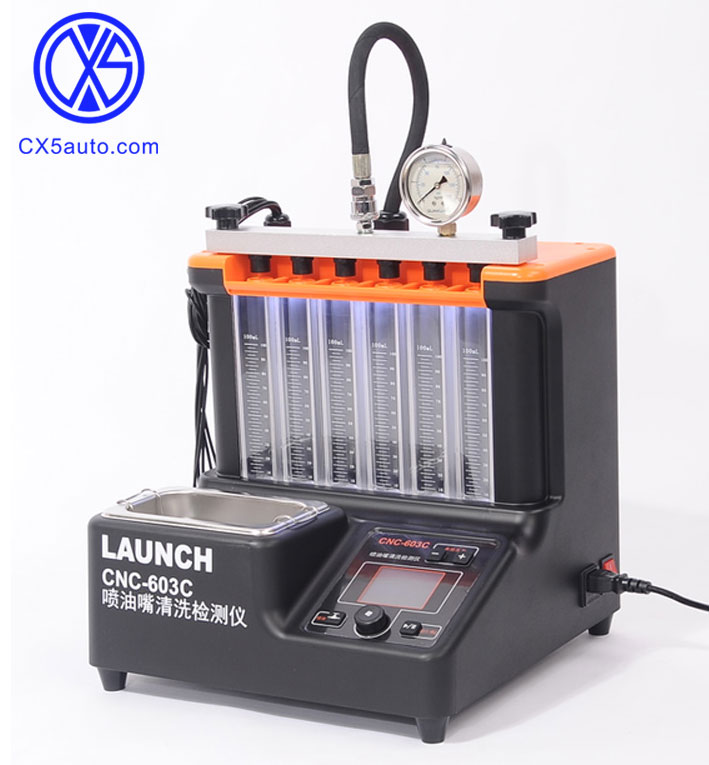 Specifications
Power supply: AC220V 50Hz/60Hz 1.5Amax
Machine power: 300W
Ultrasonic cleaning power: 100W
Analog detection speed range: 10-9990rpm step 10rpm
Timing range: 1-9999s
Pulse width range: 0.5-25ms step 0.1ms
Operating volume: 2000ml
Packing size: 438mm*438mm*528mm
Host size: 355mm * 350mm * 356mm
Multi-language: English, Spanish, French, Arabic, Italian, Russian, German, Portuguese, Polish, Swedish…ect.
Feature

* Ultrasonic cleaning: To perform simultaneous cleaning on several injectors and to remove the carbon deposits on the injector completely.
* Uniformity/Sprayability test: To test the uniformity of injecting amount of each injector, and to monitor the spraying status of each injector with the help of backlight. This test is also for reverse flush.
* Leakage test: To test the sealing and dribbling conditions of injectors under system pressure.
* Injecting flow test: To check the injecting amount of the injector in 15 seconds of constant injection.
* Auto. test: To test injectors by simulating different working conditions.
* On-vehicle cleaning: The unit is equipped with various adaptors and couplers that facilitate cleaning on the injectors on vehicle.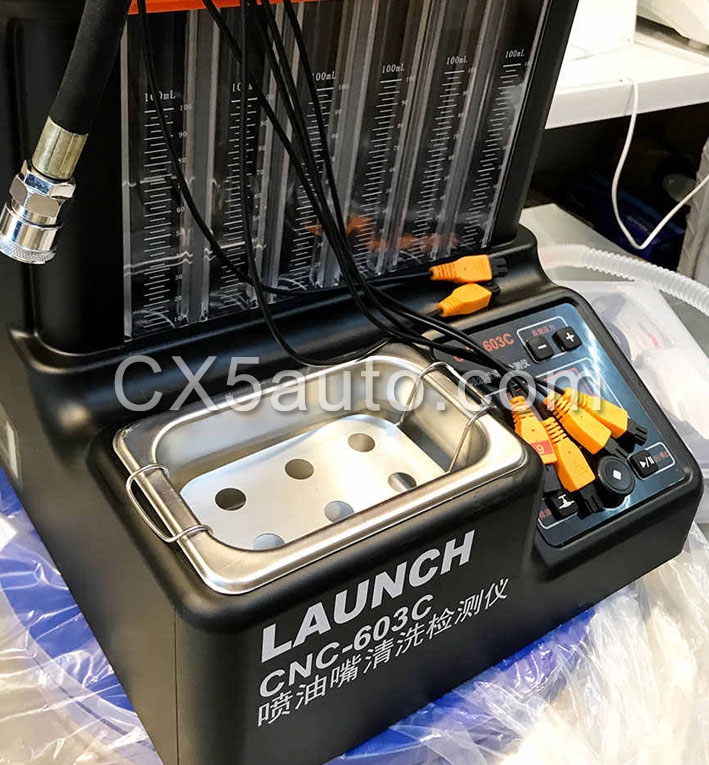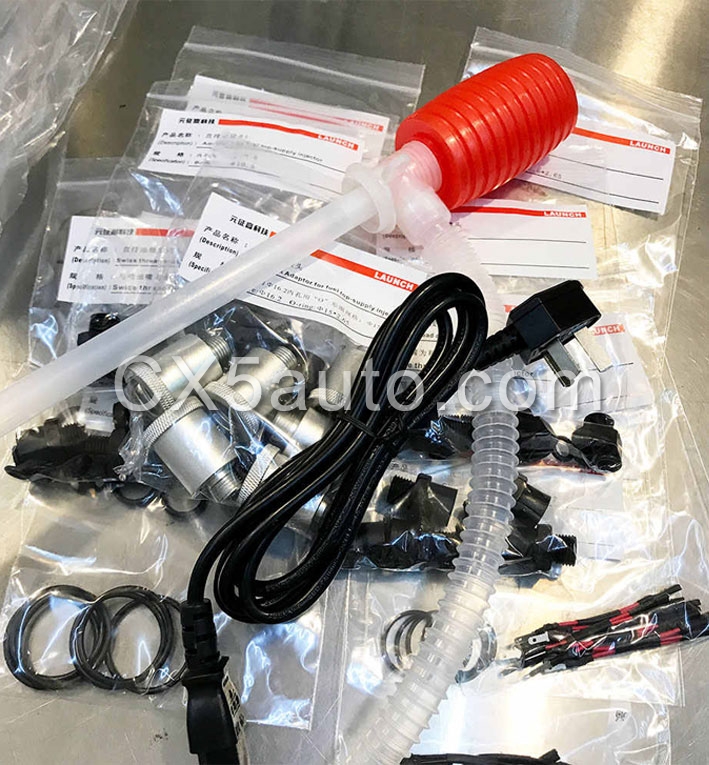 1.Dismantle free cleaning
2. Uniformity/Sprayability test
3.Automaticlly Ultrasonic cleaning
4. Delicate appearance
5.Sealing test
6. Injecting flow test
7.The adaptors as per colors to use
8.The glass pipes replaced by strong plastic pipes,more convenience and saftey during transportation.
9. Built in ultrasonice tank,more compact and easy to clean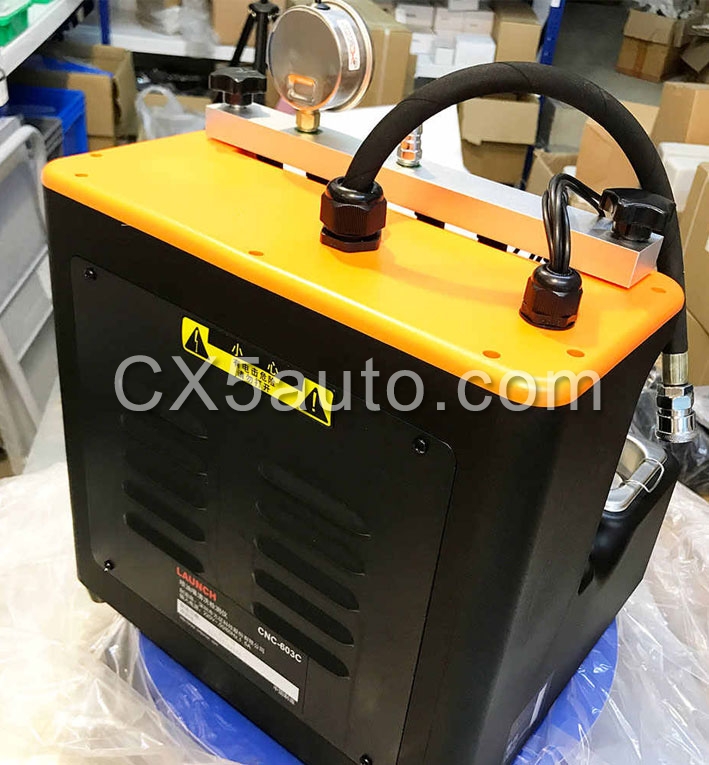 CNC-603C user interface is more friendly.→LCD screen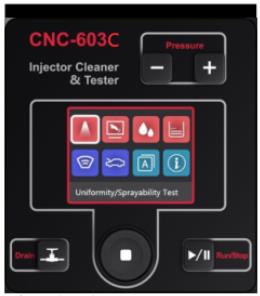 Package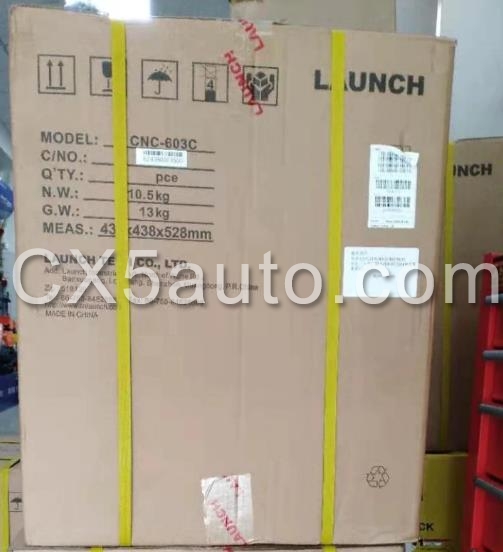 Packing size: 438mm*438mm*528mm
Weight: 13kg
Lead time: Have stock (by DHL or Fedex about 7 days arrive your workshop)