Original LAUNCH X431 PAD III V2.0 Full System Diagnostic Tool Support Coding and Programming
Item No.: 183
X431 PAD III is the only device in the X431 family which supports 140 car brands and more than 2000 car models. Scan 12V car and 24V Truck and Bus with the help of Launch HD Module.
INQUIRY
Description
LAUNCH X431 PAD III Introduction:
Launch X431 PAD III is a brand-new high-end car fault diagnostic device developed by Launch based on Android system. In addition to inheriting many advantages such as wide coverage of special functions and car models, powerful and a large number of diagnostic functions, and accurate test data, X431 PAD III also firstly introduces intelligent diagnosis technology, which makes maintenance more intelligent and efficient. X431 PAD III is specially designed for garages that are focused more on high end cars like BiMW, Aoudi, Beenz, Landroover, Jaguaer, Porchie and who love to repair difficult cars.
Specification:
Display Screen: 10.1″ IPS touchscreen 1920×1200 resolution
Operation System: Android 5.1
CPU: 8-Core Processor, 2GHz
Memory: 2GB
ROM: 64GB
Connectivity: Wi-Fi, USB 2.0, Bluetooth 2.0 and above
Camera: 2MP front-facing camera / 8MP rear-facing camera
Sensor: Gravity accelerometer
Audio Input / Output: Microphone, Speakers, 3.5mm stereo head jack
Power and Battery: 1500mAh lithium-polymer battery
Operating Temperature: -10 °C to 50 °C
Environment Temperature: -20 °C to 70 °C
Highlights of LAUNCH X431 PAD III :
1. Free Update Online for 3 Years on Launch Official Website
2. Intelligent Diagnosis: Identify the car model by VIN scanning and check historical maintenance and diagnostic records online
3. Wide Car Model Coverage: Support most of the car models from Asia, Europe and America, such as Maserati, Ferrari, Rolls-Royce, Bentley, Benz, BMW, and Audi etc
4. Support almost all OBD I and OBD II protocol
5. Extended Functions: Support the modules "Sensor and multimeter","Battery detection", "Oscilloscope", and "Endoscope"
6. Scan 12V car and 24V Truck and Bus with the help of Launch HD Module
7. LAUNCH X431 PAD3 is the only car scanner in the world which is built to IP65 water proof specifications, with dust proof design and which has passed droop test.
8. Support Multi-language
Function:
​LAUNCH X431 PAD3 is the only car scanner in the world which is built to IP65 water proof specifications, with dust proof design and which has passed droop test.
● Read and clear trouble code
● Support data stream and actuation test/component testing
● ECU/ECM programming
● Battery registration
● Injector coding
● KEY coding for Maruti Suzuki (upto 2013),TATA and HONDA(Note: KEY coding is not available for Mahindra car)
● Immobilizer trouble code reading.
● Service light reset for BMW, AUDI, Benz, VW, Skoda and many more.
● Support A.B.S(anti lock brake) function
● Support E.P.S(Electric Power Steering) function
● Support Air bag function
● Steering angle sensor reset
● Support car A.C( air conditioning system)
● Support ECM/PCM reset
● Support Automatic Transmission function
● Support B.C.M(Body Control Module) including seat belt, Central locking, Light
● Support adaptation for almost all car
● Scan radio system
● Online Coding Available for Euro car brands
●Special Functions
Support 15 special functions including Oil Reset, Throttle Adaptation, Steering Angle Reset, Electrical Parking Brake Reset, Tire Pressure
Reset, Anti-theft Matching, ABS Blake Bleeding, Battery Matching, Gear Learning, Injector programming, DPF Reset, Sunroof Initialization,
Headlamp Matching, Suspension Matching and AT Matching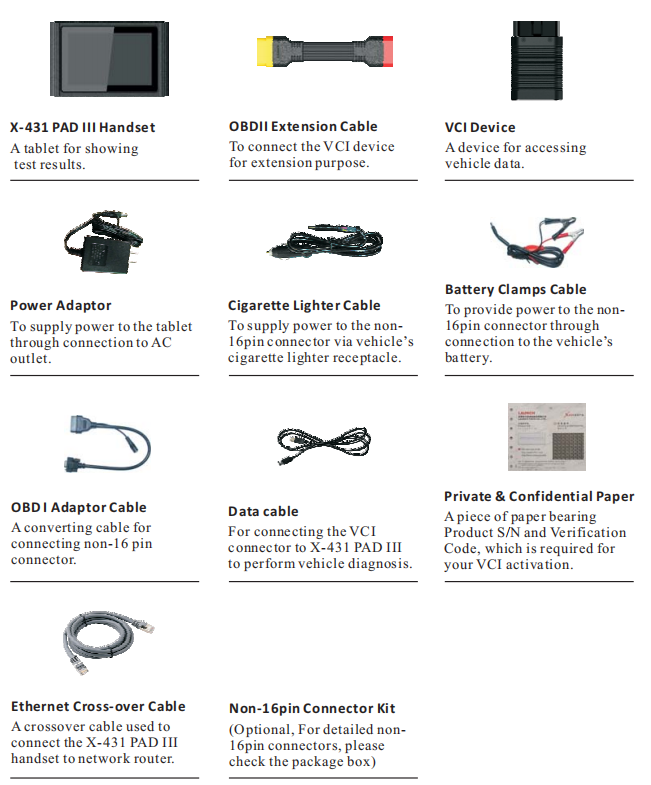 Package List:
1pc x X-431 PAD III Display Tablet
1pc x VC Module
1pc x Power Adapter for X-431 PAD III
1pc x Type A to B Cable
1pc x Diagnostic Cable
1pc x Power Adaptor for VCI Module
1pc x Cigarette Lighter Cable
1pc x Battery Clamps Cable
1pc x HD In / Ouut Cable
1pc x Pasword Envelope
1pc x Non-16pin Adaptor Cable
1pc x Quick Start Guide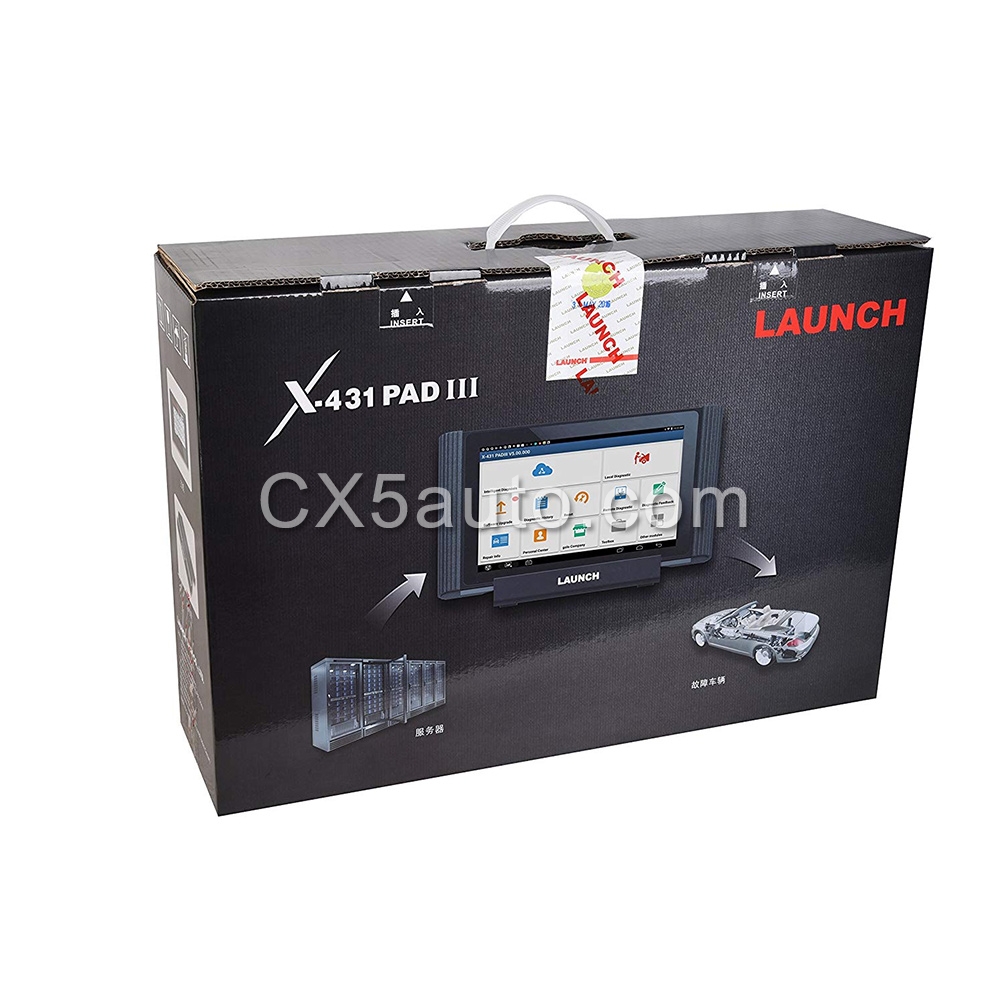 Warranty: 12 months

Lead time: Have stock (by DHL or Fedex about 7 days arrive your workshop)