Original Launch X-431 PAD VII with Smartlink C VCI Automotive Diagnostic Tool Support Online Coding and Programming
Item No.: 226
Launch X431 PAD VII is an unexpected high-end professional diagnostic tool with LAUNCH Innovation technology, comes with the ADAS calibration function, 32 service functions, TPMS service and 8 extended modules functions such as videoscope,oscilloscope,sen
INQUIRY
Description Launch X431 PAD VII Vehicle Coverage
Instruction
Launch X-431 PAD VII PAD 7 Automotive Diagnostic Tool Support Online Coding Programming and ADAS Calibration

Launch X431 PAD VII is an unexpected high-end professional diagnostic tool with LAUNCH Innovation technology, comes with the ADAS calibration function, 32 service functions, TPMS service and 8 extended modules functions such as videoscope,oscilloscope,sensor box,TPMS tools,key immobilizer and battery tester. New Smartlink C VCI powers technician a new diagnostic level without the limitation of diagnostic functions, tools and vehicle types. X431 Pad V offers topology mapping and a new module 'MALL' for users to expand and upgrade the tool with more diagnosis software.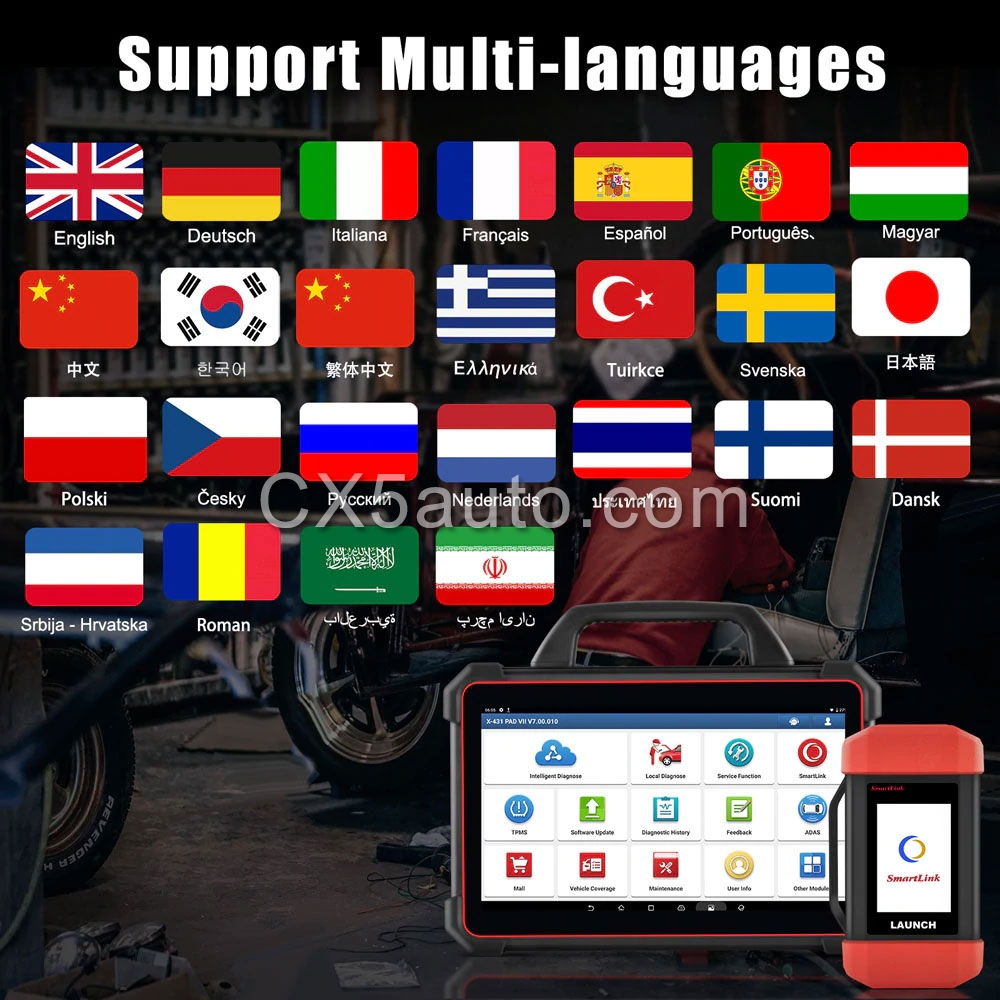 Launch X-431 PAD VII PAD 7 Highlights
1. With 1 Years Free Update Online
2. Global Version Without IP Limitation
3. Realtime Remote Diagnosis Function via WiFi
4. Support Commercial Vehicle and Passenger Car Diagnose, Support J2534, CAN FD, DoIP.
5. Full System Vehicle Coverage for U.S., Asian and European Markets Over 110 Brands, Which is Continually Updated
6. Multi-Language Supported: English, French, Spanish, German, Russian, Korean, Japanese, Portuguese, Italian, Polish, Dutch, Swedish, Chinese
7. Special Functions Supported: Injector, Reset Brake Bleed, Reset TPMS, Electronic Throttle Relearn, Reset DPF, Reset SAS, Reset Oil, Reset Brake, Reset BMS
8. Support Online Programming Till Year 2020: BMW, Mercedes, VW, Audi, Seat, Skoda, Porsche, Nissan, Infiniti, Subaru. (Can't perform in United States, Canada and Spain)
9. New Module "MALL" is Now Available for All Users to Expand and Upgrade Their X-431 PAD VII with More Diagnosis Software.
Notes:
1. Can Not Support Online Programming In USA and Spain, Other Countries Won't Have This Problem
2. PAD VII Can Support ADAS Calibration, But Clients Need To Buy the ADAS Devices To Make It. Without ADAS Devices, Can Not Do ADAS Calibration by PAD VII Only.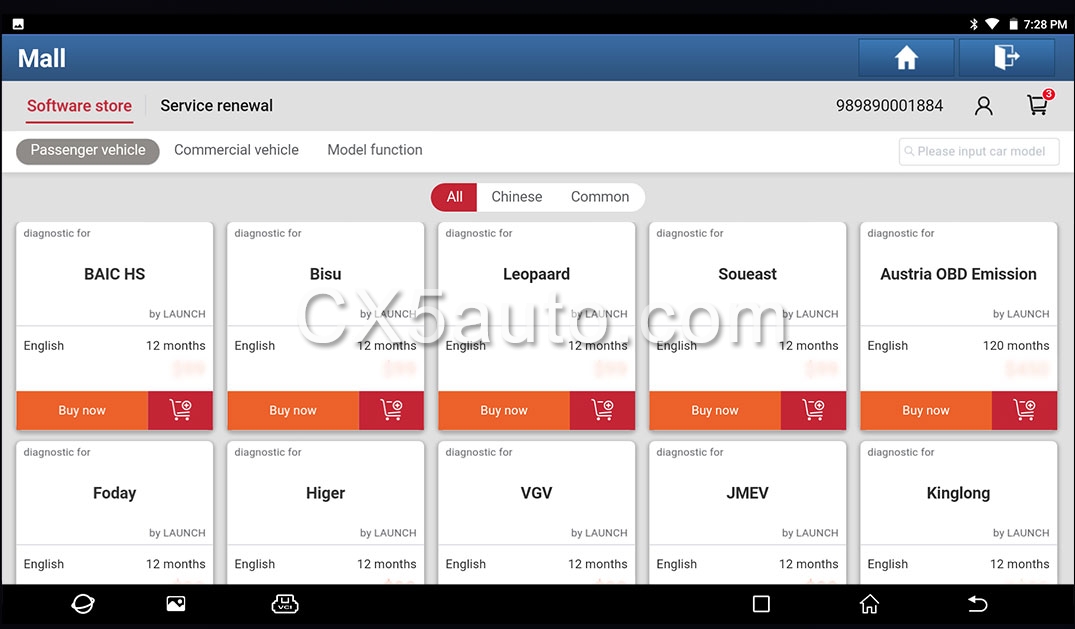 Superior Hardware Make Diagnosis Faster Than Ever

Launch X431 PAD VII is an unexpected high-end diagnostic, comes with a 13.3 inch large touch screen, 32 service functions and Smartlink remote diagnosis. Equipped with the 2.0GHz Octa-core optimized chipset, Android 9.0 operating system, 8G memory and 256G large storagememories, X- 431 PAD VII makes your intelligent diagnosis faster than ever. The precision-machined outer shell is designed to work against workshop hazards such as water and dust damage and in compliance with IP65.
The X-431 PAD VII uses a high-capacity (about 19,000 mAh) and high power battery to ensure a longer battery life but a shorter charging time. Moreover, X-431 PAD VII improves the connection between scanner and VCI into 'Dual WiFi' connectivity, which allows the VCI to maintain faster and stable connection during diagnostics.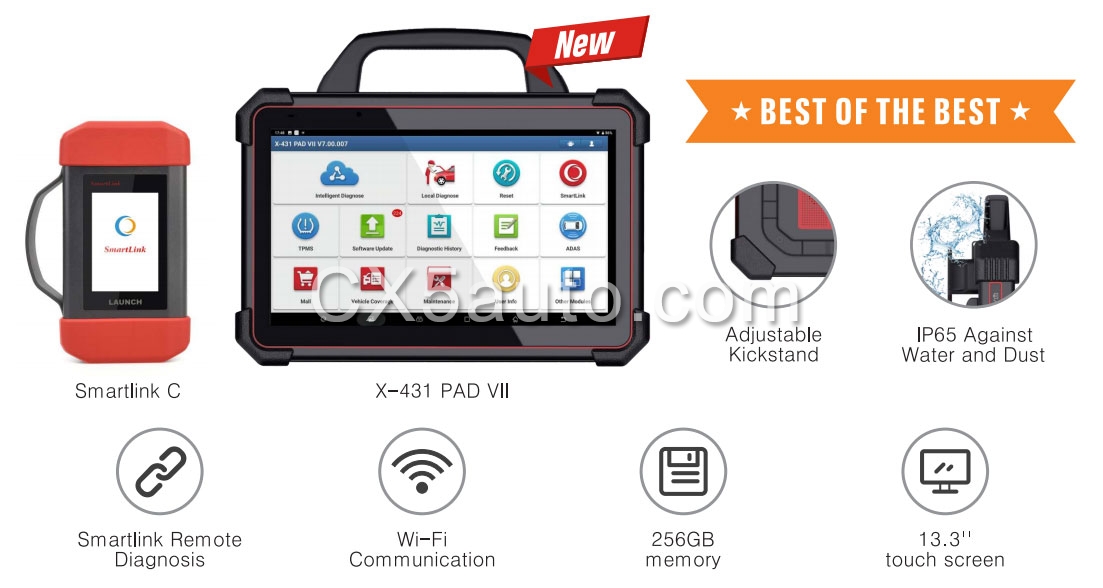 Launch X431 Pad VII Functions
1. ALL System Diagnosis

Powerful all system diagnostic functions (intelligent diagnosis, remote diagnosis, read DTC, clear DTC, read data stream, actuation test), accurate diagnostic data, and abundant special functions.
Local diagnose:When the intelligent diagnosis is not available in an environment without network, choose traditional diagnosis. Select the vehicle make and model manually to perform the vehicle detection.
Real-time voltage display helps technician to monitor the voltage condition of vehicle during the diagnosis
Intelligent diagnostic enable identify VIN automatically and access system quickly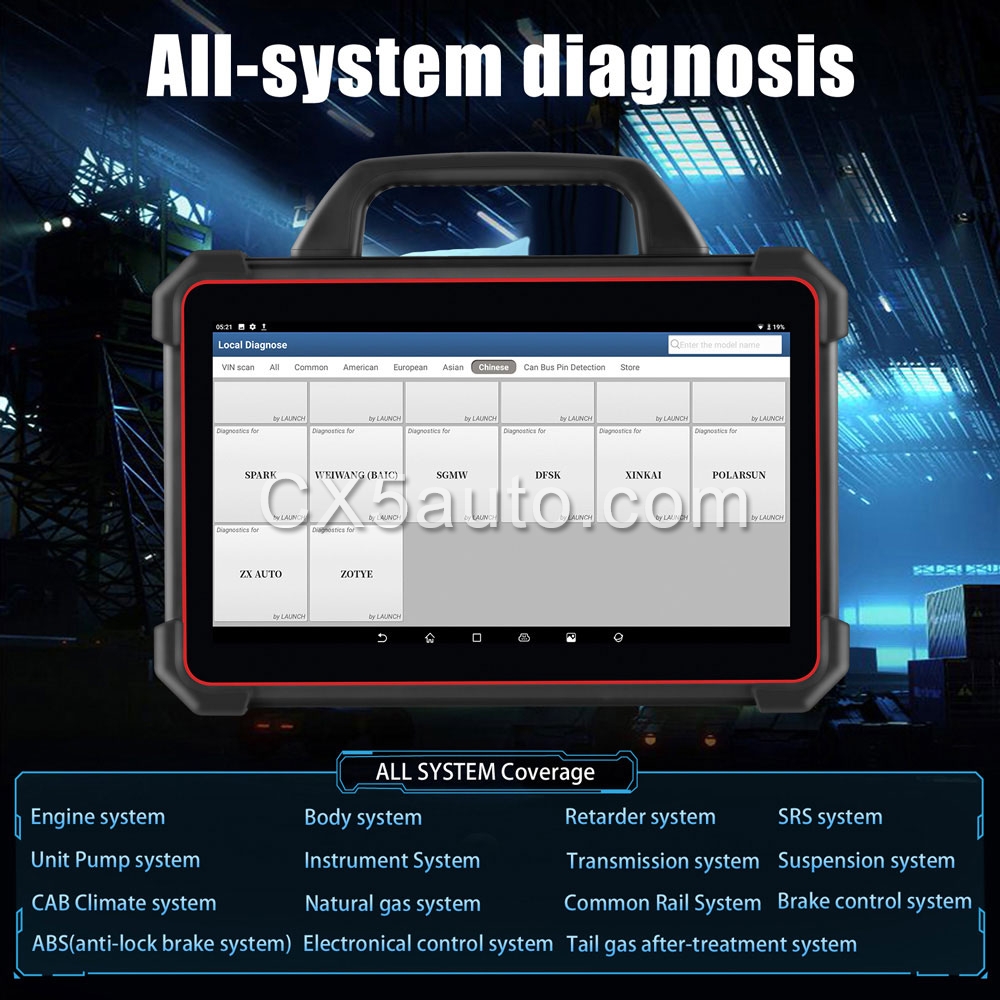 BI-Directional Control [Active Test]
Check the DTCs and all systems communication status visually by topology module mapping function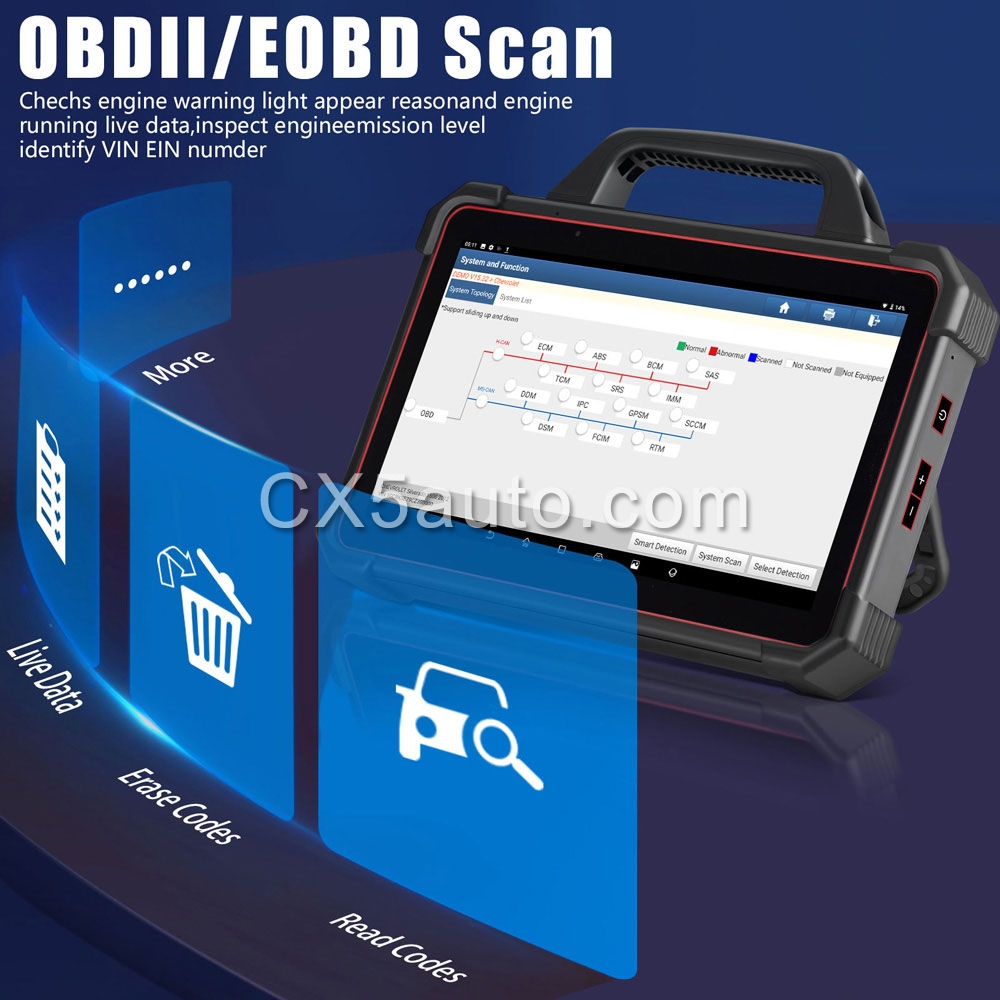 32 Service Functions

Service Lamp Reset
Electronic Throttle
Brake Reset
Immobilizer Reset
Battery Reset
Injector Coding
SAS Reset
TPMS Reset
ABS Bleeding
Gear Learning
DPF Regeneration
Gearbox Reset
Headlamp Reset
Sunroof Initialization
SUS Reset
EGR Adaption
A/F Reset
AdBlue Reset
Nox Sensor Reset
Stop/Start settings
Transport Mode
Coolant Bleed
Windows Calibrations
Seat Calibrations
Tyre Reset
Language Change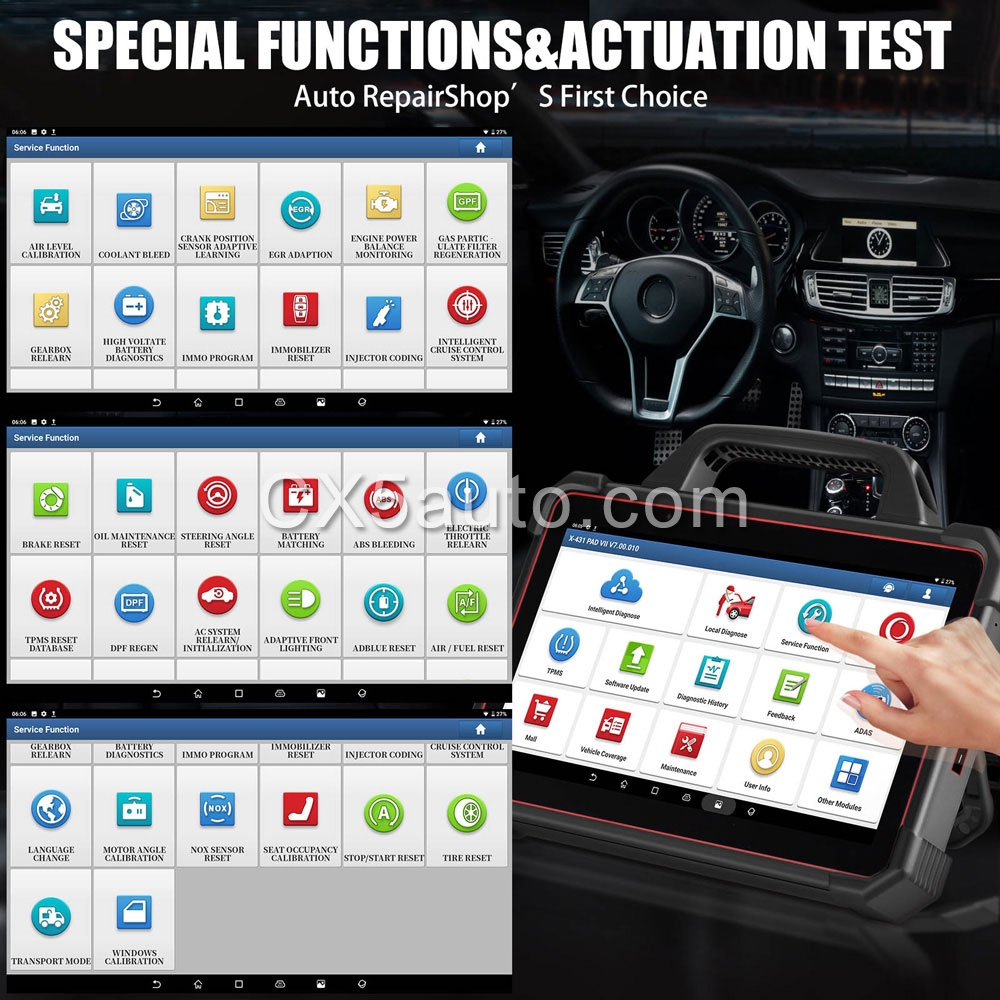 Advanced ECU Coding and Online Coding
J2534 ECU + Programming
Flash Hidden Functions
ECU Coding
Guided Functions
AutoAuth for FCA SGW
Anti-Theft IMMO Service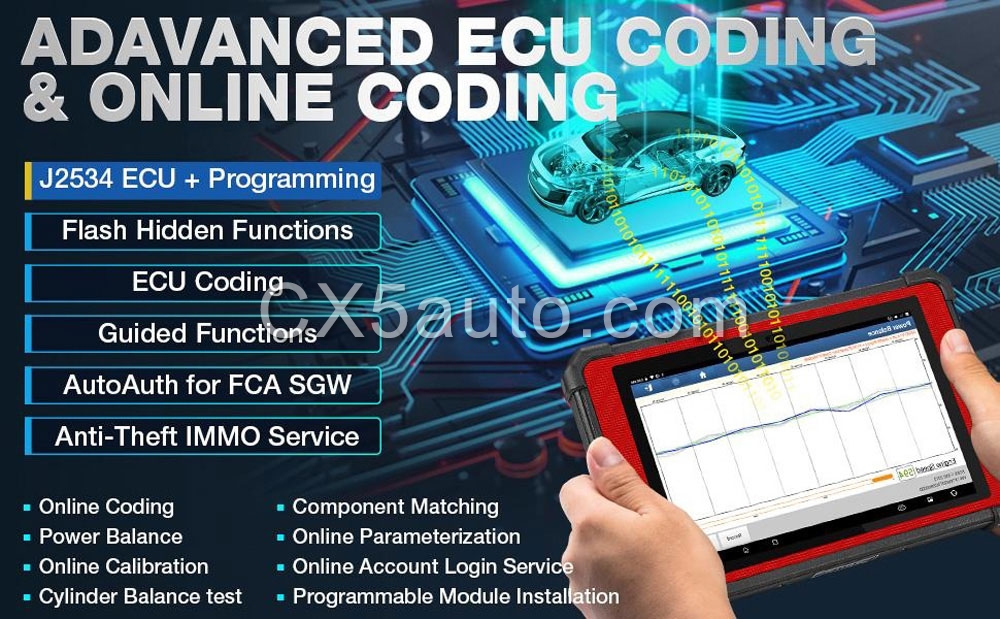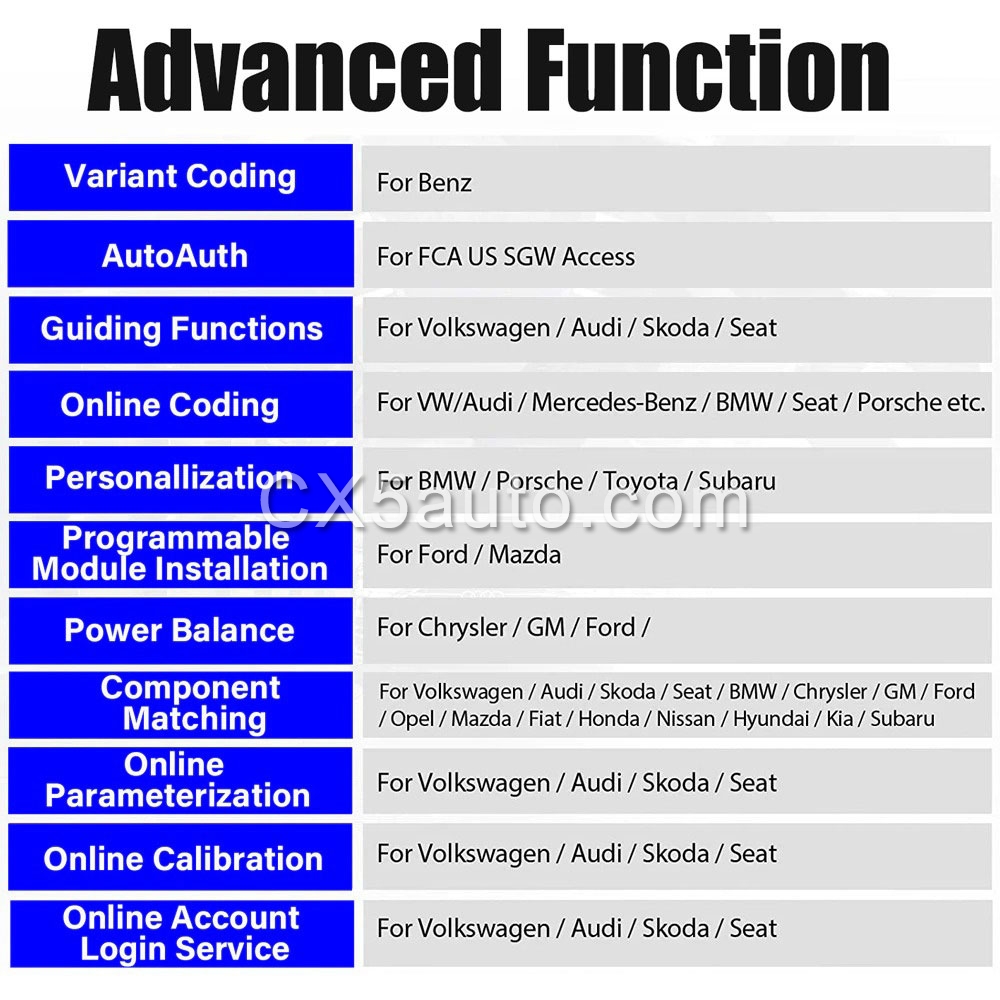 X431 PAD VII also supports 8 extended modules such as videoscope, oscilloscope, sensor box, TPMS tools, key immobilizer and battery tester. With these extended modules, technicians are available to solve high level faults with ease, to make thouse extended modules, you need to pay and buy the following extended adapters, please notice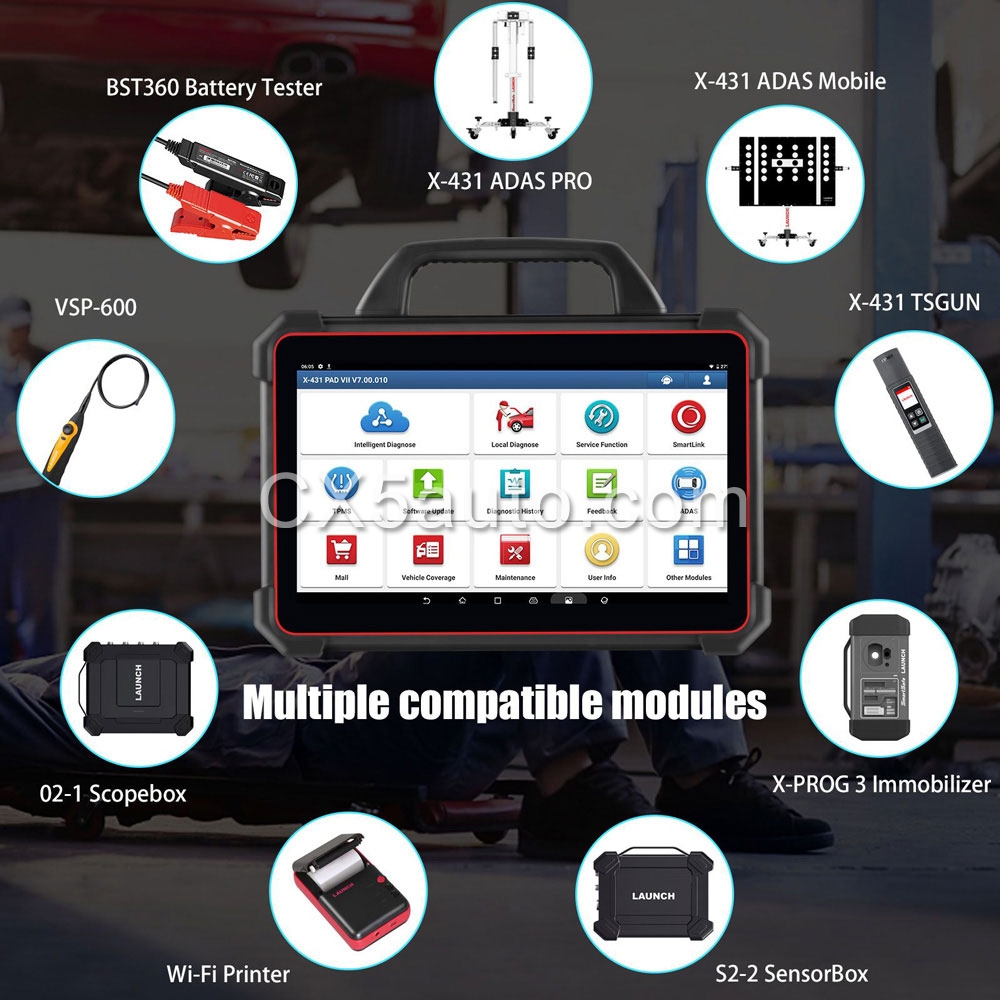 Specification
X-431 PAD VII
Operation System: Andorid 9.0
CPU: 2.0GHz Octa-core
Display: 13.3' touch screen 1920*1080
Memory: 8GB
Storage: 256GB
Camera: Rear 13MP, Front 8MP
WiFi: Dual Band 2.4 & 5GHz
Diagnostic Communication: WiFi
Working Temperature: 0℃~50℃
Dimension: 353*236*71 mm


Smartlink
Operation System: N/A
CPU: N/A
Display: 3.5' touch screen 320*480
Memory: 256M
Storage: 8GB
Camera: N/A
WiFi: Dual Band 2.4 & 5GHz
Diagnostic Communication: WiFi & BT & USB
Working Temperature: 0℃~50℃
Dimension: 204*110*45 mm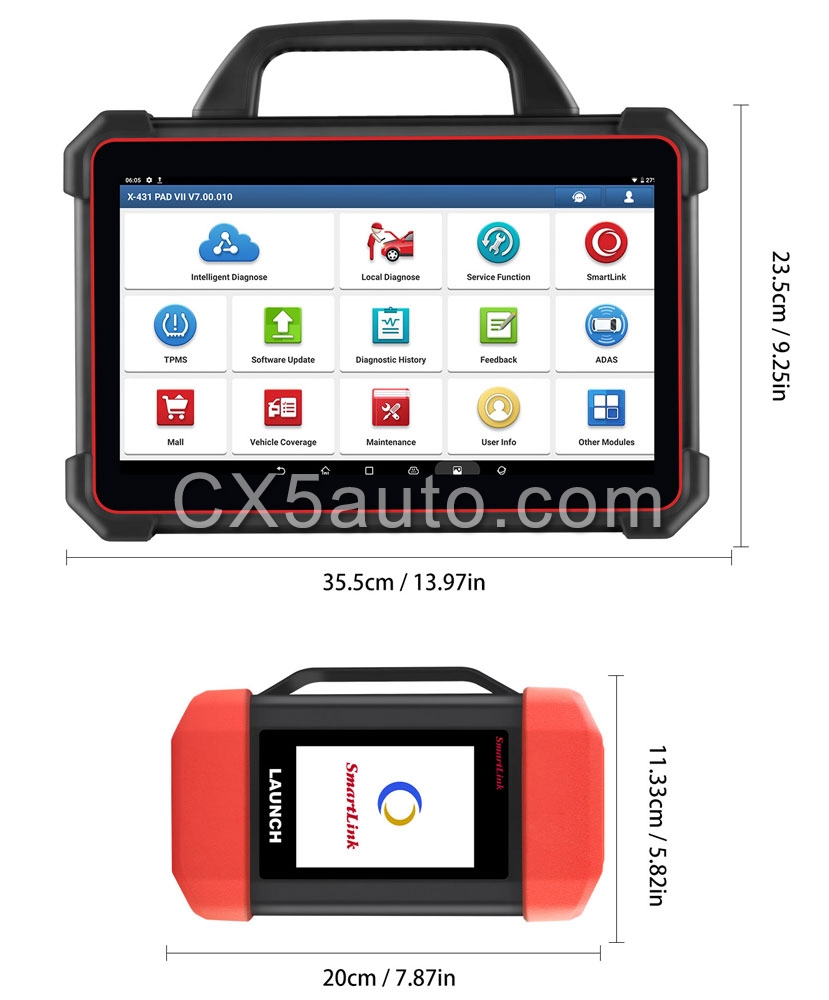 Package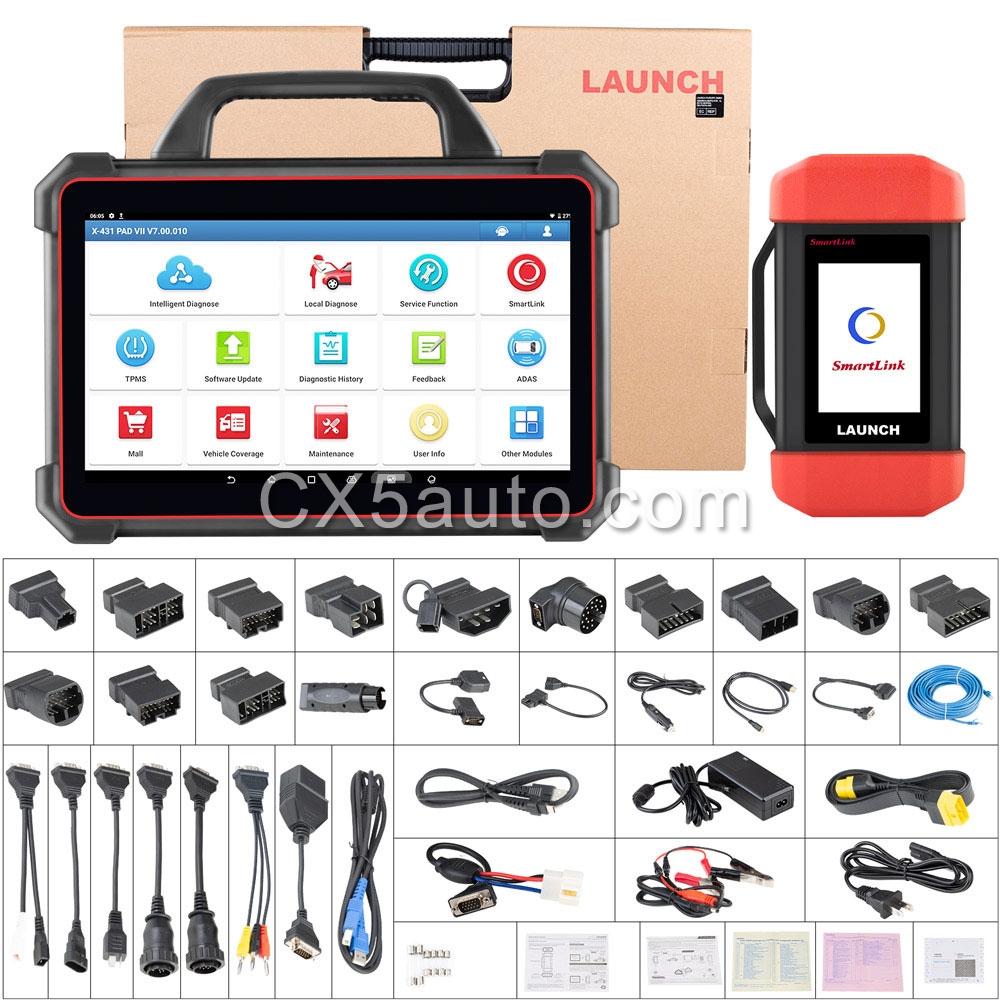 Comparison Table for Launch X431 PAD VII and PAD V
Launch PAD V
Launch PAD VII
Configuration
Display
10.1'' / IPS 1920*1200
13.3'' / 1920 x 1080 IPS
CPU
2.0GHz Octa-core
2.0GHz Octa-core
Memory
4 GB
8 GB
Storage
64 GB
256 GB
Camera
13MP Rear + 8MB Front
13MP Rear + 8MB Front
VCI Connector
Smartbox 3.0
Smartlink C
VCI Connection
2.4GHz & 5GHz dual WiFi
2.4GHz & 5GHz dual WiFi
Battery
9360mAh
71.1Wh (≈19000mAh)
Adjustable Supporting Holder
●
●
IP65 Waterproof & Dustproof
●
●
Quick Charge Technology
●
●
Charging Station
●
PUSH PUSH Design
Size (mm)
320 * 211 * 46
353 * 236 * 71
FEATURES
Operating System
Android™ 7.1
Android™ 9.0
Full System Diagnosis
●
●
OBD II Full Function
●
●
Tech-to-Tech Remote Diangosis
●
●
Smartlink Remote Diagnosis
●
Auto VIN Identification
●
●
Bi-Directional Control
●
●
Advanced Coding
●
●
VW & AUDI Guided Function
●
●
J2534
●
●
DoIP
●
●
RP1210/D-PDU
●
●
Advanced Programming
●
●
Complete TPMS Service
with X-431 TSGUN
with X-431 TSGUN
Advanced Key Programming
with X-PROG 3
with X-PROG 3
ADAS Calibration
Optional
Optional
Software Upgrade
WiFi
WiFi
Vehicle Coverage
Passenger Cars Medium & Light Duty Vehicles Heavy Duty Vehicles (Optional)
Passenger Cars Medium & Light Duty Vehicles Heavy Duty Vehicles (Optional)
Service Functions
26
32 by local diagnosis
Get More by Smartlink Remote Diagnosis
SERVICE FUNCTIONS
Brake Reset
●
●
Oil Reset
●
●
SAS Reset
●
●
Battery Match
●
●
ABS Bleeding
●
●
Elec. Throttle RLRN
●
●
TPMS Reset
●
●
DPF Regeneration
●
●
Gear Learning
●
●
Immobilizer
●
●
Injector Coding
●
●
Sunroof Initialization
●
●
SUS Reset
●
●
AFS Reset
●
●
Gearbox Learning
●
●
Adblue Reset
●
●
Coolant Bleeding
●
●
EGR Adaption
●
●
Nox Sensor Reset
●
●
Seats Call Bration
●
●
Tyre Reset
●
●
Windows Calibration
●
●
A/F Reset
●
●
Stop/Start Reset
●
●
Transport Mode
●
●
Language Change
●
●
AC System Relearn
●
ACC Calibration
●
Engine Power Balance Monitoring
●
GPF Regeneration
●
Rotation Angle Sensor Calibration
●
High-Voltage Battery Health Detection
●
More Reset Services
Via Smartlink Remote Diagnosis
Compatible Modules
X-431 ADAS PRO
●
●
X-431 ADAS Mobile
●
●
X-PROG 3 Immobilizer
●
●
X-PROG Immobilizer
●
●
BST360 Battery Tester
●
●
WiFi Printer
●
●
X-431 TSGUN TPMS device
●
●
VSP600 Videoscope
●
●
X-431 O2-1 Osciloscope
●
●
X-431 S2-2 Sensorbox
●
●
HD III Module
HD III Module
Remote Diagnosis: Diagnose vehicles without being on-site with Launch scan tools
Smartlink Remote Diagnosis: Diagnose vehicles without being on-site with Launch scan tools, OEM tools or other diagnostic tools of different brands.

Launch X431 PAD VII Vehicle Coverage:

Passenger Vehicles:

1. Australian: AUST Holden, AUST Ford
2. Asian: Toyota/ Lexus, Honda/ Acura, Mazda, Subaru, Nissan/ Infiniti, Mitsubishi, Hyundai, Isuzu, Daihatsu, KIA, Daewoo, Suzuki, Proton, Tata, Mahindra, Ssangyong, Perodua, Maruti
3. European: Audi, Mercedes/ Maybach, BMW/ MINI/ Rolls Royce, VW/ Bentley/ Bugatti, Opel/ Vauxhall, Peugeot, Citroen, Volvo, Sprinter, Renault/ Dacia, Fiat/ Romeo/ Abarth/ Lancia, Rover, Landrover, Saab, Seat, Skoda, Smart, Maserati, Ferrari, Arston Martin, Porsche, Jaguar
4. USA: USA Ford/ Lincoln, GM/ Buick/ Cadillac/ Chevrolet, Chrysler/ Dodge/ Jeep
5. Chinese: Changcheng (Great Wall), Geely, Qirui_TY(Cherry), Futian, Changan, Changhe, Haifei ….etc.
6. Special: Immobilizer/ Key, Injector, Reset Brake Bleed, Reset TPMS, Electronic Throttle Relearn, Reset DPF, Reset SAS, Reset Oil, Reset Brake, Reset BMS
7. Others: EOBD, Demo

Heavy Duty Vehicles (Need to Pay Heavy Duty License and Adpater Set):

Nissan (Diesel)
Mitsubishi (Diesel)
USA Ford Diesel, Kenworth
Astra, Benz Heavy Duty, Bosch Diesel, China Heavy Duty, Cummins Heavy Duty, DAF, Delphi Diesel
Denso Diesel, FAW Liberation, Foton Auman, FUSO, Hino, Hyundai Heavy Duty, Isuzu Heavy Duty
Iveco Heavy Duty, JAC Heavy Duty, Mack , MAN , OBD Heavy Duty, Scania, Shangchai Diesel, Volvo Heavy Duty
WP Diesel, Airbus, Allison Transmission Box, Ashok Rejlander, Bendix ABS, Caterpillar Heavy Duty
Chai Heavy Vehicle, Chaoyang Diesel, Construction Machinery, CREDO Heavy Vechicle, Detroit Engine
Dongfeng Commercial Vehicle, Dongfeng Yufeng, Doosan Engine, Freightliner Heavy Duty Truck
Full Diesel Diagnosis Software, Haldex ABS Heavy Duty, HD_ABS System, HD_GoldenDragon, HD_International
HD_Kinglong, HD_Maxxforce, HD_Tata, HD_Western_Star, Heavy Truck Presentation Software
IRISBUS HD, IRIZAR HD, NEOPLAN HD, Peter HD, Renault HD, SETRA HD, Stannic Bavin, Sterling HD
Sunlong Bus, Sunwin Bus, UD Trucks 2F Nissan Diesel, WABCO ABS, Yang Chai Engine

Smartlink C VCI

Smartlink C is a new generation intelligent diagnostic box with Linux system independently developed by Launch, which supports multiple communication modes (USB, BT, WIFI) and multiple diagnostic protocols. It can be used alone as a remote diagnosis box for SmartLink remote diagnosis, or as a pass-thru tool to connect with OEM software.

* Support D-PDU / J2534 / RP1210 diagnostic standard, and cover passenger cars and commercial vehicles at the same time
* Support the latest diagnosis protocol of CAN/DOIP / CAN FD
* Support 2.4G/5G dual band
* Support online upgrade

In the SmartLink ecology system, if a technician (SmartLink C) does not have time to puzzle through a touch vehicle problem, he can seek a trusted second opinion or additional expertise on various vehicle issues from remote master technicians or repair shops (SmartLink B). SmartLink B enables the shop owner to greatly increase customer's retention and boost shop revenue by providing the professional technical assistance service.
It mainly consists of the following parts:

Passenger Vehicles:

1. Australian: AUST Holden, AUST Ford
2. Asian: Toyota/ Lexus, Honda/ Acura, Mazda, Subaru, Nissan/ Infiniti, Mitsubishi, Hyundai, Isuzu, Daihatsu, KIA, Daewoo, Suzuki, Proton, Tata, Mahindra, Ssangyong, Perodua, Maruti
3. European: Audi, Mercedes/ Maybach, BMW/ MINI/ Rolls Royce, VW/ Bentley/ Bugatti, Opel/ Vauxhall, Peugeot, Citroen, Volvo, Sprinter, Renault/ Dacia, Fiat/ Romeo/ Abarth/ Lancia, Rover, Landrover, Saab, Seat, Skoda, Smart, Maserati, Ferrari, Arston Martin, Porsche, Jaguar
4. USA: USA Ford/ Lincoln, GM/ Buick/ Cadillac/ Chevrolet, Chrysler/ Dodge/ Jeep
5. Chinese: Changcheng (Great Wall), Geely, Qirui_TY(Cherry), Futian, Changan, Changhe, Haifei ….etc.
6. Special: Immobilizer/ Key, Injector, Reset Brake Bleed, Reset TPMS, Electronic Throttle Relearn, Reset DPF, Reset SAS, Reset Oil, Reset Brake, Reset BMS
7. Others: EOBD, Demo

Heavy Duty Vehicles (Need to Pay Heavy Duty License and Adpater Set):

Nissan (Diesel)
Mitsubishi (Diesel)
USA Ford Diesel, Kenworth
Astra, Benz Heavy Duty, Bosch Diesel, China Heavy Duty, Cummins Heavy Duty, DAF, Delphi Diesel
Denso Diesel, FAW Liberation, Foton Auman, FUSO, Hino, Hyundai Heavy Duty, Isuzu Heavy Duty
Iveco Heavy Duty, JAC Heavy Duty, Mack , MAN , OBD Heavy Duty, Scania, Shangchai Diesel, Volvo Heavy Duty
WP Diesel, Airbus, Allison Transmission Box, Ashok Rejlander, Bendix ABS, Caterpillar Heavy Duty
Chai Heavy Vehicle, Chaoyang Diesel, Construction Machinery, CREDO Heavy Vechicle, Detroit Engine
Dongfeng Commercial Vehicle, Dongfeng Yufeng, Doosan Engine, Freightliner Heavy Duty Truck
Full Diesel Diagnosis Software, Haldex ABS Heavy Duty, HD_ABS System, HD_GoldenDragon, HD_International
HD_Kinglong, HD_Maxxforce, HD_Tata, HD_Western_Star, Heavy Truck Presentation Software
IRISBUS HD, IRIZAR HD, NEOPLAN HD, Peter HD, Renault HD, SETRA HD, Stannic Bavin, Sterling HD
Sunlong Bus, Sunwin Bus, UD Trucks 2F Nissan Diesel, WABCO ABS, Yang Chai Engine

Smartlink C VCI

Smartlink C is a new generation intelligent diagnostic box with Linux system independently developed by Launch, which supports multiple communication modes (USB, BT, WIFI) and multiple diagnostic protocols. It can be used alone as a remote diagnosis box for SmartLink remote diagnosis, or as a pass-thru tool to connect with OEM software.

* Support D-PDU / J2534 / RP1210 diagnostic standard, and cover passenger cars and commercial vehicles at the same time
* Support the latest diagnosis protocol of CAN/DOIP / CAN FD
* Support 2.4G/5G dual band
* Support online upgrade

In the SmartLink ecology system, if a technician (SmartLink C) does not have time to puzzle through a touch vehicle problem, he can seek a trusted second opinion or additional expertise on various vehicle issues from remote master technicians or repair shops (SmartLink B). SmartLink B enables the shop owner to greatly increase customer's retention and boost shop revenue by providing the professional technical assistance service.
It mainly consists of the following parts: