LAUNCH X431 CRT5011E TPMS Activation Diagnostic tools Reset Relearn reprogram 315 MHz 433 MHz tire pressure sensors OBD2 Scanner
Item No.: 220
Activate 315/433Mhz Sensor
Reset, relearn and reprogram
Read DTC, Clear DTC
Free update online
INQUIRY
Description
Instruction
CRT-511 is a powerful and versatile tool offers 98% coverage of global vehicles with tire pressure system. It is ideal for repair shops or tire shops to easily and accurately find and diagnose the faulty tire pressure sensor, read tire sensor status, read and clear tire pressure DTCs, and reset, relearn and reprogram TPMS sensors.
Features
1. Covers over 98% global vehicles with tire pressure system
2. Activate and match with all 315 MHz/ 433 MHz tire pressure sensors
3. Reset, relearn and reprogram tire pressure sensors fast
4. Diagnose the tire pressure issues, read and clear tire pressure DTCs
5. Reprogramming LAUNCH sensors with unlimited times
6. Read tire pressure, tire temperature and battery status accurately
7. Reprogram up to 8 sensors at one time
8. Built-in learning tutorial for easy operation
9. Multiple ID generation methods: Manual creation、Copy ID、Automatic creation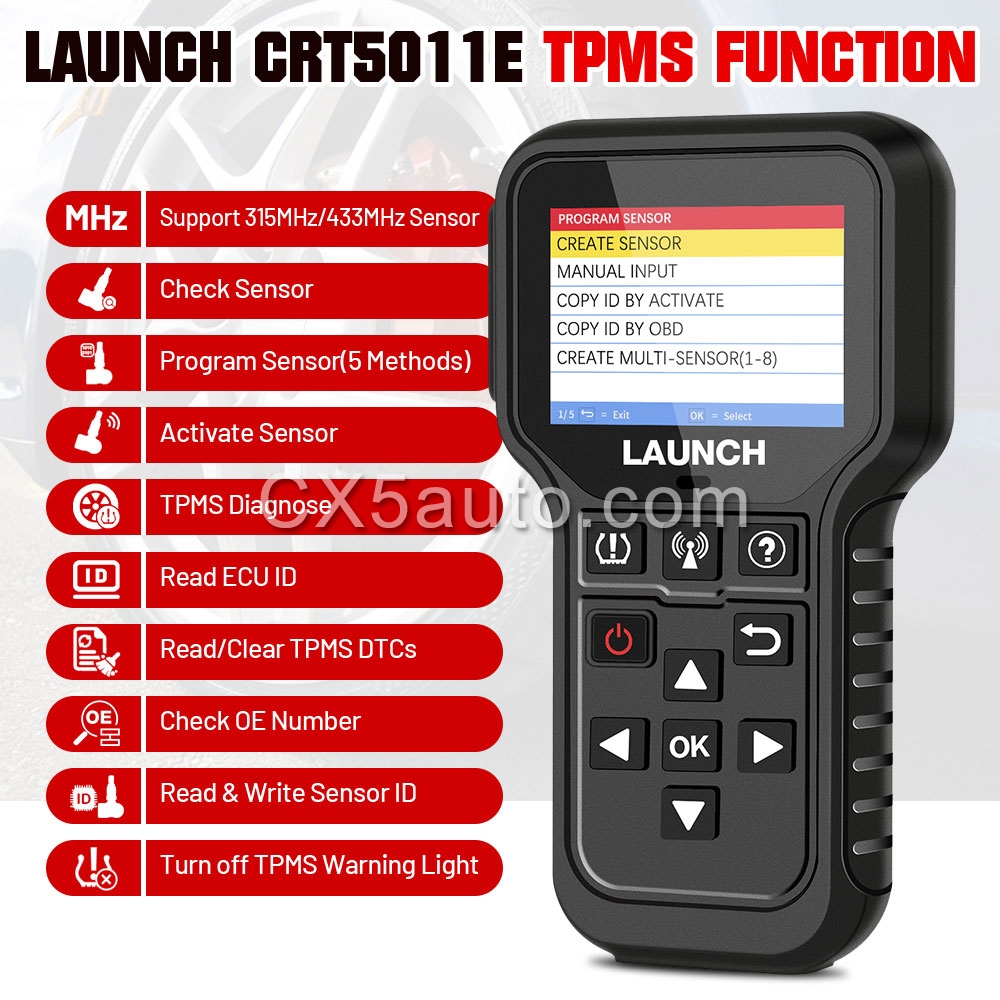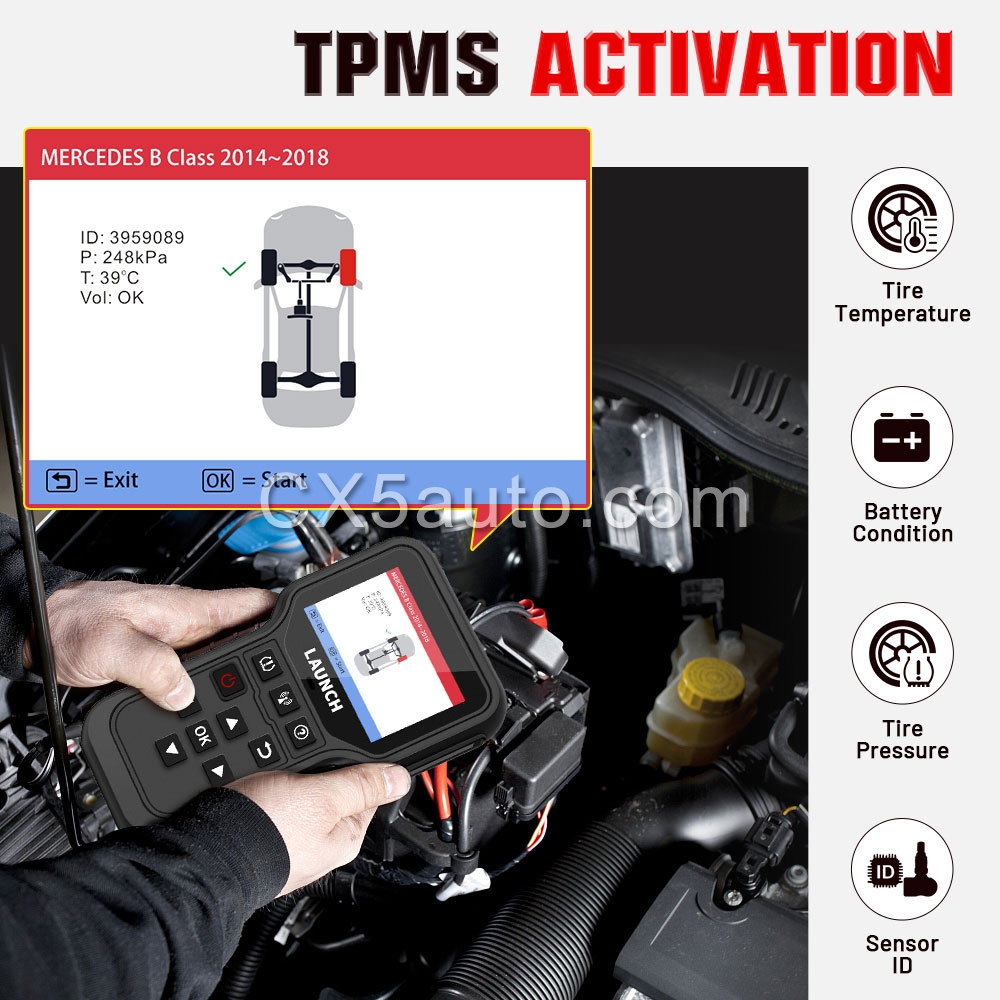 Creat & Program Sensor(5 Methods),Program up to 8 sensors
The user can use this function to program the sensor data to a blank LAUNCH sensor to replace the sensor with insufficient power and not working properly.

Provides three sensor programming methods: automatic, manual and copy by activation.

automatic
When the original sensor ID cannot be obtained, this function can be used to program the LAUNCH sensor according to the ID randomly created by the test vehicle.

Manual
The original sensor ID can be obtained, and this function can be used to manually enter the ID or create it at will.

Copy by activation
By first activating the original sensor data, and then copying the activated sensor data into the LAUNCH sensor. Before using this method, the original sensor data must be activated.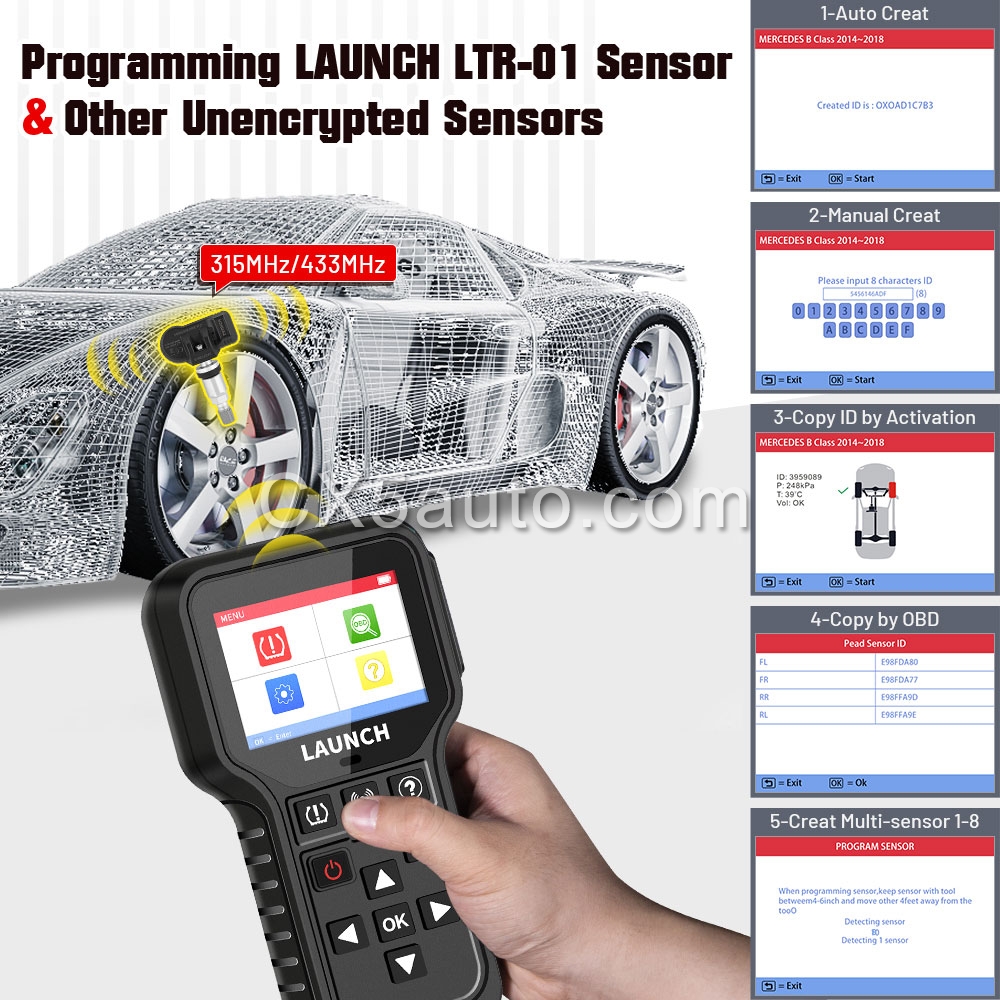 TPMS learning
The user can use this function to write the newly programmed sensor ID into the vehicle ECU for sensor identification. Only when the newly programmed sensor ID is different from the original sensor ID stored in the vehicle ECU, the re-learning operation is required.
A total of three sensor learning methods are provided: static learning, self-learning and OBD re-learning

Static learning
Static learning needs to put the vehicle in "learning mode", and then follow the learning steps prompted on the screen.

self-study
For some vehicles, the learning function can be completed by driving the vehicle self-learning.

OBD re-learning
This function allows the diagnostic equipment to directly write the sensor ID to the TPMS module.
To perform the OBD re-learning function, first use the tire pressure tool to activate all four tire sensors. Then use the diagnostic equipment and its attached diagnostic connector, and follow the on-screen instructions to complete the re-learning operation.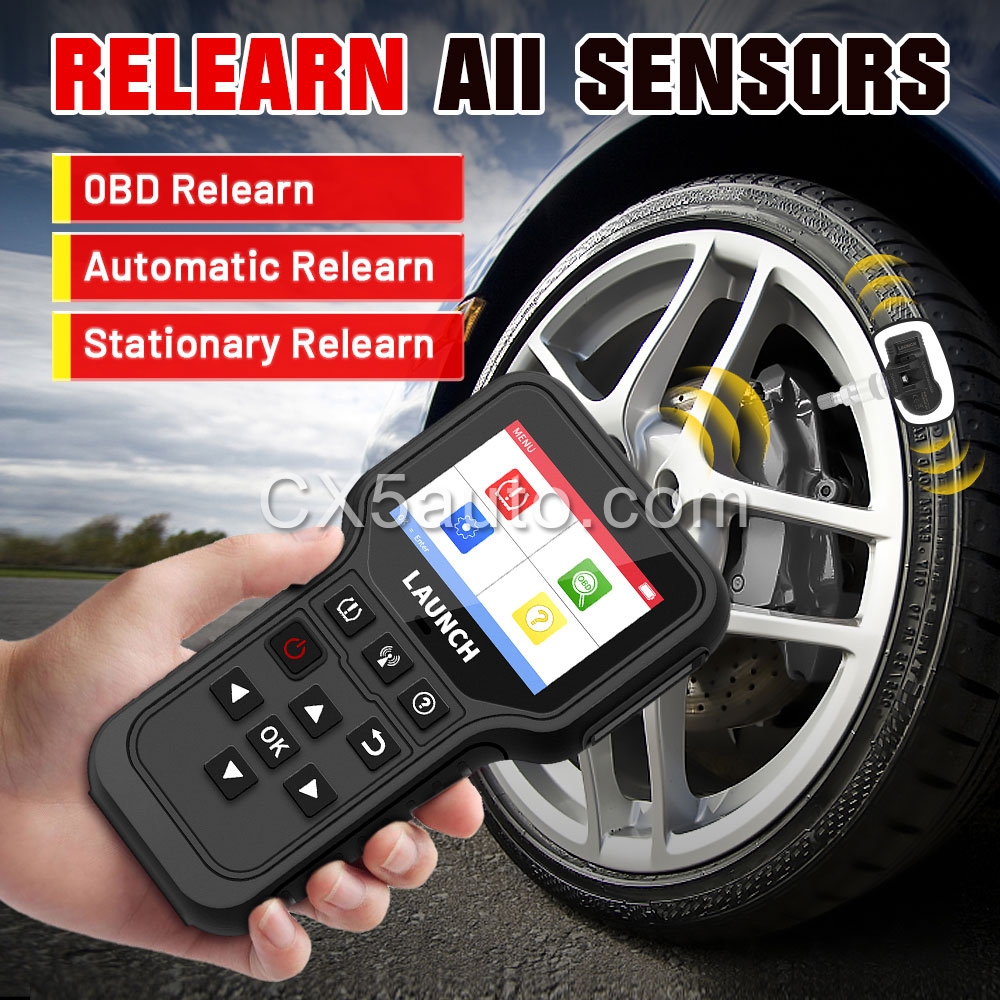 Full OBD2 Function
check for DTCs, isolate the cause of the illuminated Malfunction Indicator Lamp (MIL), check monitor status prior to emissions certification testing, verify repairs, and perform a number of other services that are emission-related.

• Read dynamic data streams and MIL
• Read readiness status
• Freeze frame data
• Read DTCs
• Clear DTCs
• O2 sensor test
• On-board monitor test
• Read vehicle information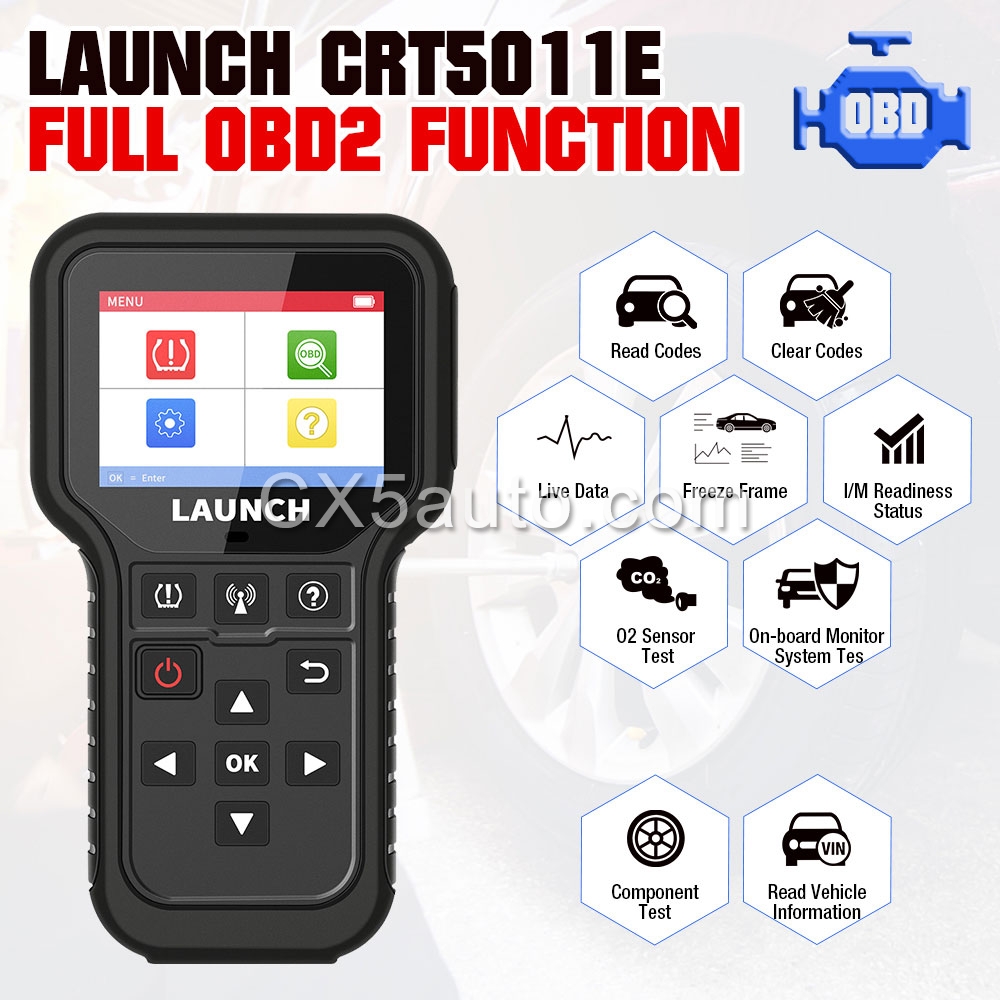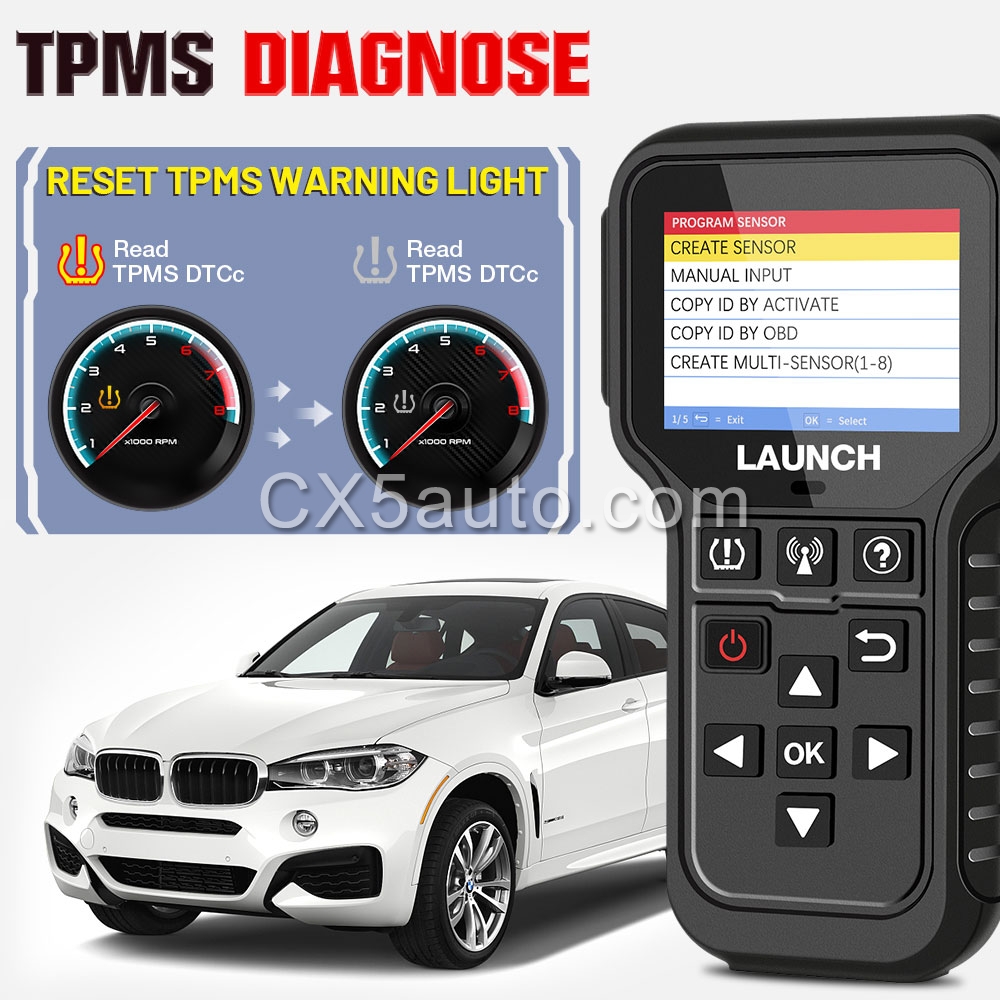 Compatiable Vehicle List
For ABARTH,for ACURA ,for ALFA ROMEO, for ASTON-MARTIN ,for AUDI , for ALPINA , for BAIC
, for BAOJUN, for BENTLEY,for BMW, for BORGWARD, for BUGATTI,for BUICK, for BYD, for
CADILLAC, for CHANGAN, for CHERY, for CHEVROLET, for CHRYSLER, for CITROEN, for CMC, for DACIA, for DAEWOO, for DFM, for DODGE, for FAW, for FERRARI, for GEELY, for GMC, for GREAT WALL, for HAVAL, for HAIMA, for HOLDEN, for HONDA, for HSV, for HUMMER, for HYUNDAI, for
INFINITI, for ISUZU, for JAC, for JAGUAR, for JEEP, for KIA, for LADA , for LAM BORGH-INI, for LANCIA, for LANDROVER, for LEXUS, for LIFAN, for LINCOLN, for LOTUS, for LUXGEN, for MAHINDRA, for MAN, for MASERATI, for MAYBACH, for MAXUS, for MAZDA, for MCLAREN, for MERCEDES, for MG, for MINI, for MITSUBISHI, for NISSAN , for OPEL , for PAGANI, for PEUGEOT,
For PORSCHE, for QOROS, for RENAULT,for ROLLSROYCE, for SAAB, for SCION, for SEAT, for SKODA, for SMART, for SSANGYONG, for SUBARU, for SUZUKI, for SGMW, for TESLA, for SMART
, for SSANGYONG, for SUBARU, TOYOTA, for TRAUM, for VAUXHALL, for VOLKSWA-GEN , for VOLVO, for ZOTYE,for FIAT, for FORD, for FOTON, for CHRYSLER, for GMC, for DFM, for CADILLAC
, for CHERY, for CHEVROLET , for DODGE,for FAW, for FERRARI, for JAC ,for JAGURE