LAUNCH CRP429C OBD2 Scanner ABS EPB DPF TPMS IMMO Injector Reset Diagnostic Tool
Item No.: 227
Lanzamiento X431 CRP 429C OBD2 lector de código/ABS/Airbag/en + 11 función de reinicio potente que CRP129
INQUIRY
Description
Instruction
Launch crp429c is one professional automotive car scan tool, it read and clear codes on engine system, transmission system, abs system and srs system for old and new vehicles. Engine system, transmission system, abs system and srs system are the basic system of car, launch crp429c can help diagnostic the problem of these system and show the live data in graph. The most convenient is crp429c built in dtc lookup library, you can check the fault codes online, help you know exact meaning of the DTC and some terminology explanation.

OBD2 FULL FUNTION: Read Codes , Erase Codes, I/M Readiness, Data Stream View, Freeze Frame, O2 Sensor Test, On-Board Monitor Test, EVAP System Test, Vehicle Info, DTC Look .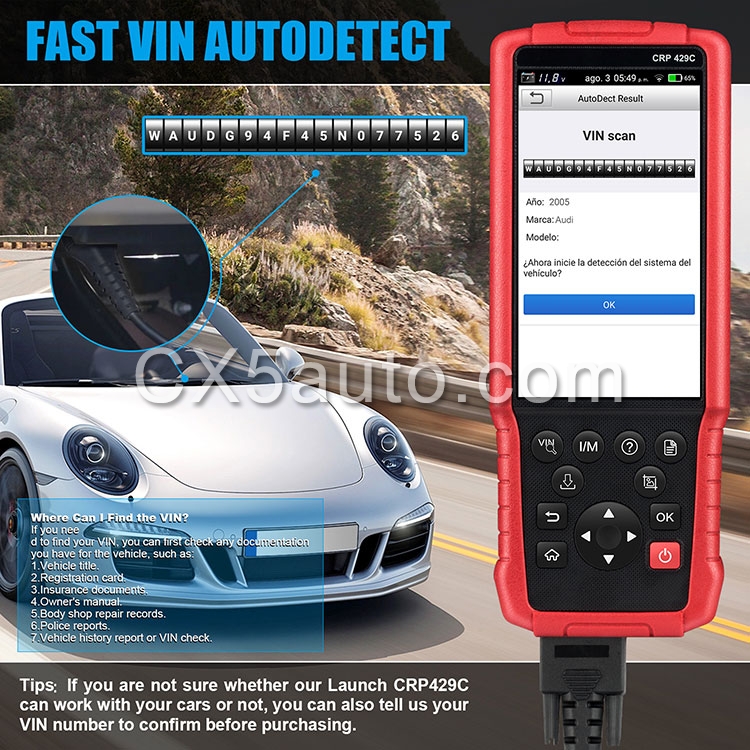 Technical Specifications
RAM: 1G
ROM: 8GB
A5 quad-core processor
5inch IPS touch screen
Touch & Keypad input
Android 7.0 system
Email Setup: This option is used to set up the default email address for automatically receiving the diagnostic reports, then you can print it on computer.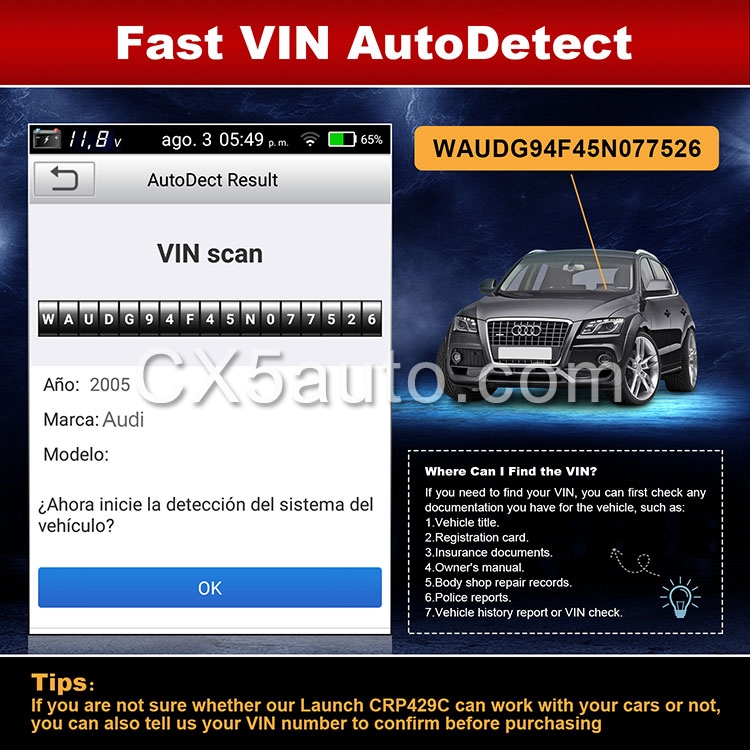 obd2 scanner
LAUNCH CRP429C Support 11 Reset Service Funtions Which Mechanic Daily Needs
Oil Reset :allows you to perform reset for a new calculation of Engine Oil Life system once changed the oil.

EPB Reset : is important in the maintenance of electronic braking system's safety and efficiency.

BMS Reset: allows the scan tool to evaluate the battery charge state, monitor the close-circuit current, register the battery replacement, and activate the rest state of the vehicle.

DPF Reset: specially works for Diesel Particulate Filter system with DPF regeneration, DPF component replacement teach-in and DPF teach-in after replacing the engine control unit.

SAS Reset: helps clear the fault steering angle sensor memories and plays an important role in the steering angle sensor calibration.

TPMS Reset :makes sense in displaying sensor IDs from the vehicle's ECU, inputting TPMS sensor replacement IDs and testing sensors.

IMMO reset: it is mainly used to disable the lost vehicle keys and program a new replacement key fob.

ABS Bleeding: ABS brake bleeding to get a firm brake pad after air exhaustion.

Throttle reset: The throttle body is a tube containing a pivoting flat valve (butterfly) that is used to control the amount ofair entering an engine. In an electronically fuel injected car, a throttle position sensor and air flow sensorcommunicate with the computer, which supplies the corresponding amount of fuel needed at the injectors. It must need re-learning throttle sensor position after clearing or repair

Gear Learning : The scan tool monitors certain camshaft position sensors signals to determine if all conditions are met to continue with the procedure for Engine running

Injector Coding: Leaking injectors and some dead injectors can be missed even when an injector is disabled. Otherproblems with the ignition system and mechanical components also may not show an rpm loss when aninjector is turned off.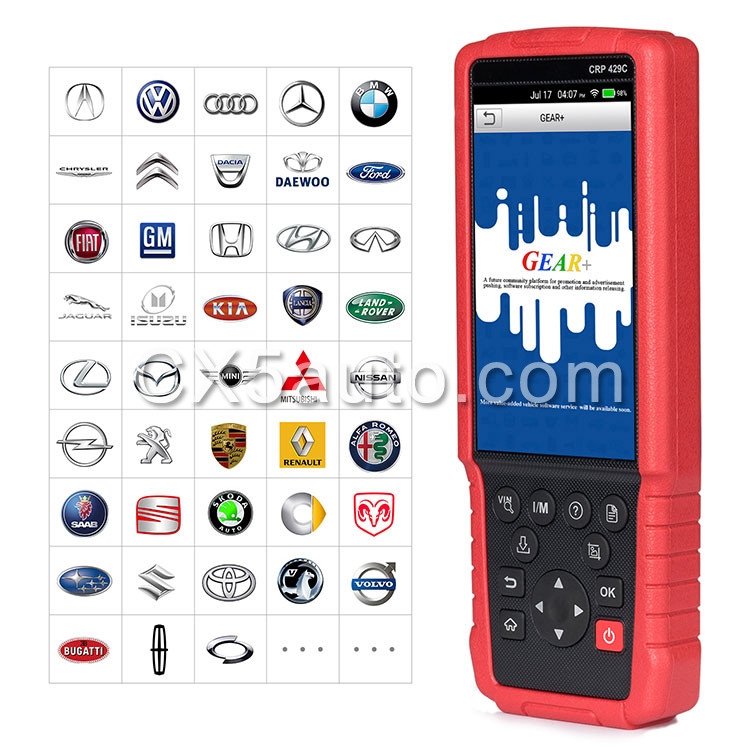 OBD2 SCANNER
ONE-CLICK upgrade and vehicle health report print support .

Data stream can help view different data with graph at the same time.

4 Live Data Stream Analyse in 1 Graph: This OBDII diagnostic scanner has big size LCD color screen .it also shows live vehicle sensors data in text,multiple graph format shows 4 live Readiness and allows you to focus on any suspicious or symptom-specific data parameters.

Data Stream Record and Playback

Launch crp429c can view comprehensive diagnostic reports, Datastream playback.Record and playback the data stream help you analyze the trouble when driving and solve it.

Vehicle Health Report auto generate , share , print. The diagnostic report can help you save time to analyse the problem, it is very great for repair shop , mechanics can print out the vehicle report for customer.

obd2 scanner
LAUNCH CRP429c comes with obd2 full function: Read Codes , Erase Codes, I/M Readiness, Data Stream View, Freeze Frame, O2 Sensor Test, On-Board Monitor Test, EVAP System Test, Vehicle Info, DTC Look .

Reading Codes :Show the detailed description of the Diagnostic Trouble Code (DTCs) Erasing Codes & Reset :Turns off Check Engine Light (MIL), clears codes and resets monitors. I/M Readiness Status: Shows whether the various emissions-related systems on the vehicle are operating properly and are ready for inspection and maintenance testing. Read Live Data Stream : Show the information of continuous data stream from a vehicle in live graphic display. View Freeze Frame Data : Check the certain vehicle conditions which are recorded by the on-board computer at the time the emission-related fault occurs. O2 Sensor Test: Allows retrieval and viewing of O2 sensor monitor test results for the most recently performed tests from the vehicle's on-board computer. On-Board Monitor Test : Retrieves and displays test results for emission-related powertrain components and systems. Read Vehicle Information: Display the information such as VIN (Vehicle Identification Number), CID (Calibration ID) and CVN (Calibration verification number), etc. Component Test :Certain vehicle components can be actuated by commands sent from the scanner to test their operability

CRP429C Support Language : English, French, Spanish, Russian, Japanese, German, Italian, Portuguese.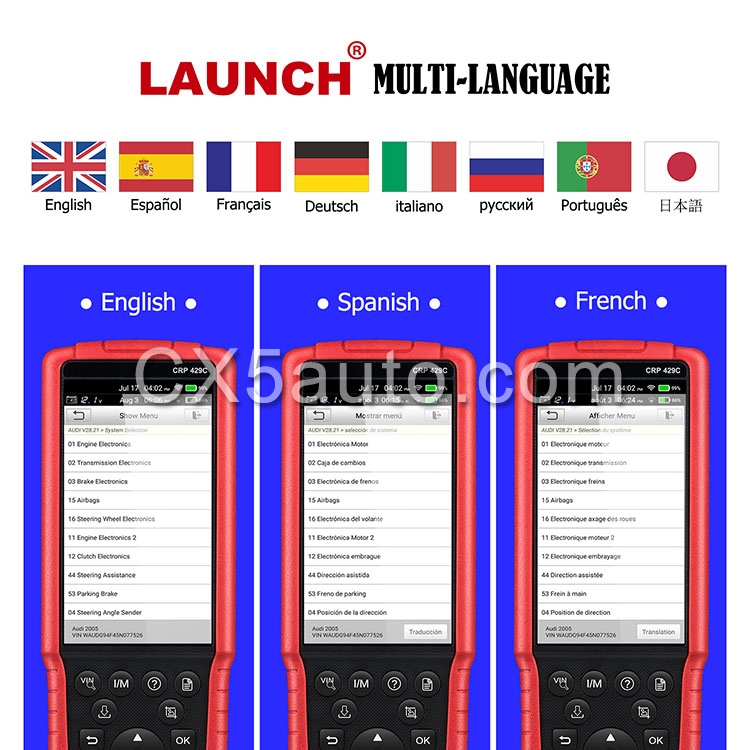 ¡Recomendado:

1. no se registre el lanzamiento de CRP429C, puede funcionar directamente cuando lo obtenga.
2. Launch CRP429CActualizaciones vía WIFI.
3. Lanzar CRP429C funciona con Android y con pantalla táctil, más fácil de operar.
4. Launch CRP429CPuede hacer un clic en I/M, una detección automática de un solo clic, informe de diagnóstico de un solo clic, actualización de un solo clic y captura de pantalla de un solo clic.
5.Lanzamiento CRP429C Idioma: Inglés, francés, español, ruso, japonés, alemán, italiano, portugués.
6. Launch CRP429C11 función especial: Ajuste de la lámpara de aceite, reinicio de la almohadilla del freno, ajuste del TPMS, juego de la batería, programación del inyector, adaptación del acelerador, ajuste del DPF, aprendizaje del engranaje, reinicio del ángulo de la Dirección, hemorragia del freno del ABS, Y la coincidencia contra el robo.
7. Launch CRP429C soportaMás de 4 sistemas (motor, ABS, Airbag, etc).

Nota:

1. Launch CRP429CFunciona con sistema Android, pero no puede instalar otros idiomas en.
2.El cable USB en el paquete es sólo para el cargadorNo para la transmisión, necesita compartir el informe de diagnóstico a su casilla de correo electrónico, luego imprimir.
3. Launch CRP429CSoporta más de 4 sistemas, es para algunos coches, no para todos los coches.

Introducción:

CRP 429C es una solución inteligente evolutiva para el diagnóstico del coche de pasajeros que hereda del lanzamiento avanzado de tecnología de diagnóstico y se caracteriza por cubrir una amplia gama de vehículos, con funciones poderosas y proporcionando un resultado de prueba preciso.

CRP 429C apoya los 10 modelos de prueba de OBDII para un diagnóstico completo. el CRP 429C también apoya el diagnóstico del sistema de ABS. SRS, ENG y en el sistema, y soporta 11 funciones de reinicio.

La ventaja de CRP429C

1. admite los 10 modelos de prueba OBDlI
2. Soporte 4 principales sistemas de motor, transmisión, ABS y sistema de Airbag
3. 11 función de reinicio: incluyendo reinicio de la lámpara de aceite, ajuste de la almohadilla del freno, ajuste del TPMS, juego de la batería, programación del inyector, adaptación del acelerador, ajuste del DPF, aprendizaje del engranaje, reinicio del ángulo de la Dirección, hemorragia del freno del ABS, Y la coincidencia contra el robo.
4. funciones básicas de diagnóstico: Información de la versión, leer DTCs, borrar DTCs y leer la corriente de datos (admite 3 modos de dispiay: Valor, gráfico y fusionado).
5. soporte Multi-idiomas
6. Actualización: actualización de un solo clic en línea a través de Wi-Fi, una actualización gratuita de un año
7. Impresión: soporte imprimir informe de diagnóstico por PC
8. múltiples modelos de coches (que abarcan más 40 modelos predominantes de Asia, América y Europa).
9. El modelo de operación y botón de pantalla táctil, que cumple la mayoría de las necesidades de los usuarios

Soporte multilingüe:Inglés, francés, español, ruso, japonés, alemán, italiano, portugués.

Inteligente (diagnóstico automático:Una vez que el CRP 429C y el vehículo están correctamente conectados, el sistema comienza automáticamente el proceso de detección. Una vez terminado el proceso, un informe de diagnóstico será generado automáticamente y enviado a su casilla de correo electrónico (si está obligado).

Retroalimentación de diagnóstico:Utilice esta opción para enviar el problema del vehículo a nosotros para el análisis y resolución de problemas

DTC _ biblioteca:Le permite recuperar la definición del Código de problemas de diagnóstico de la abundante base de datos DTC. muestra el voltaje en tiempo real de la batería una vez conectado correctamente al vehículo presenta captura de pantalla. Se admiten capturas de pantalla e informes compartidos. Los botones de esfera rápida le permiten acceder fácilmente a las funciones correspondientes.

Marcas compatibles:

Para Demo, para ACURA, para Alfa Romeo, para Audi, para BMW, para BUGATTI, para Chrysler,
Para Citroen, para DACIA, para Daewoo, para Euroford, para Fiat, para Ford, para Mitsubishi, para Nissan, para Opel, para Peugeot, para Porsche, para Renault, para SAAB, para SAMSUNG, para el asiento
Para Skoda, para inteligente, para Sprinter, para Subaru, para Suzuki, para tsuzu, para SAAB, para SAMSUNG para Toyota, para Vauxhall, para Volvo, para VW, para GM, para GSA, para Honda, para Hyundai, para Infiniti, para Isuzu, Para Jaguar, para Kia, Para Lancia, para Landrover, para Lexus, para Lincoln, para Mazda, para Mercedes, para Mini

Parámetros técnicos:

Sistema operativo: Android 7,0
Procesador: Procesador Cortex-A5 (1,5 GHz)
RAM: 1 GB
ROM: 8 GB (memoria disponible: aproximadamente 2,7 GB)
Pantalla: Pantalla táctil IPS de 5 pulgadas
Conectividad: Mini USB 2,0, Wi-Fi
Tarjeta Micro SD (soporta hasta 32 GB)
Batería de litio-polímero de 4000 Mah
Batería de litio incorporada: 4000 Mah
Ambiente:-20℃ ~ 70℃ (almacenamiento);-10℃ ~ 50℃ (de trabajo)
Tamaño del producto: 248,7x93,5x36 (mm)
Peso neto del producto: 530G

Lista del paquete:

1 * Unidad Principal
1 * Cable de diagnóstico OBDII
1 * DC 5 V Cable de carga
1 * Manual del usuario
1 * estuche acolchado