Global Version 2021 Latest X-431V+ plus with Guided Functions for VW and Audi Brands, ECU Coding and Active Test
Item No.: 194
Global Version, No IP limited.
Two Years Free Update Online.
Supported Languages: English, Italian, German, Japanese, Russian, French, Spanish, Portuguese, Polish, Turkey, Dutch, Greek,Hungarian, Arabic, Denish, Korean, Farsi, Romanian, Serbian, Finish,
INQUIRY
Description

Instruction

X-431 V+ V4.0 is a high cost-effective automotive diagnostic device developed based on Android 9.0 System. It adopts Android 9.0 System, 8-core 1.8GHz processor, which runs faster and more stable. It is equipped with DBSCar IV connector as standard, which can be directly inserted into the slot of the host connector, easy to use and not easy to be lost.
X-431 V+ V4.0 can cover more than 98% of the car models in the market, realize the fault diagnosis of the whole system, and has many advantages such as strong diagnosis function and accurate test data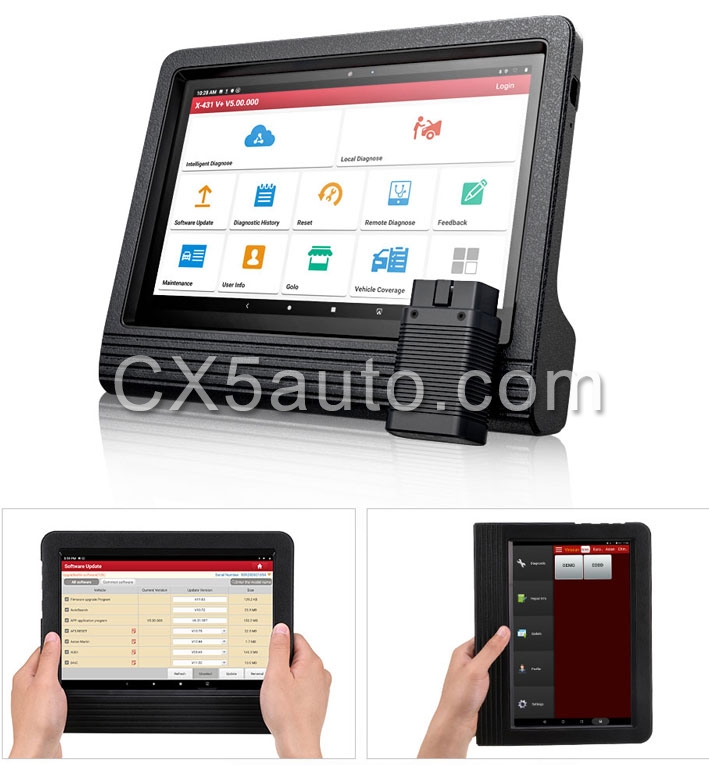 Specification
CPU: 1.8GHz 8-core
Test Voltage: DC 9~18V
OS: Android 9.0
Diag. Communication: Bluetooth
RAM: 3GB
Working Temperature: 0~50℃
ROM: 32GB
Dimension: 72*47*24 (mm)
Display: 10.1 inch
Resolution: 1920x1200 FHD IPS
Camera: 5MP(Front), 8MP(Rear)
Wi-Fi: 2.4GHz/5GHz (Dual frequency)
Working Temperature: 0~50℃
Size: 265*214.5*50.5 (mm)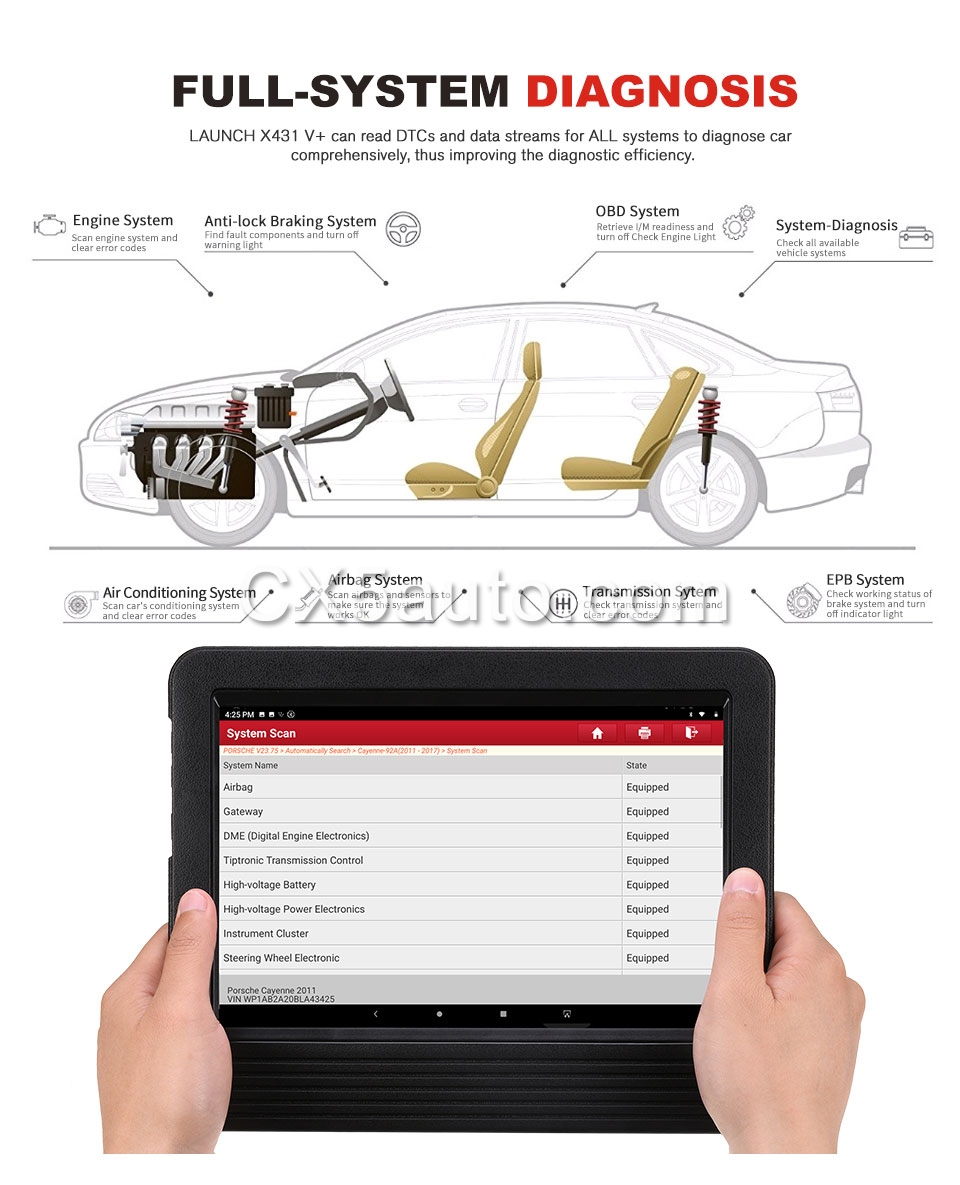 Features
1. Extensive vehicle coverage, powerful diagnostic functions, and precise test result.

2. Equipped with DBSCar IV connector as standard, which can be directly inserted into the slot of the host connector, easy to use and not easy to be lost.

3. Adopts Android 9.0 System, 8-core 1.8GHz processor, which runs faster and more stable.

4. One-click update via Wi-Fi.

5. Supports remote diagnosis.

6. Supports frequently 15 used special function.

7. Supports expansion module: endoscope, immobolizer programmer and Wi-Fi printer. (purchased separately)

Functions
1. Automatically identify VIN upon connection to the vehicle for intelligent diagnosis.

2. Read all OTC types for full system, view, graph and record data PIDs, support bi-directional controls, actuation test and all other diagnostic functions.

3. Guided function for Volkswagen and Audi.

4. Supports frequently 15 used special functions, including throttle adaptation, steering angle reset, brake reset, tire pressure system reset, anti-theft matching, ABS bleeding, battery matching, gear learning, injector coding, DPF regeneration, sunroof initialization, headlamp matching, suspension matching and AT matching.

5. Support expansion module: endoscope, immobolizer programmer and Wi-Fi printer.

6. One-key Upgrade: Once there is a new software version , the system will promptly remind the user to upgrade the version , for which one-key upgrade operation is supported.

7. Diagnostic records and reports can be stored in the cloud without any concern of data missing.

8. Support the query of maintenance data and testable car models.







Warranty: 12 months

Lead time: Have stock (by DHL or Fedex about 7 days arrive your workshop)