CX5-500 Wheel Alignment 3D Camera Space Wheel Aligner Four Wheel
Item No.: 023
Automatic lifting wheel alignment.
INQUIRY
Description Specification Languages Accessories
Feature
1. Exceed 20,000 databases around the world and with a lifetime update service.
2. Repeat measurement accuracy is ±0.03,which be a world's leading level.
3. Measurement Angle: Toe, Camber, Caster, S.A.I, thrust angle, Setback angle, Max turning angle, Wheel tread, Wheel base, Wheel rolling radius.
4. Android cell phone and laptop are supported to show the vehicle measurement data, more convenient for operator.
5. Humanized software design, animation video can be used to help technician more quickly complete the operation.
6. Ultra-low chassis and refit vehicle—Volos Wagon and Audi, XLWB and with ESP function vehicle are also can be measured.
7. Secondary jack-up function, which can be used to more conveniently help technician adjust Camber.

Specification
Max. Rim Diameter: 23''
Power Supply: 220V 50HZ/60HZ
Warranty: 12 Months
Update: Lifelong without charge
Languages: Chinese, English, Portuguese, Arabic, Spanish, Japanese, Korean, French, German, Italian, Turkish, Russian
Display: LED Multi-displayers
Database: more than 20000 original vehicle databases
Certification: CE Weight: 276/296kg
Dimension: 2.3CBM

Standard configuration
1. Packing assistant camera function: independent web camera can guide the vehicle pack in the specific location.


Advantages
1. No wiring and electronic components can avoid measurement problem which caused by sensor failure or malfunction.
2. The measurement accuracy will not affected by vehicle and lift platform parallelism.
3. No wheel and rim compensation needed during operation, which improves accuracy, reliability and working efficiency.

Software feature
=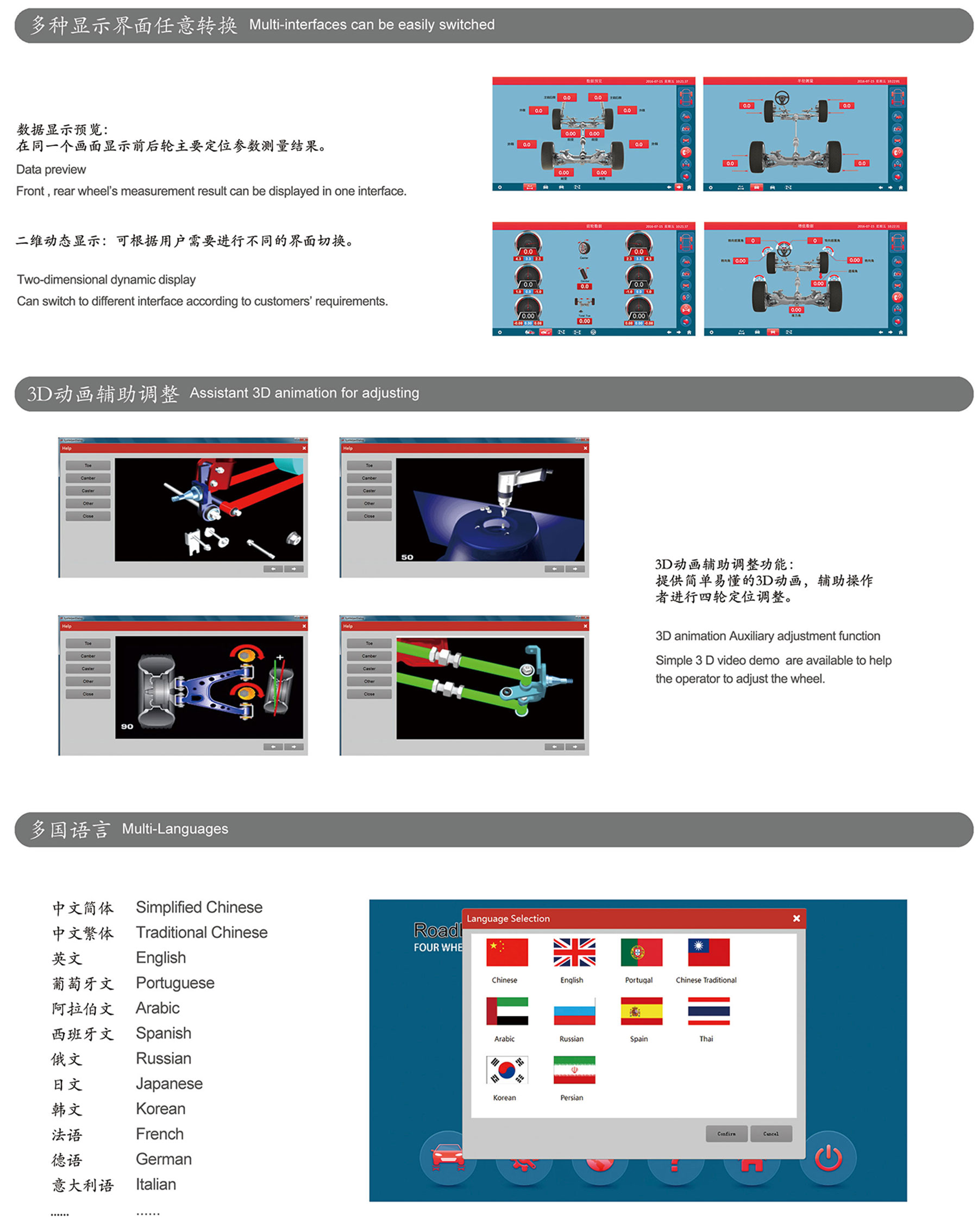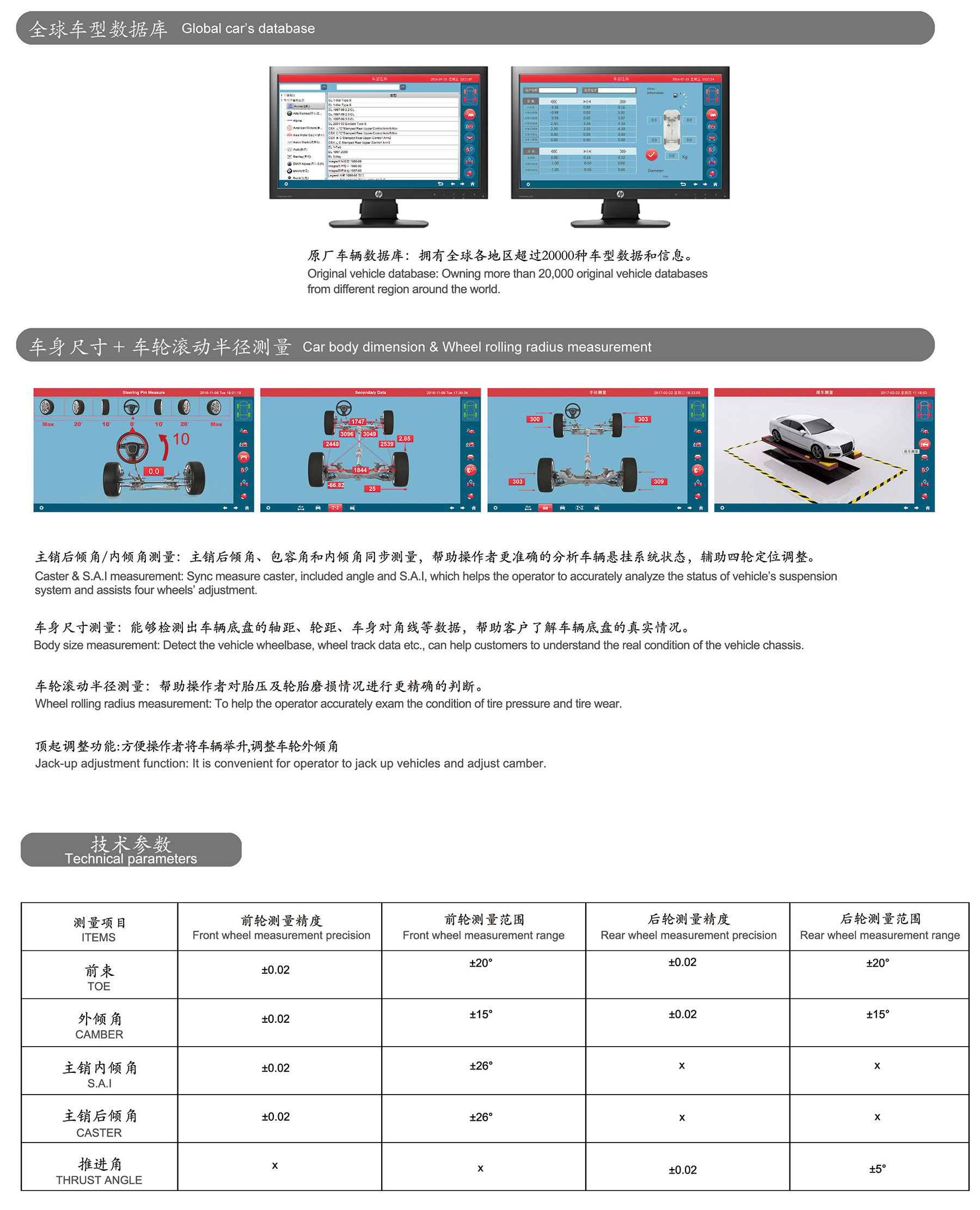 Accessories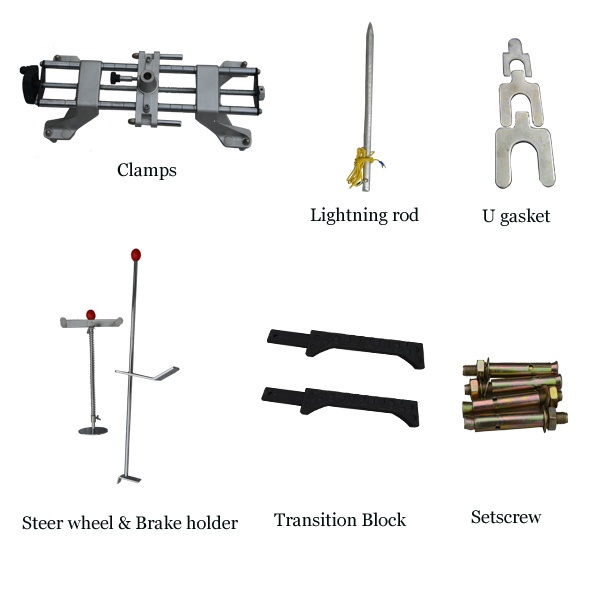 Details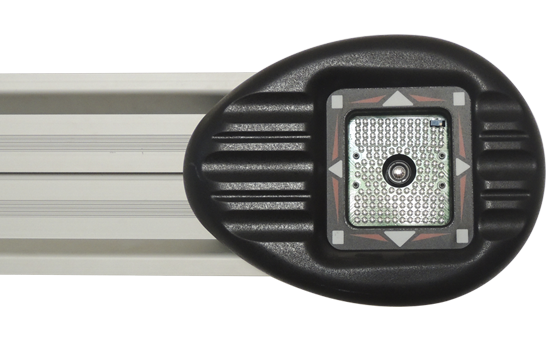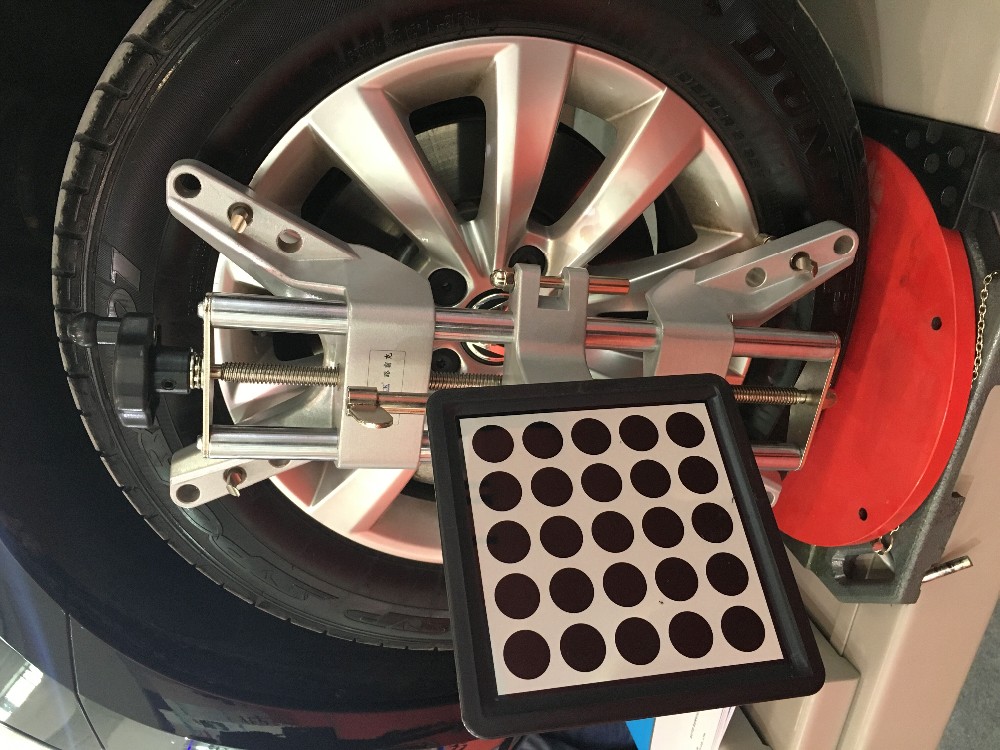 Manufactory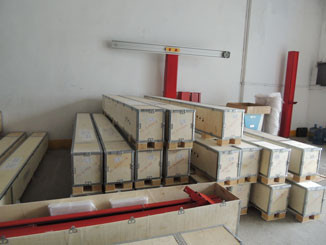 Other models
Warranty: 12 months

Lead time: One week


Max. Rim Diameter: 23''
Power Supply: 220V 50HZ/60HZ
Warranty: 12 Months
Update: Lifelong without charge
Languages: Chinese, English, Portuguese, Arabic, Spanish, Japanese, Korean, French, German, Italian, Turkish
Jack-up function: Yes
Database: more than 20000 original vehicle database
Certification: CE Weight: 276/296kg
Dimension: 2.3CBM
Voice instruction: Yes