All Models Motorcycle EFI Diagnostic tool For YAMAHA, SUZUKI, KAWASAKI, BMW, DUCATI, HARLEY, etc...
Item No.: 225
MST-3000PRO Professional Motorbike Scanner with Diagnostic Functions ECU Programming Key Programming Horse Power functions
INQUIRY
Description
Instruction
OBDEMOTO-3000Pro is mainly used in motorcycle repair shops to read fault codes, clear fault codes and read data streams.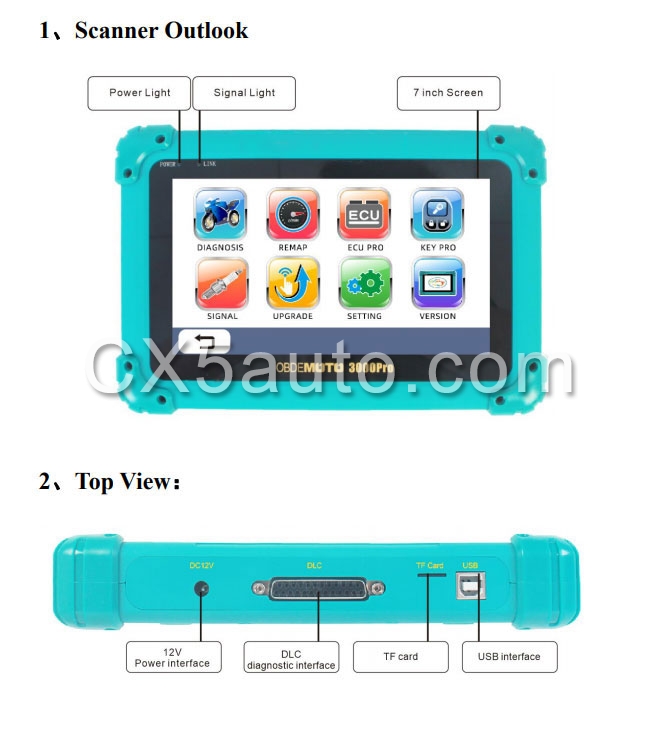 Technical Parameter
Multi-language options: English, Vietnamese, Indonesian, Spanish, Chinese. (Same host can choose one of them.)
Upgrade method. Online WiFi upgrade, One year free update
7-inch high-definition LCD touch screen
DC 10-18V: Power: DC 10-18V
Working current: <300mA
Operating environment temperature: -20℃~50 ℃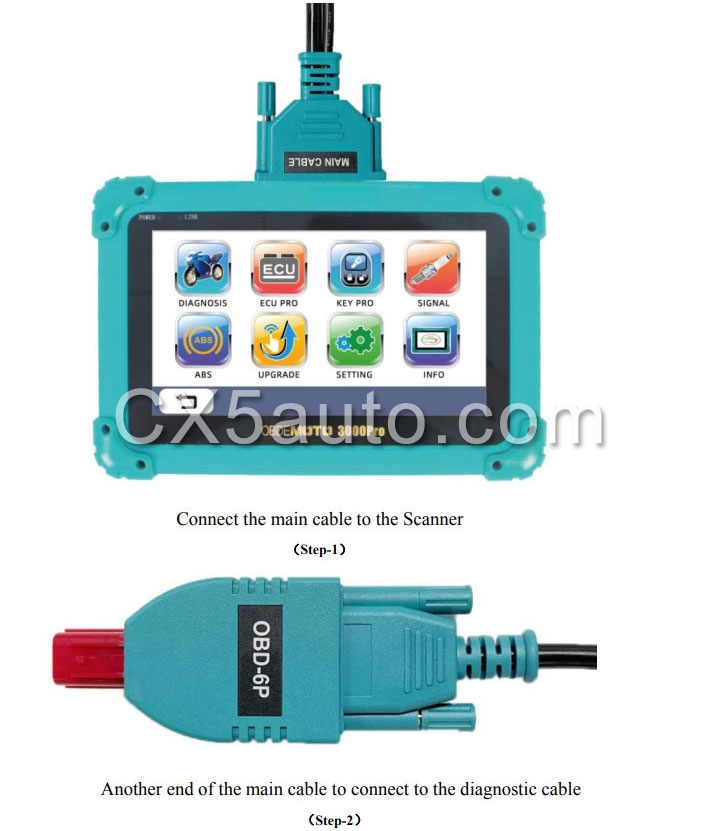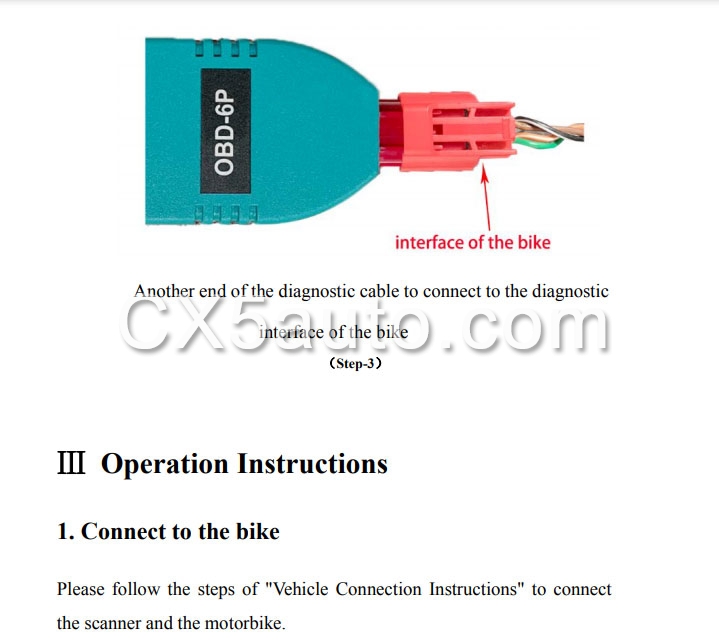 Features

1.Read system information
2.Read data stream
3.Read the fault code
4.Clear the fault code
5.Freeze data
6.CO idle speed adjustment
7.Action test
8.Troubleshooting guide
9.ABS system test
10.Tire pressure system test
11.Anti-theft system test
12.Special setting function
13.ECU programming
14.Key programming (special vehicle type)
15.Modified power enhancement (special models)

Suitable models: HONDA, SYM, KYMCO, YAMAHA, VESPA/PLAGGIO, SUZUKI, AEON, BENELLI, PGO, HARTFORD, HARLEY, KTM, BMW, ect.
The software update is simple, one-click upgrade can be achieved through WIFI. One year free update.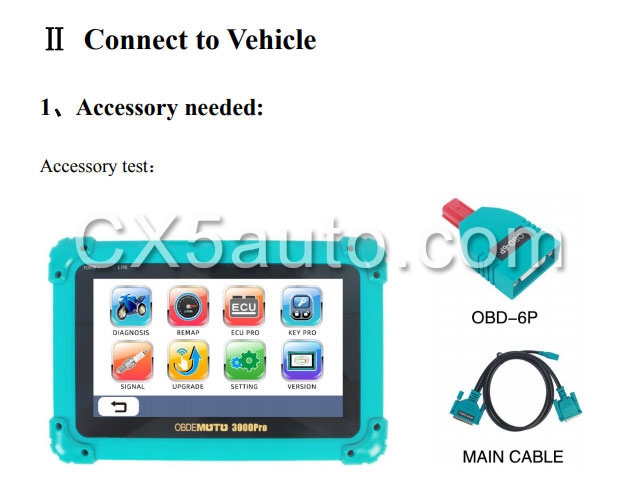 Diagnosis: Vehicle fault diagnosis, including electronic control systems such as engine and ABS.
ECU programming: Write data for the specified ECU type.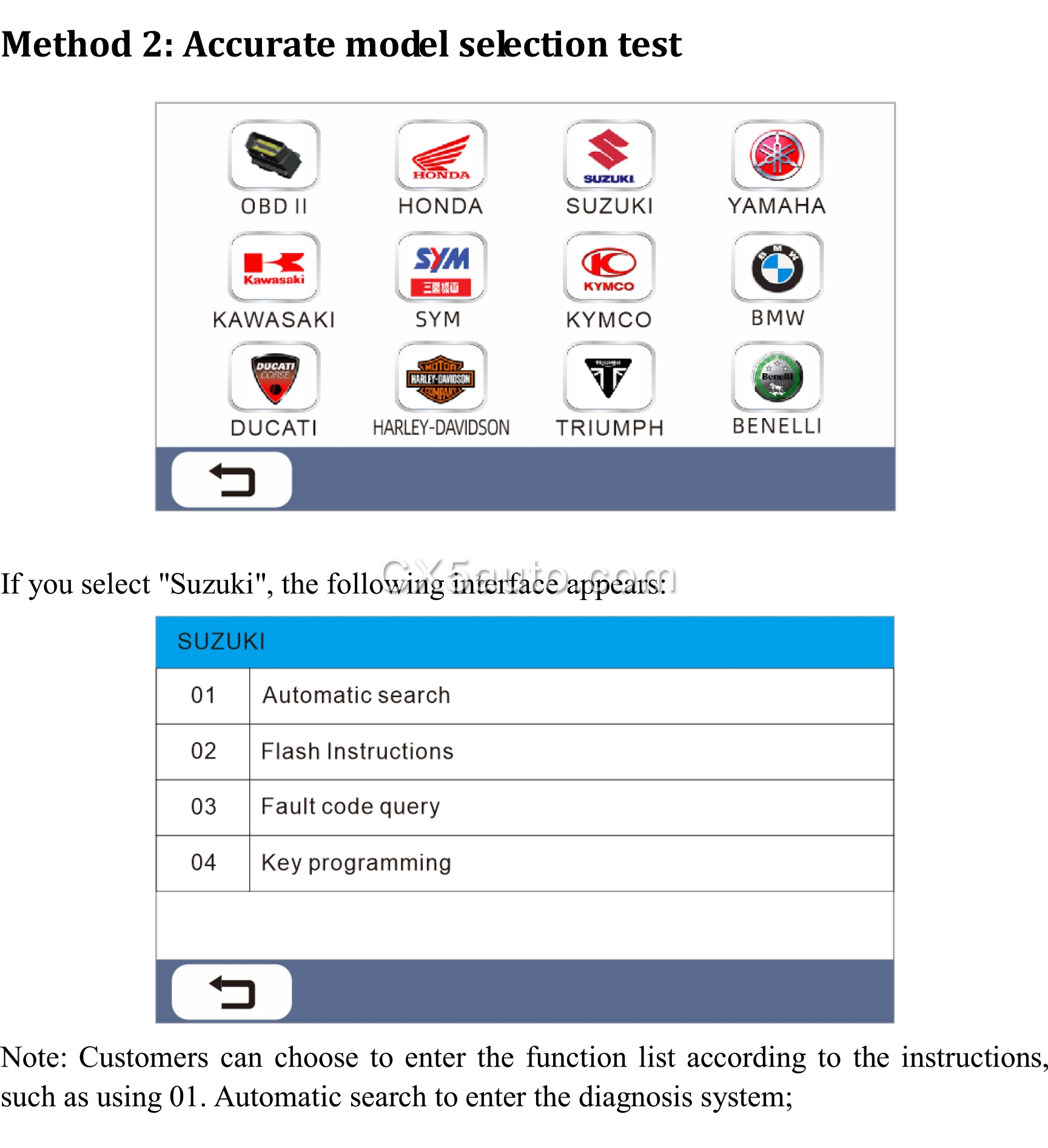 Key programming: Carry out corresponding functional operations for the specified key type.

Component test: It can test fuel injector signal, ignition signal, etc.

One-key upgrade: Used when data is updated.

System setting: Set WIFI mode.

Device information: Display the machine serial number, software version, hardware version, factory date and other information.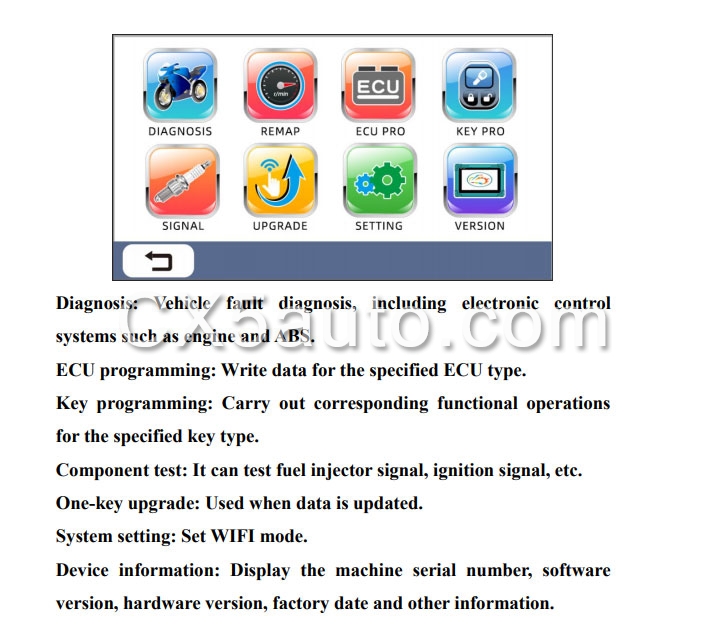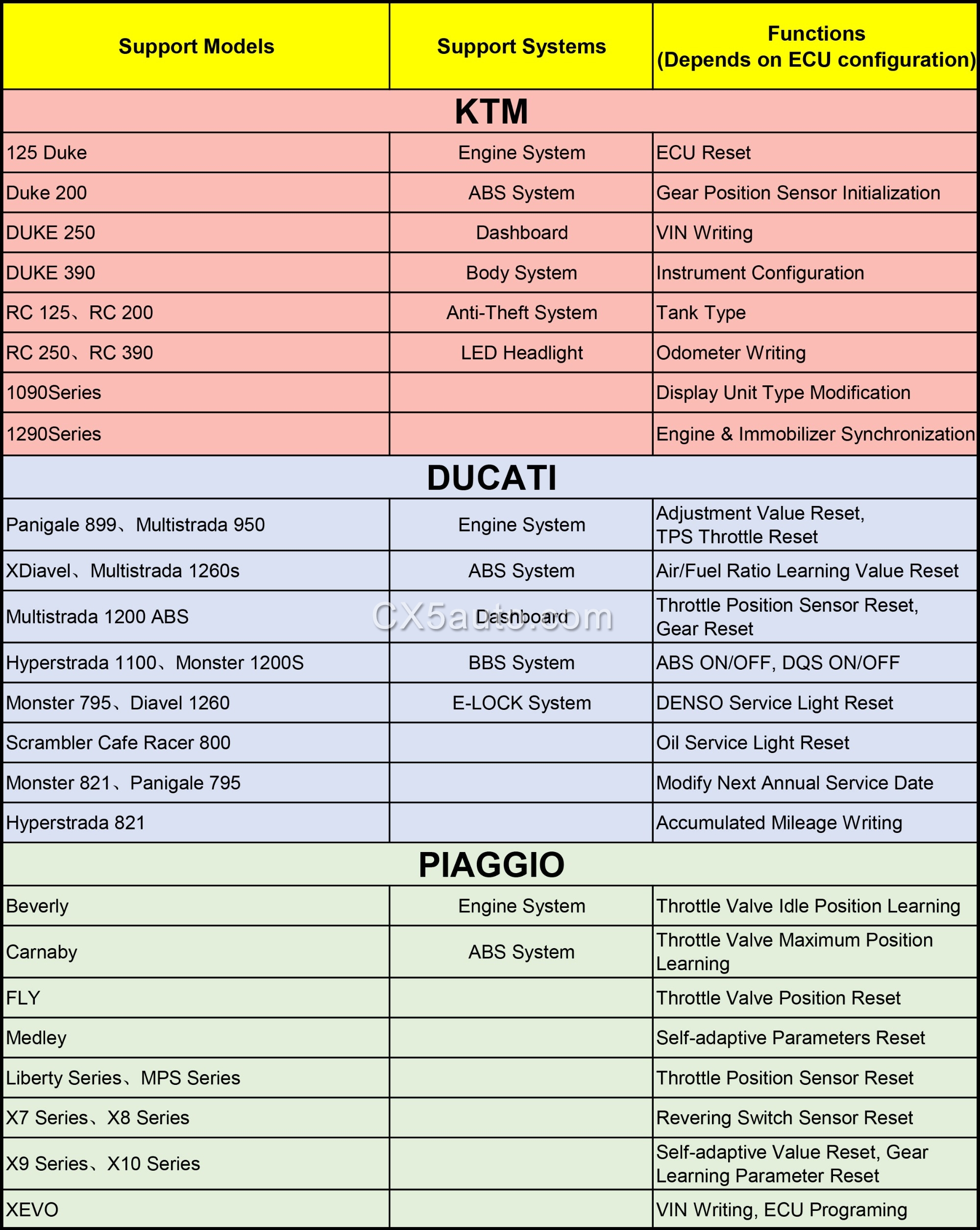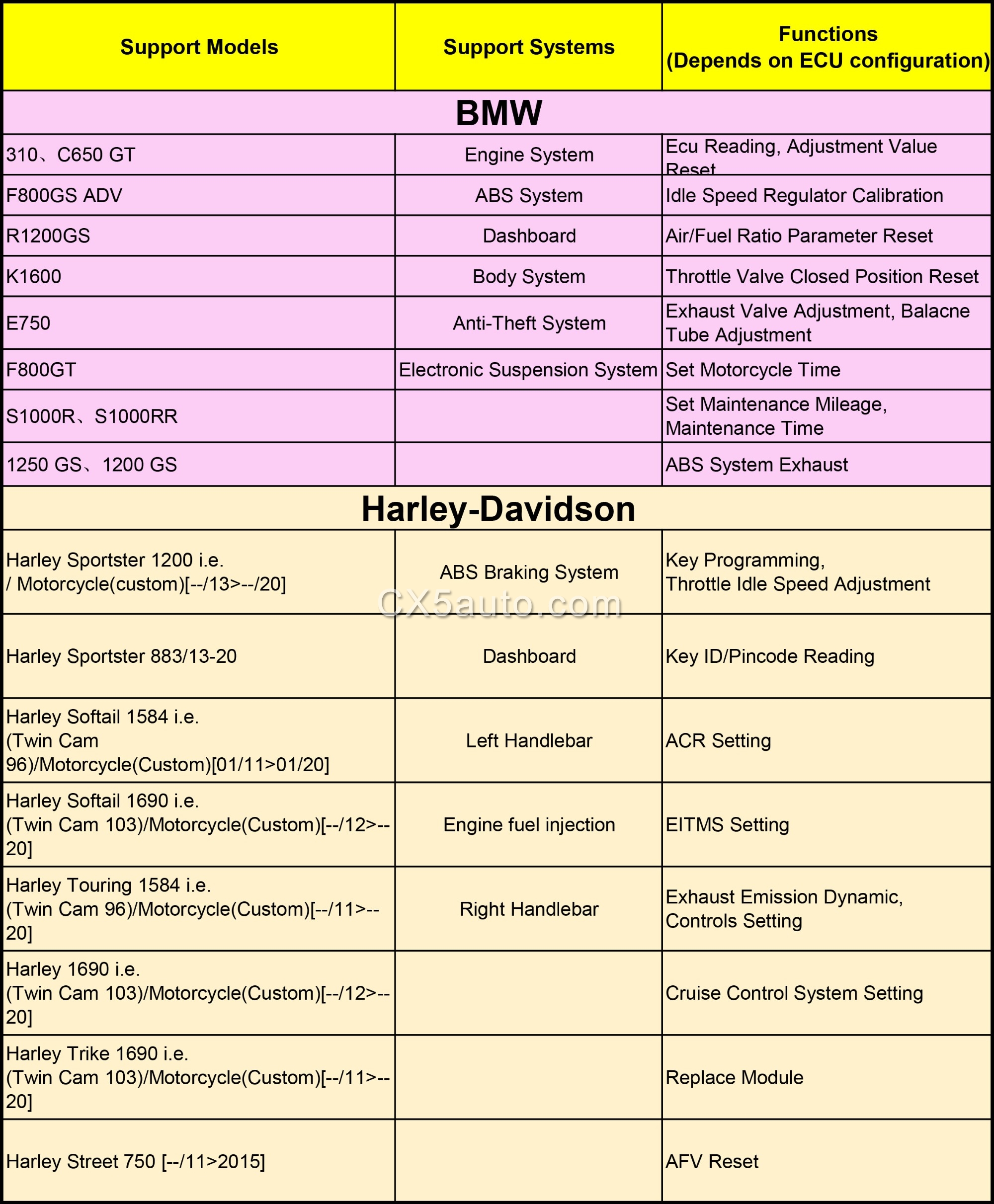 Accessories