2021 latest Launch X431 V Auto full system diagnostic tool 15 reset service ECU coding actuation test
Item No.: 195
Two years free update
15 Kinds of Special Reset Service Functions
ECU Coding
Actuation Test
24 Languages
10000+ Car Models Supported
INQUIRY
Description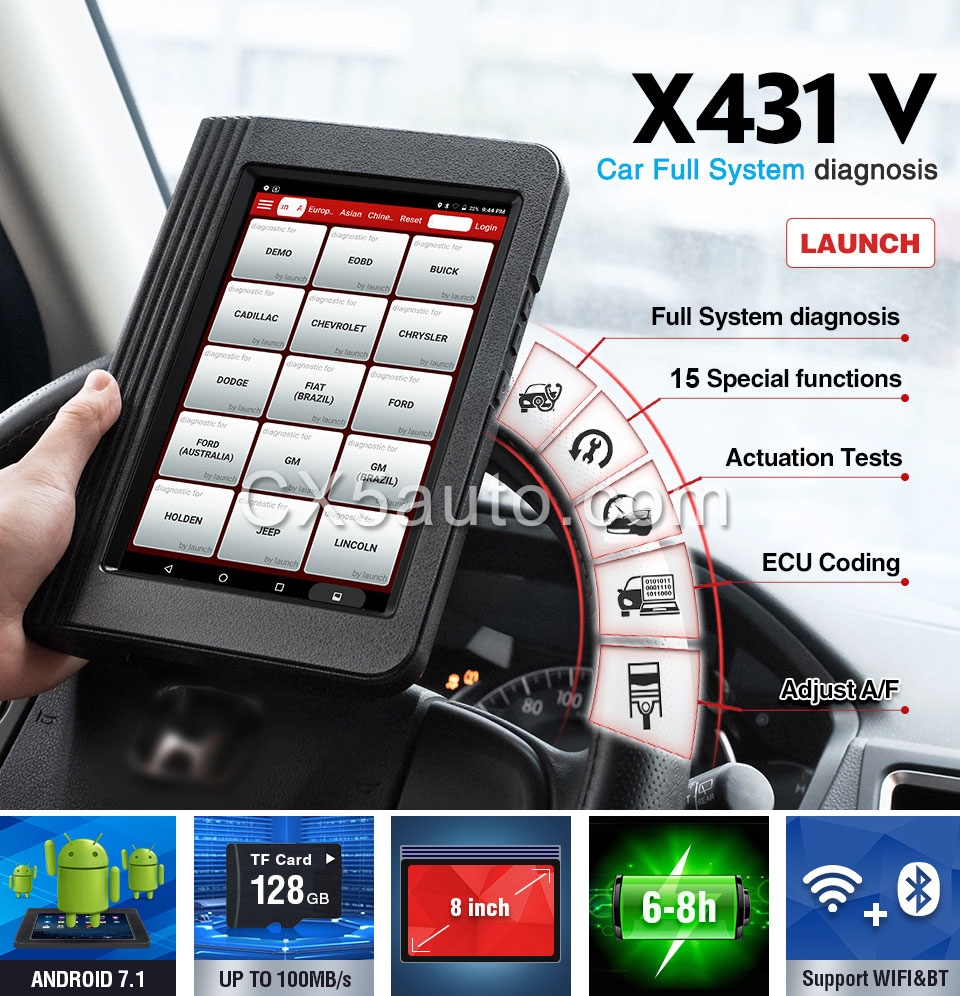 Instruction
Featuring Android 7.1 operating system,1.4GHz quad core CPU and 8"capacitive touch screen.X-431 V is a new Android-based vehicle trouble diagnostic tool developed by LAUNCH. It is characterized by covering a wide range of vehicle models, featuring powerful functions, and providing precise test result.

Through simple Bluetooth communication between VCI and X-431 V tablet, it achieves full car model and full system vehicle trouble diagnosis, which include Reading DTCs, Clearing DTCs, Reading Data Stream, Actuation Test and Special Functions.

Moreover it also supports various special functions, remote diagnosis and one-click update of available software.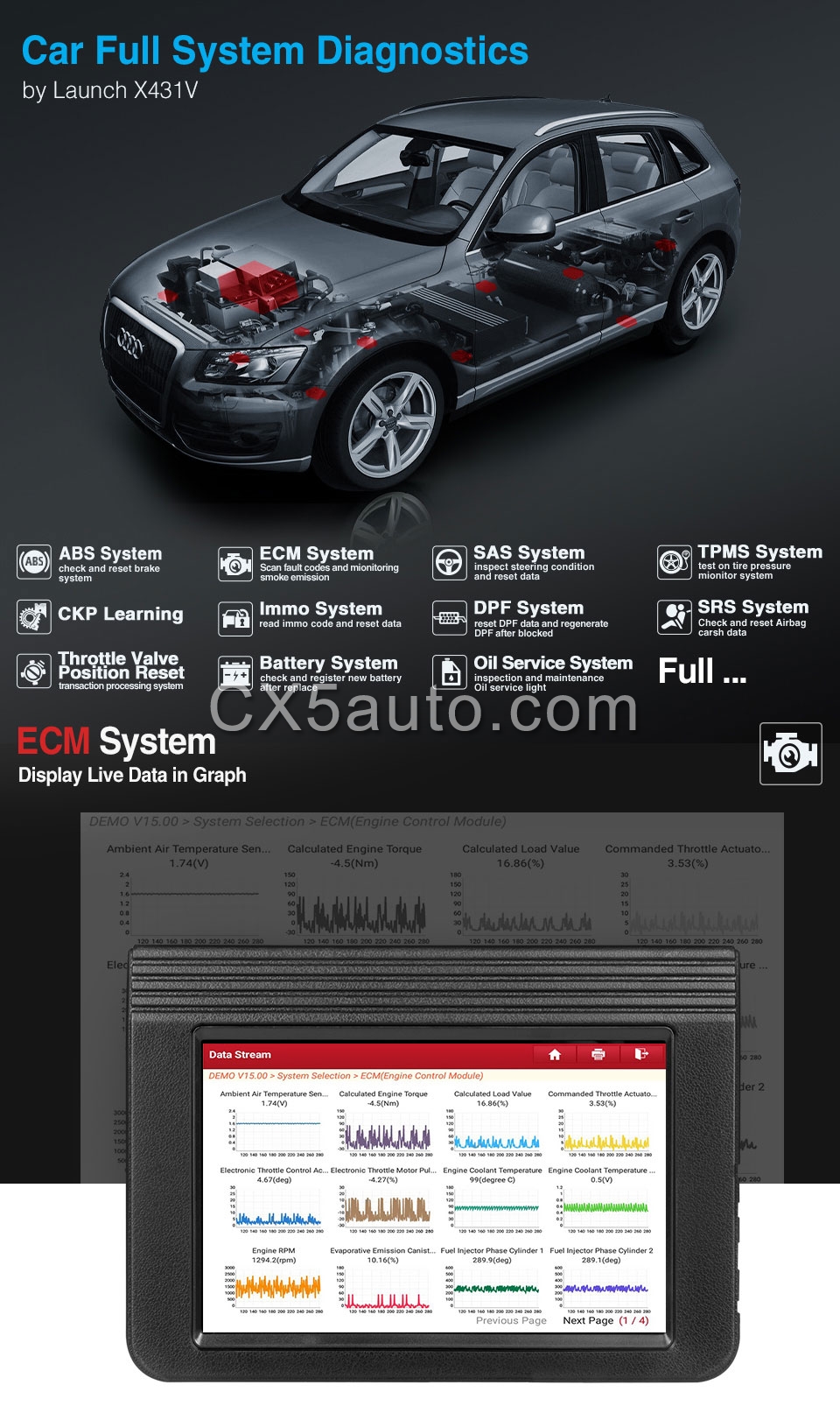 Specification
Operating system: Android 7.1
CPU: Quad-core 1.4GHz processor
Memory: 2 GB
Storage capacity: 16GB
LCD: 8 inch capacitive touch screen
LCD resolution: 1280×800
Camera: 5.0 mega pixels rear camera
Wi-Fi: Support 802.11 b/g/h
Bluetooth: 4.0
Working temperature: 0℃ ~ 50℃
Storage temperature: -20℃ ~ 70℃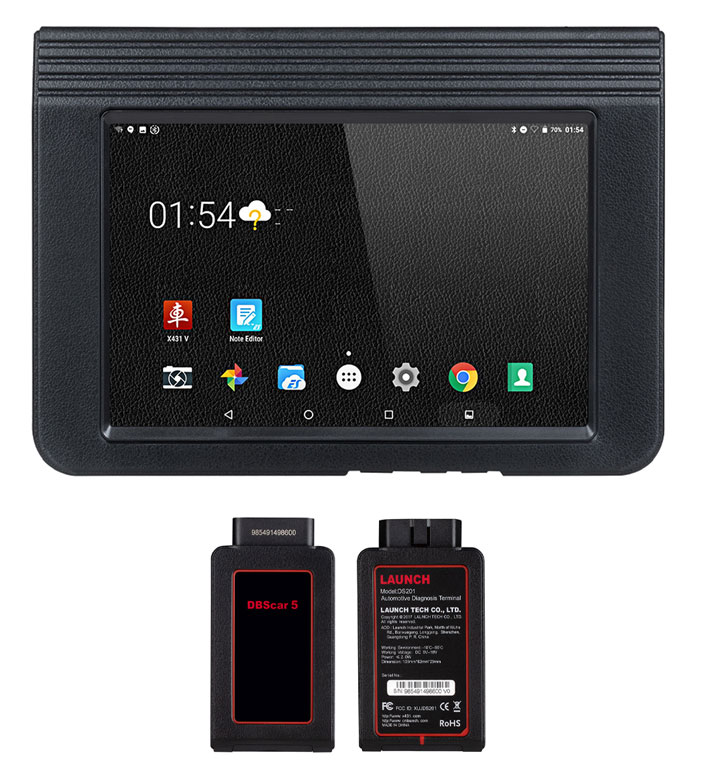 Multi-language
English, French, Spanish, German, Russian, Korean, Japanese, Portuguese, Italian, Polish, Dutch, Hungarian, Finnish, Simplified, Czech, Turkish, Greek, Arabic, Danish Persian, Romanian, Serbian, Swedish, Chinese Traditional..
Features
1. Extensive vehicle coverage, powerful diagnostic functions, and precise test result.

2. Via Bluetooth, it is simple for the VCI device to communicate with the tablet.

3. Unique shop tough ergonomic design features strong rubber protection and housing

4. Supports all kinds of maintenance and resetting items.

5. One-click update via Wi-Fi.

6. Supports remote diagnosis.

7. Print diagnostic result via LAUNCH Wi-Fi printer (purchased separately).


Functions
1. Can diagnose the electronic control system of prevailing vehicle models covering Asian, European, American and Chinese.

2. Provide complete capabilities to read DTCs, clear DTCs, read data stream, special functions etc.

3. Displays live data in text, graph for easy data review and analysis

4. Record and playbacks live data to pinpoint troubles of sensors and components.

5. Various maintenance and resetting items can be done.

6. Provides abundant repair case and automotive technology handbook for your easier retrieval and reference.

7. Prints out recorded data anytime and anywhere with Wi-Fi printer (sold separately)

8. Remote diagnosis helps repair shops or technicians launch instant messaging and remote diagnosis, making the repair job getting fixed faster.


15 Kinds of Special Reset Service Functions
This option allows you to detect whether the system parameters are normal or not. It mainly includes: Injector test, fuel pump test, purge control solenoid and so on.
In addition to amazing & powerful diagnostic function, X-431 V also features various service functions. The most commonly performed service functions include service lamp one-click zeroing, throttle matching, steering angle resetting, brake pad resetting, tire pressure resetting, immobilizer matching, ABS bleeding, battery matching, tooth learning, injector coding, DPF regeneration ,Air Suspension Reset,Gearbox Reset,Sunroof Reset,AFS Reset, ect
Oil Reset :allows you to perform reset for a new calculation of Engine Oil Life system once changed the oil.

EPB Reset : is important in the maintenance of electronic braking system's safety and efficiency.

BMS Reset: allows the scan tool to evaluate the battery charge state, monitor the close-circuit current, register the battery replacement, and activate the rest state of the vehicle.

DPF Reset: specially works for Diesel Particulate Filter system with DPF regeneration, DPF component replacement teach-in and DPF teach-in after replacing the engine control unit.

SAS Reset: helps clear the fault steering angle sensor memories and plays an important role in the steering angle sensor calibration.

TPMS Reset :makes sense in displaying sensor IDs from the vehicle's ECU, inputting TPMS sensor replacement IDs and testing sensors.

IMMO reset: it is mainly used to disable the lost vehicle keys and program a new replacement key fob.

ABS Bleeding: ABS brake bleeding to get a firm brake pad after air exhaustion.

Throttle reset: The throttle body is a tube containing a pivoting flat valve (butterfly) that is used to control the amount ofair entering an engine. In an electronically fuel injected car, a throttle position sensor and air flow sensorcommunicate with the computer, which supplies the corresponding amount of fuel needed at the injectors. It must need re-learning throttle sensor position after clearing or repair


Gear Learning : The scan tool monitors certain camshaft position sensors signals to determine if all conditions are met to continue with the procedure for Engine running

Injector Coding: Leaking injectors and some dead injectors can be missed even when an injector is disabled. Otherproblems with the ignition system and mechanical components also may not show an rpm loss when aninjector is turned off
............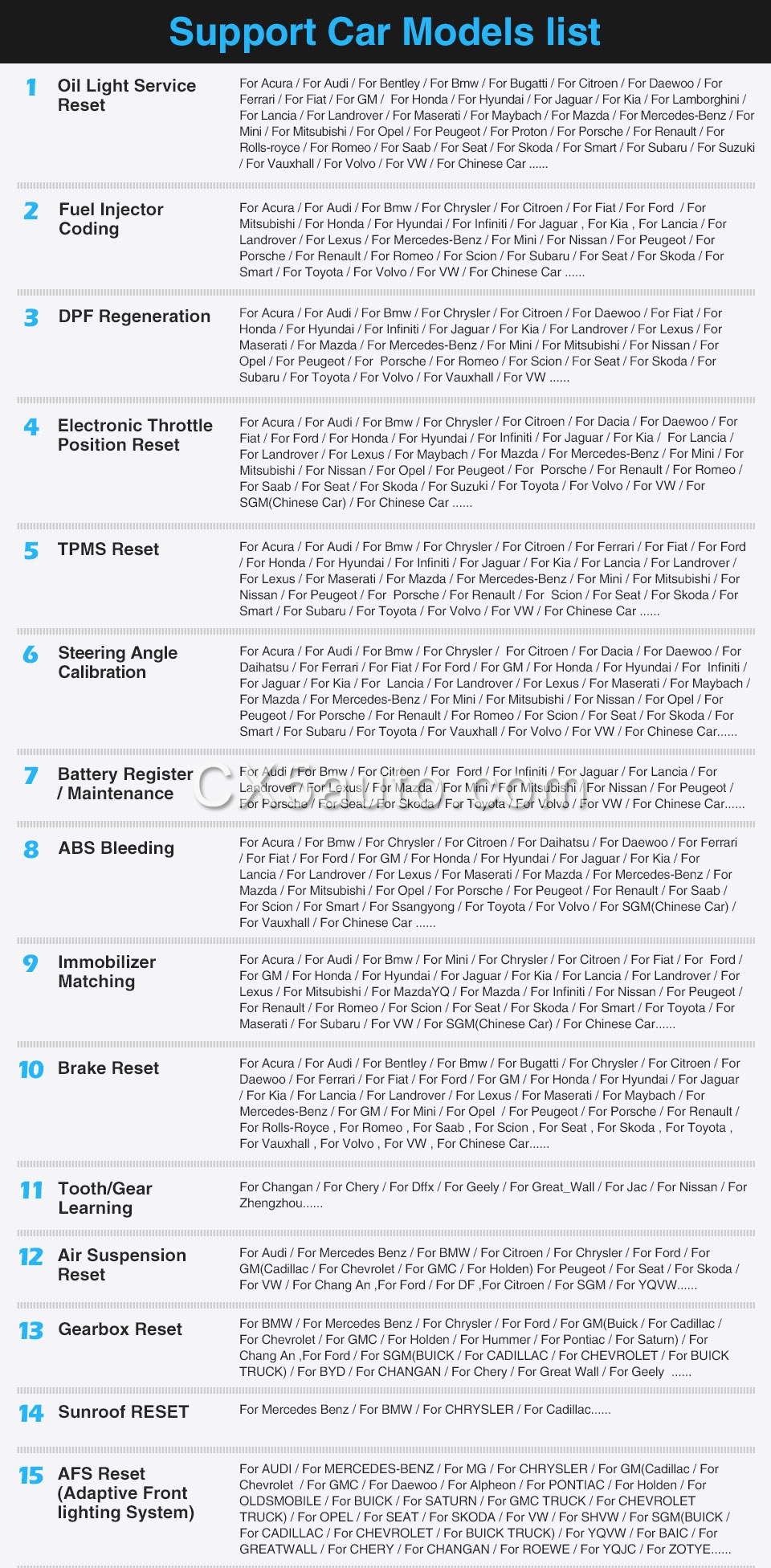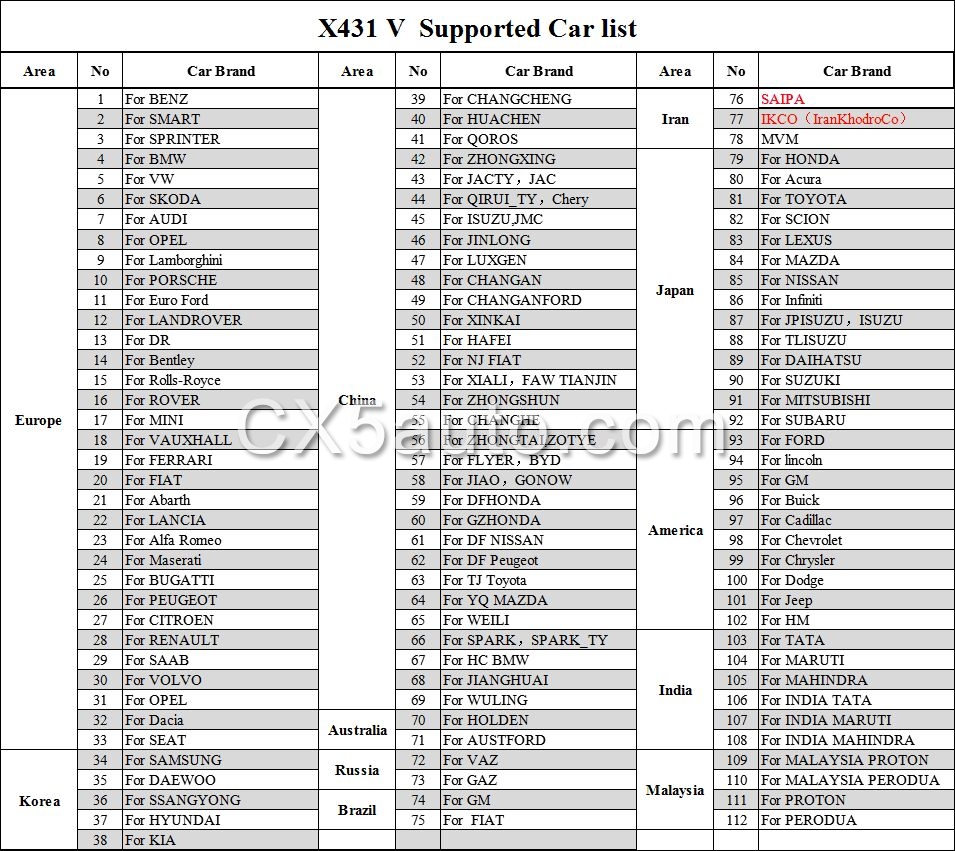 Packing list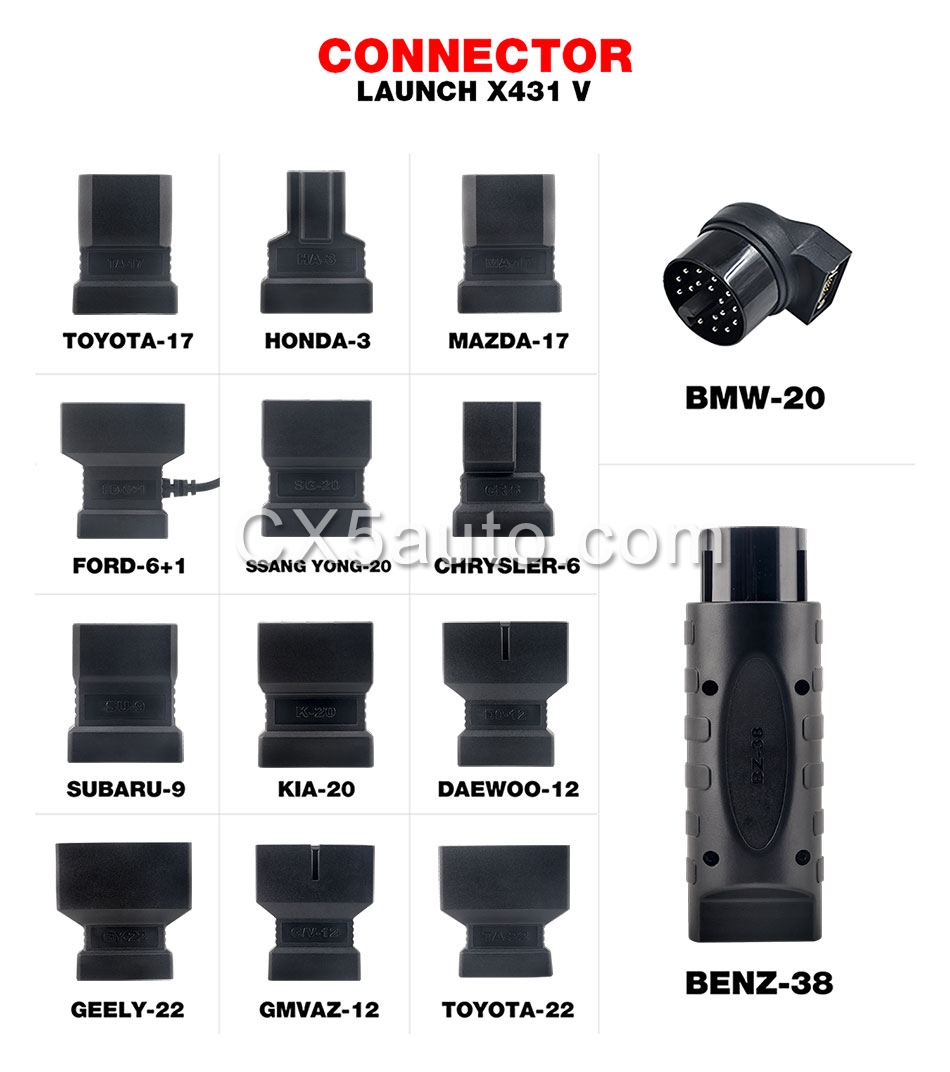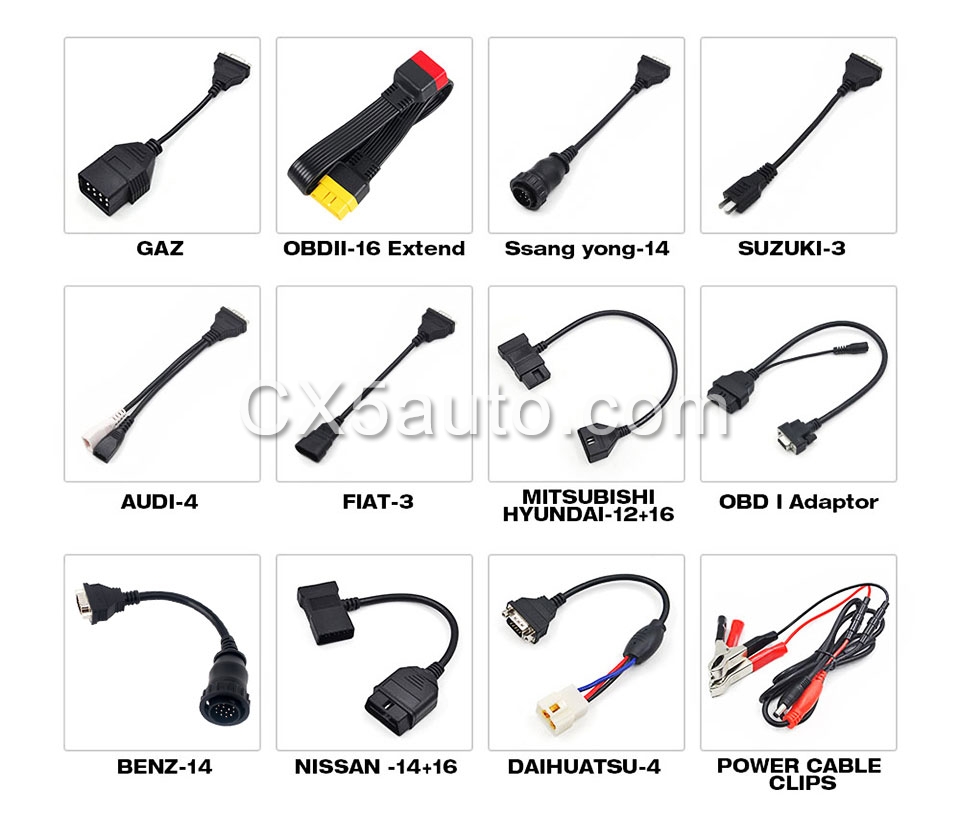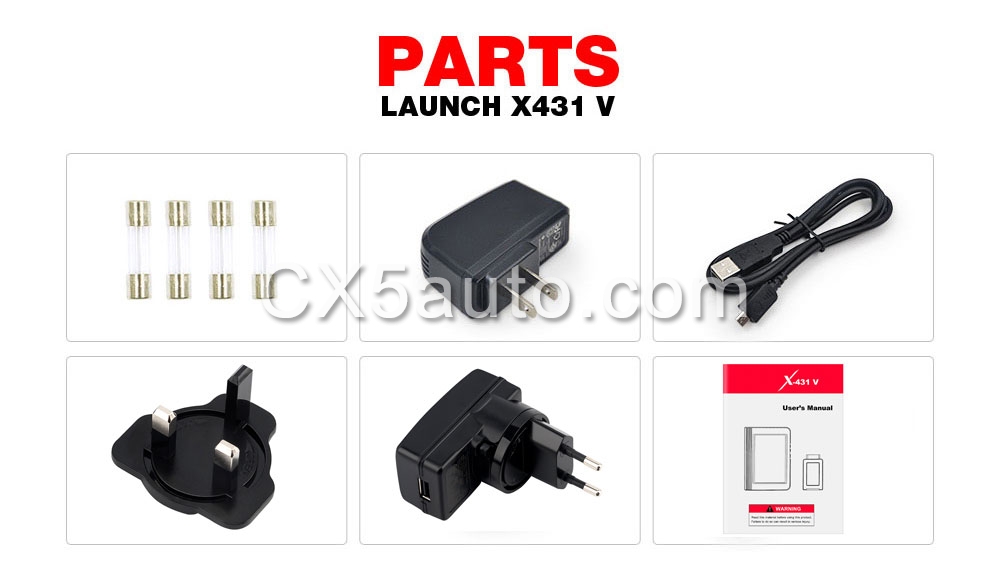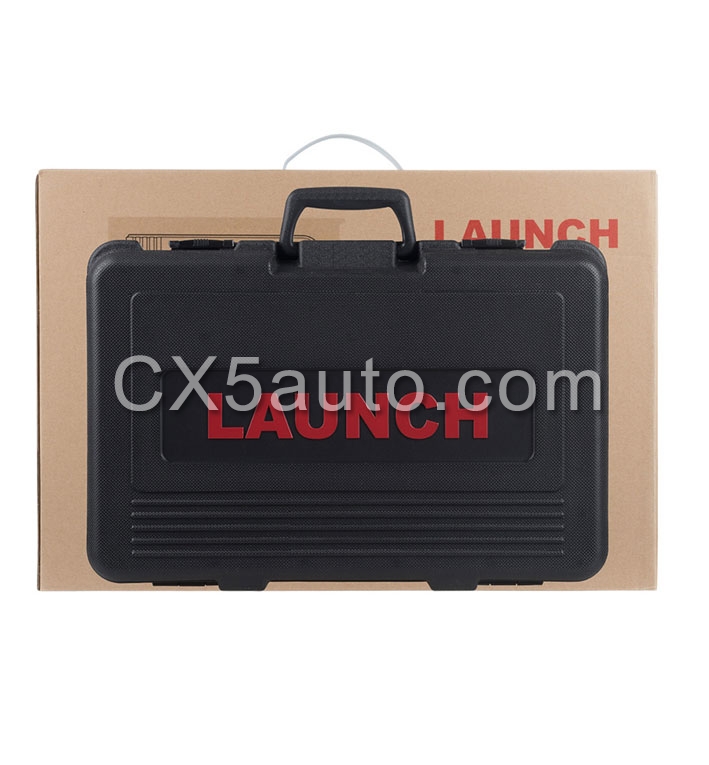 Warranty: 12 months

Lead time: Have stock (by DHL or Fedex about 7 days arrive your workshop)